This post originally aired on Parade Community Table.
13 Knock-Your-Socks-Off Brownie Recipes!
…
This post originally aired on Community Table, Parade.com
16 Lucky St. Patrick's Day Recipes
Happy St. Patrick's Day! Bring good luck to your day with these 16 remarkable savory dishes, beverages and desserts. These St. Patty's recipes will put a little jig in your step! Even if you aren't Irish, you will feel like you are when you try these delectable savory and sweet dishes. From the traditional Irish food such as Corned Beef and Cabbage and Shepherd's Pie to the contemporary Corned Beef and Cabbage Egg Rolls and Shamrock Shake. So many wonderful recipes to choose from–Skinny Shepherd's Pie, Fruity Irish Soda Bread, Chocolate Whiskey cupcakes, Irish Coffee Cheesecake and more!
…
25 Hot Dishes to Warm You Up
These Delicious Recipes originally aired at Parade's Community Table. I am posting it for you today at Moore or Less Cooking Food Blog!
This has been a tough winter this year! With record low temperatures throughout the country, having a warm meal at the end of the day always makes things better. As soon as the weather gets colder, we start craving comforting meals like soup, pasta and casseroles. These warm and comforting meals will help your cold winter days go by quicker. There is nothing better than a homemade meal to warm you up! We all have our own ideas of what we think of as comfort food. Here you will find pasta dishes, soups, casseroles, chili, crock pot recipes and more.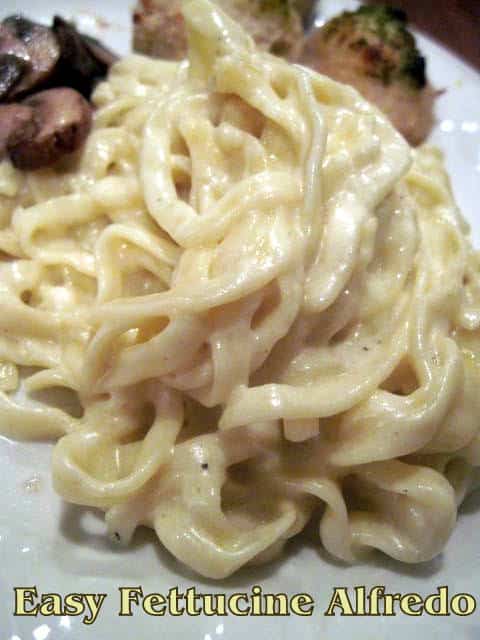 An easy pasta dish that will take under 15 minutes to have on your table. Rich and creamy white cheese sauce over fresh pasta is a favorite of everyone's. Recipe from Moore or Less Cooking Food Blog
…