John Legend stopped by Martha Stewart's and shared his family's recipe for Mac and Cheese. I have so many versions of Mac and Cheese and had to try John Legend's. It just looked so good to pass up. But you know me, I never ever have the same ingredients as a recipe and change it up some how. It was so delicious, I knew it would be so I doubled the recipe. Great for leftovers and when kids just happen to drop in from College with all of their friends. I am not a fan of Martha Stewart since she made such a negative public statement about food bloggers, but I will forgive her because she is ignorant about food bloggers but she is brilliant in her choice of guests.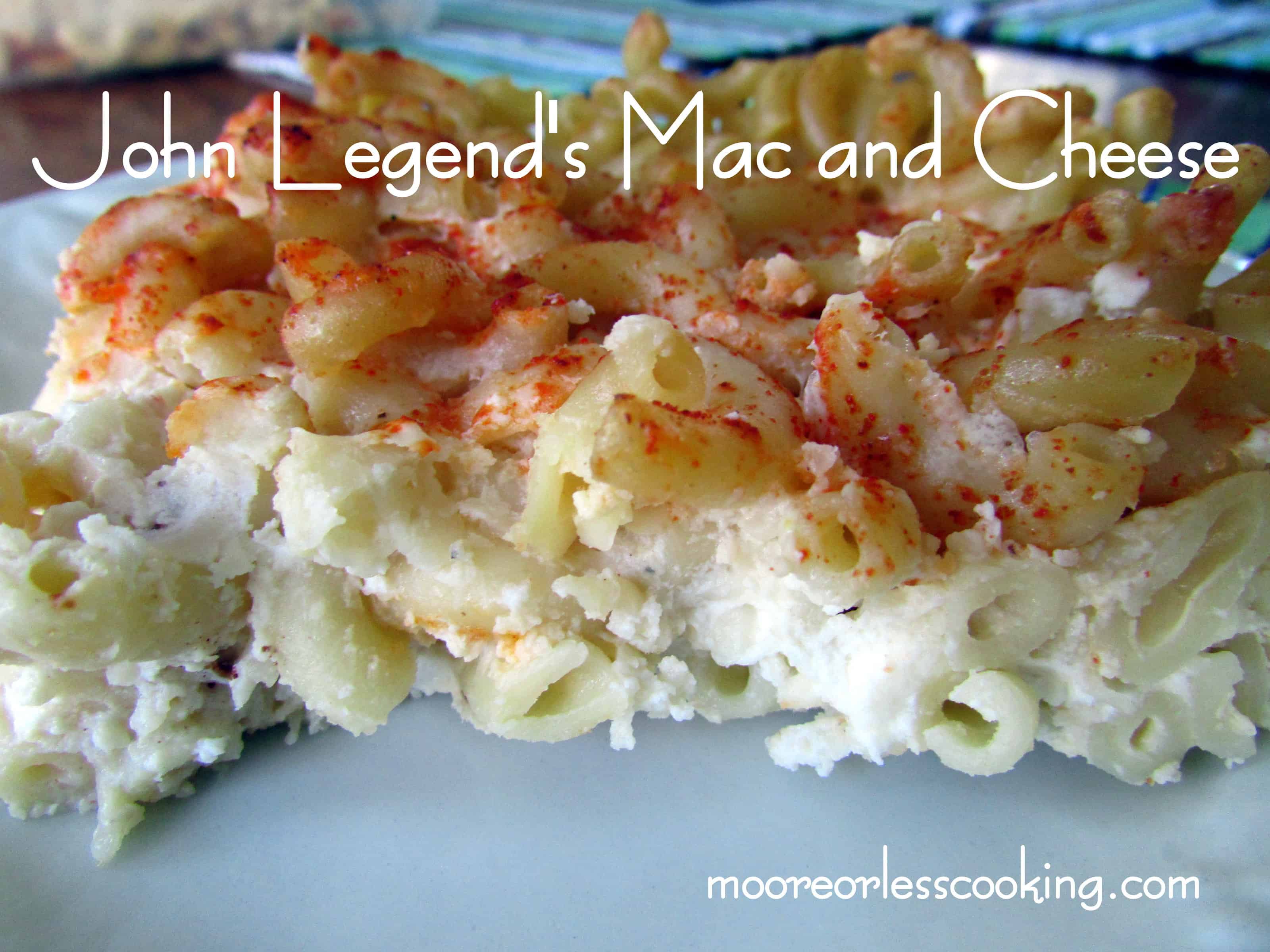 John Legend's Mac and Cheese
Author:
Moore or Less Cooking
Prep time:
Cook time:
Total time:
Ingredients
John Legend's Mac and Cheese
4 tablespoons (1/2 stick) unsalted butter, plus more for baking dish
Coarse salt and freshly ground pepper
2 boxes of macaroni, cooked and drained
2 (12-ounce) cans evaporated milk
⅓ cup skim milk + more if doubling recipe
2 large eggs
½ teaspoon seasoned salt
¼ teaspoon garlic powder
2 (8-ounce) packages extra-sharp cheddar cheese, grated
1 (8-ounce) package Monterey Jack cheese, grated
Paprika, for sprinkling
Instructions
Preheat oven to 375 degrees.
Generously butter a 13-by-9-inch glass baking dish ( I also used in additional 10-by-8 dish); set aside.
Bring a large pot of water to a boil; add salt and macaroni.
Cook until al dente according to package directions.
Drain, and return to pot.
Add butter, and toss until pasta is coated and butter has melted; set aside.
In a medium bowl, whisk together evaporated milk, skim milk, and eggs.
Add seasoned salt, garlic powder, 1 teaspoon salt, and ½ teaspoon pepper; set aside.
In another medium bowl, combine cheeses; set aside.
Place ⅓ macaroni in an even layer in the bottom of prepared baking dish; cover evenly with ⅓ cheese.
Repeat with remaining macaroni and cheese mixture.
Pour milk mixture evenly over contents of baking dish.
Sprinkle with paprika.
Bake until top layer is lightly browned, 35 to 45 minutes.
Let stand 10 to 15 minutes before serving.
Serves 8-10 if baking single recipe, if doubling makes a lot more!