Diced Chicken and Portabella mushrooms.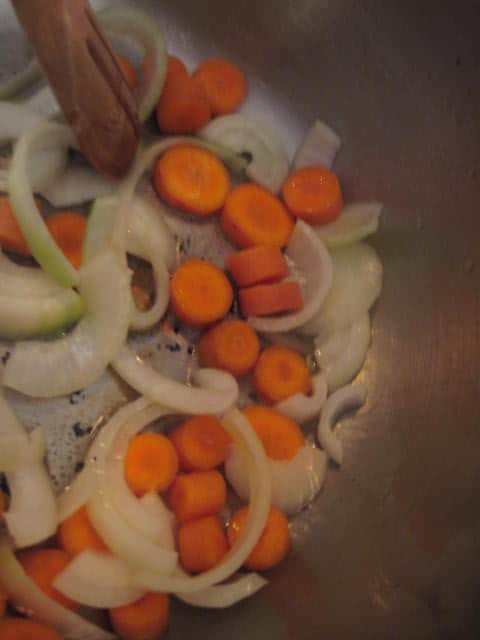 Saute onions and carrots in EVOO.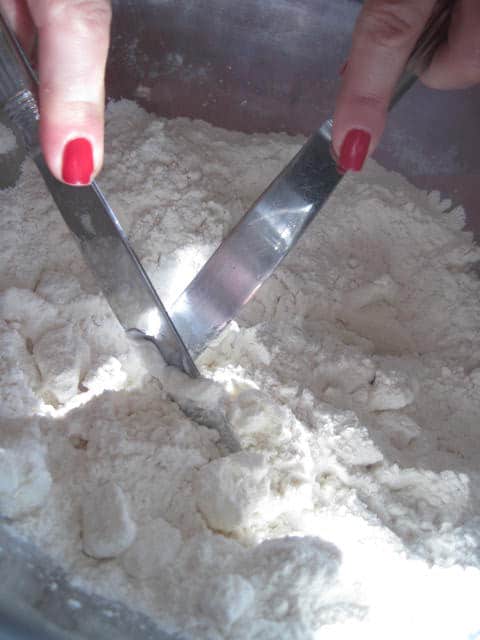 Cut shortening with flour.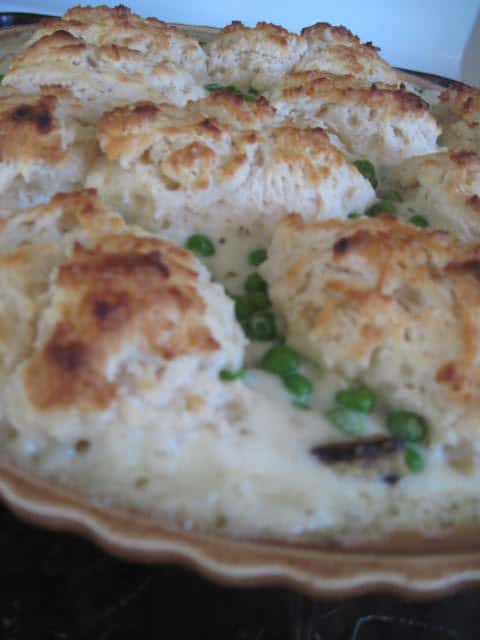 Bake pie until biscuits are golden brown and pie is bubbly.
Chicken Pot Pie
Ingredients

6 tbs butter

6 tbs flour

2 cups chicken broth

1 cup heavy cream

4 cups diced, cooked chicken

2 large carrots, diced and cooked

1/2 cup diced Portabella Mushrooms

1 onion chopped

1 cup peas

1/2 teaspoon thyme

Drop Biscuits ( Baking Powder Biscuits)

salt and pepper, to taste

Method

Preheat oven to 425 degrees F.

Melt butter in a large saucepan. Add flour gradually and cook for 2 minutes.

Gradually add chicken broth and milk or cream. Stir until thickened, about 5 minutes.

Add chicken, carrots and peas to chicken broth mixture. Combine thoroughly.

Pour mixture into a deep-dish pie plate or casserole. Place drop biscuits over top of chicken mixture.

Bake pie for 25-30 minutes, until top is crusty and brown.
Drop Biscuits
yield: 16 Biscuits
Ingredients

2 cups flour

½ teaspoon salt

4 teaspoons baking powder

1 tablespoon sugar

½ cup vegetable shortening

1 cup milk
Put the flour, salt, baking powder, and sugar in a bowl.

Cut the shortening into the flour with two knives or a pastry blender until the mixture resembles coarse meal.

Add the milk all at once and stir just until the dough forms a ball around the fork.

Using two teaspoons, place a heaping spoonful on the chicken and vegetable mixture, use other spoon to scrape off dough.

Leave a bit of space between biscuits.
Recipe adapted from The Fannie Farmer Cookbook.