This shop has been compensated by Collective Bias, Inc. and its advertiser. All opinions are mine alone. #DeliciousSpeaksForItself #collectivebias
Incredibly easy to make and full flavored lasagna. You won't believe how simple this delicious lasagna is to make! Layers of meat, cheese, and noodles.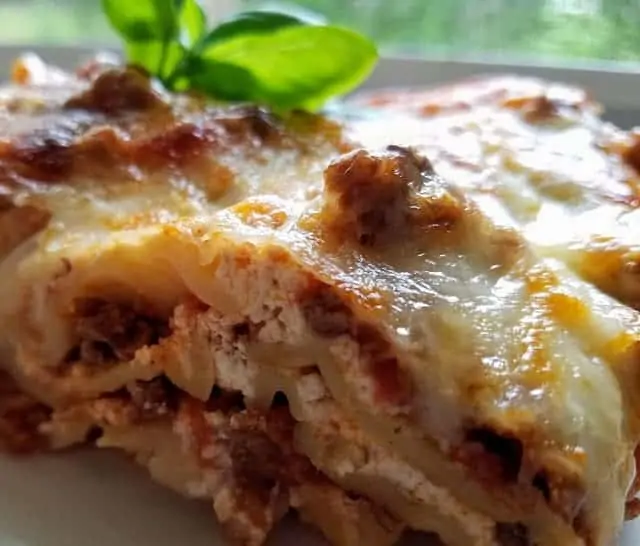 I took a couple shortcuts for this recipe by using store-bought pasta sauce and oven ready lasagna noodles. This saves a lot of time without sacrificing any flavor. While I think it's absolutely perfect as-is, it's made with Rao's Homestyle Italian Sausage and Mushroom Pasta Sauce which is made with Italian whole peeled tomatoes imported from Southern Italy, sausage, and fresh mushrooms.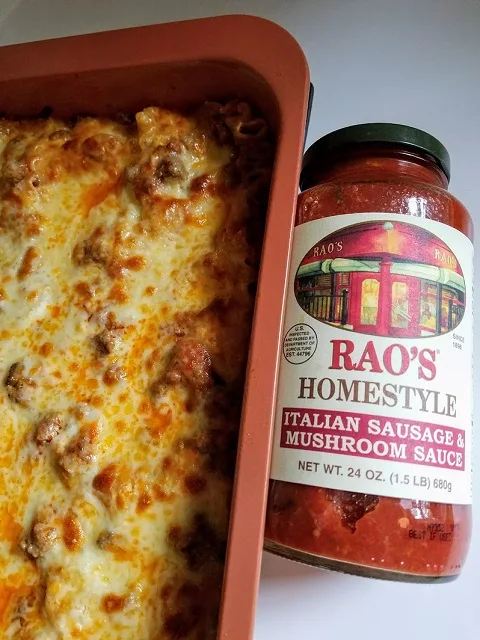 I am so excited that I found my favorite Rao's Italian Sausage and Mushroom sauce at my local Walmart. Rao's is a great quality product, now available at Walmart for a fantastic price.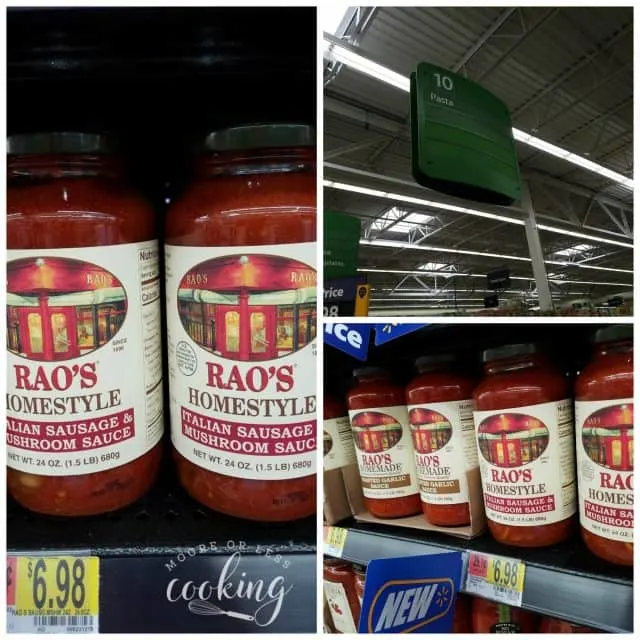 There's no need to cook these noodles with this easy recipe! Tastier sauce means tastier meals, and tastier meals mean nobody wants to miss dinner. That's important because family time together at the table fosters communication, sharing, and togetherness.

PLEASE REMEMBER TO SHARE ON FACEBOOK
AND PIN IT!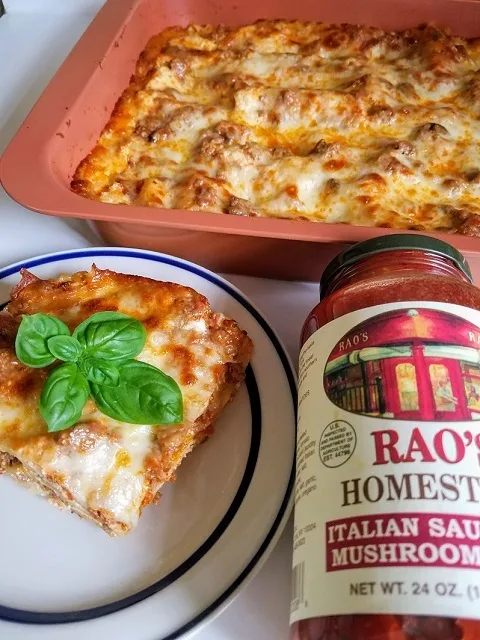 I believe that all meals should delight the heart and captivate the senses. Rao's Homemade brings out the vibrant flavors, aroma, and textures of true Italian cooking. It's premium and slowly crafted. It has clean label ingredients you can actually pronounce. There are ingredients that you can find in your kitchen. I like that it is an all natural pasta sauce with no artificial colors, flavors or sweeteners.
Rao's Homemade has been the Leading Premium Pasta Sauce Brand since it was created in 1992. This wonderful sauce was created by Frank Pellegrino Sr. He wanted consumers to enjoy the authentic Italian tomato sauce served at Rao's acclaimed East Harlem, NY restaurant – at home.
I look forward to spending time with my family, hearing how their day was and catching up with everyday events. Family time is so important to me.
We all know that the best things in life take time. Rao's pasta sauce is slowly crafted and slowly enjoyed.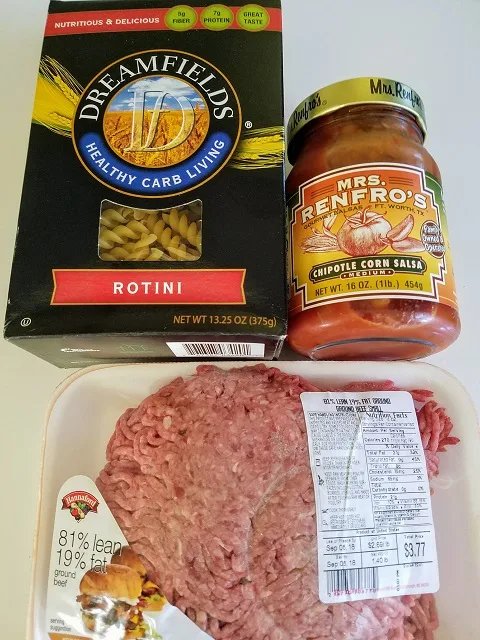 You will find the freshest ingredients in this easy lasagna!
Did you know that October is Italian Heritage Month? That means making Rao's recipes is a perfect way to celebrate your family roots.
There are multiple usage occasions for Rao's and it is easy to use in your family recipes, like this wonderful lasagna recipe!

PIN IT:

I learned how to make lasagna from my Grandmother who would make her sauce all day long and boil the noodles. It seriously took all day! Grandma would love this recipe. The flavors are incredible and didn't take hours to make. It is not a daunting task to make this lasagna, but it looks like it took some time to make. That's a win-win for my family and myself!

My family was fighting over the corner piece, I like the middle piece. Either way, it is very saucy and cheesy with chunks of beef, sausage, and mushrooms throughout!

Lots of layers of deliciousness!

I love fresh basil on my lasagna. We are having an Indian summer here, so my basil is in full bloom. If you can get your hands on some basil, snip a piece and garnish every serving plate.

Lots of cheese in this easy lasagna, ricotta, parmesan, and mozzarella!

Serve with a fresh salad and a big bottle of Chianti!

Need more recipe inspiration? Check out Rao's page here for more recipes!
Ingredients:
Rao's Homestyle Italian Sausage and Mushroom Sauce

Ground beef

Oven Ready Lasagna noodles

Ricotta Cheese

Mozzarella Cheese

Parmesan Cheese

Eggs

Oregano

water

fresh basil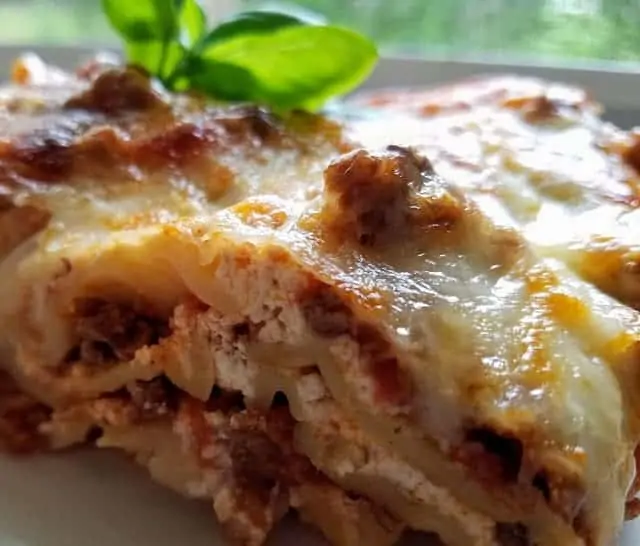 Yield:

9
The Best Lasagna
NOTE: Oven ready lasagna noodles do not need to be boiled before placing the lasagna dish in the oven. The sauce in the lasagna recipe will cook the noodles during the baking process.
Ingredients
1 jar ( 24 ounces) Rao's Homestyle Italian Sausage and Mushroom Sauce
1 (12 ounce) package Oven Ready Lasagna
2 (15 ounces ) containers Ricotta Cheese
2 cups shredded Mozzarella Cheese, divided
1/2 cup Parmesan Cheese, divided
2 eggs, slightly beaten
1 teaspoon dried Oregano
1 cup water
1 pound ground beef, cooked and drained
Instructions
Preheat oven to 425 degrees F.
In a medium bowl, combine Ricotta, 1 cup Mozzarella, 1/4 cup Parmesan, eggs, and Oregano. Mix well.
In another bowl, combine Rao's Homestyle Italian Sausage and Mushroom Sauce, 1 up water and the browned ground beef. Mix well.
In a 9" x 13" pan, spread 1 1/2 cups of meat sauce. Place 1/3 of the lasagna over sauce. Spread 1/2 of cheese mixture over lasagna, top with 1/3 meat sauce. Repeat layering once. Top with remaining lasagna then sauce.
Sprinkle with remaining Ricotta, Mozzarella and Parmesan Cheese.
Wrap the lasagna tightly with a double layer of foil. Bake for 60 minutes or until the lasagna is fork tender.
Let stand for 10 minutes sealed in the foil before cutting and serving.
Makes 9-12 servings
Serve with a fresh basil leaf.
Nettie is a wife and mother who is passionate about cooking and baking… especially when easy meals are involved! With 5 children, Nettie insists that all meals, snacks, and desserts come together quickly! Free email subscription. You will find a wide variety of easy yet scrumptious recipes on her very popular website Moore or Less Cooking


FACEBOOK

|

TWITTER

|

GOOGLE+

|

PINTEREST

|

BLOGLOVIN

|

INSTAGRAM|