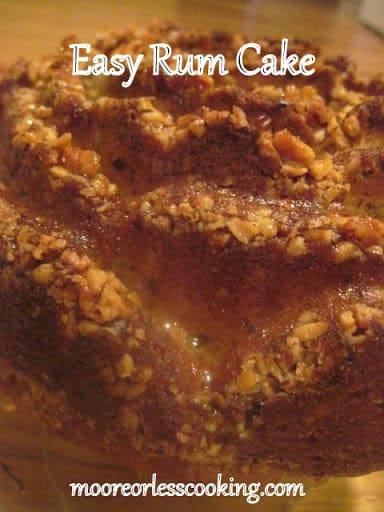 With the holidays coming up, I have been thinking about what desserts we had when I was a kid. My Grandma used to make this cake for Christmas and I thought it was so fancy and grown up. I couldn't wait until the cake was cooled to eat. Since Grandma isn't here to ask her for the recipe, I had to do some testing of recipes and I think this recipe is very close. After trying the first piece I could remember Grandma and Grandpa's fun Luau parties with all of the guests ending up in the pool. They loved having parties with great food and lots to drink and always wonderful desserts.

The trick for this cake is glazing it while it is hot out of the oven. The recipe for the glaze seemed like a lot to me so I halved it for my cake but you can use all of the glaze, it is your preference. I also chose to use walnuts for this cake and it really is a great combo with the vanilla and rum flavors. I used the cake mix with vanilla pudding in it and I also added another vanilla pudding. I know…really wild stuff for a Friday Night! Grandma and Grandpa would think I was a real dud!
Easy Rum Cake
1 cup chopped pecans or walnuts ( I used walnuts)
1 package yellow cake mix
1 (3 3/4-oz.) package Jell-O vanilla instant pudding and pie filling
4 eggs
1/2 cup cold water
1/2 cup Vegetable oil
1/2 cup Captain Morgan Original Spiced Rum
Glaze:
1 stick butter
1/4 cup water
1 cup granulated sugar
1/2 cup Captain Morgan Original Spiced Rum
I halved this recipe
Preheat oven to 325 degrees.

Grease and flour 10-inch tube or 12-cup Bundt pan.

Sprinkle nuts over bottom of pan.

Mix all cake ingredients together.

Pour batter over nuts.

Bake 1 hour.

Cool; invert onto serving plate. Prick top with fork.

Spoon and brush glaze evenly over top and sides.

Glaze:

Melt butter in saucepan. Stir in water and sugar.

Boil for 5 minutes, stirring constantly, and remove from heat.

Stir in rum. You may decorate with whipped cream before serving.
Recipe from Duncan Hines This post has been linked up to these fabulous blogs! Nettie <3