When spending time in Southern California, there are so many restaurants like I like to revisit and so many that I am eager to try for the first time. This year I am thrilled to have dined at the newly renovated Pour House at Bighorn Resort and Spa in Palm Desert, California. We were guests for 10 luxurious days. The new building's cost is around 80 Million Dollars. It is just breathtaking.

Credit: Bighorn.com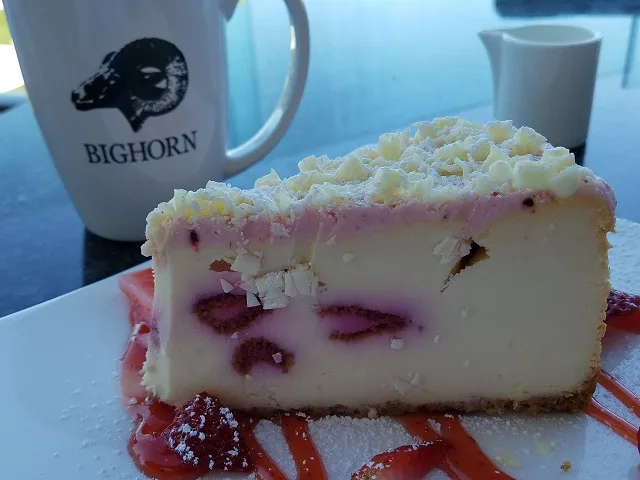 Next time I am starting with dessert first! Raspberry Cheesecake, this slice is big enough for 2 people, yes, I did share…sigh.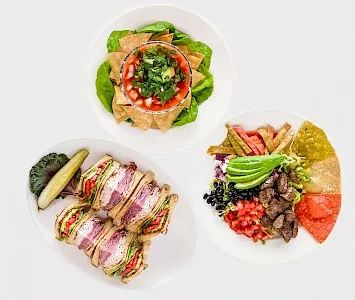 Triple Decker Sandwich, Ceviche, Tostada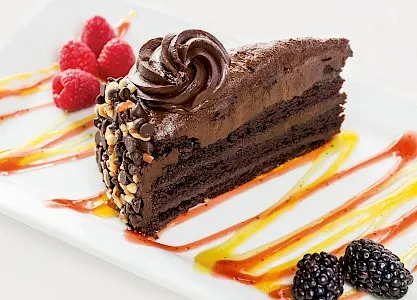 Mocha Chocolate Cake, another incredible dessert.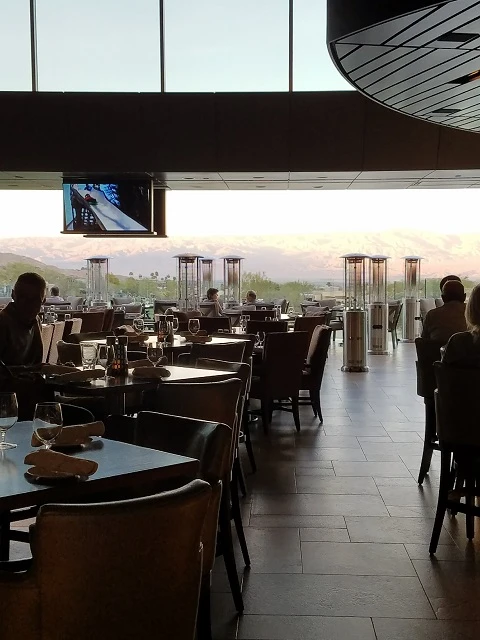 So exciting watching the winter Olympics in this gorgeous spot.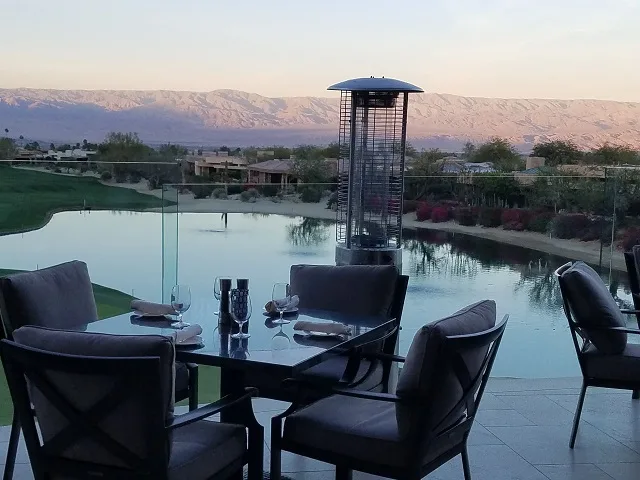 The best view in all of Palm Desert.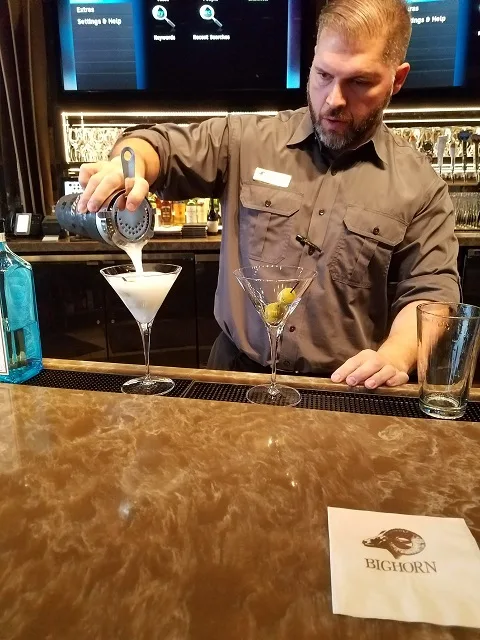 My favorite bartender, Ruben.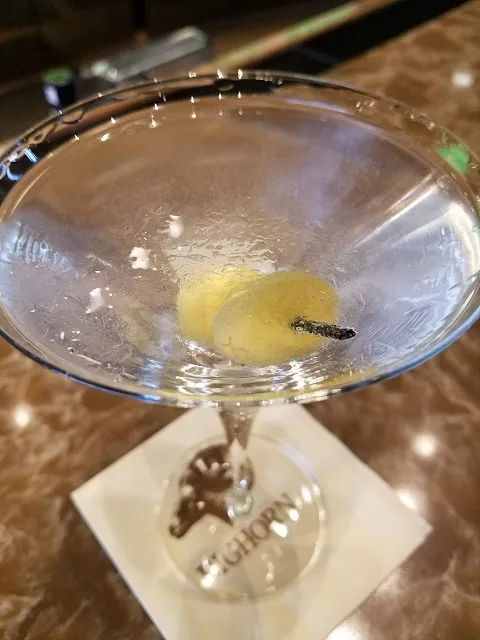 Ruben makes the best Dirty Martini, Tito's Vodka, with extra olives.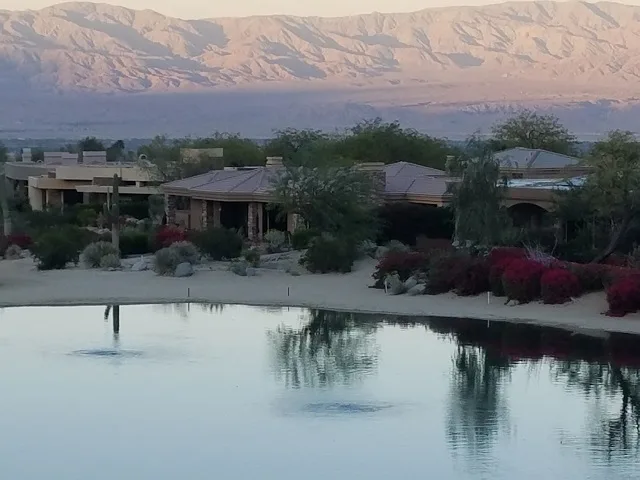 Aren't those mountain views exquisite? The sunset view from the club is my favorite.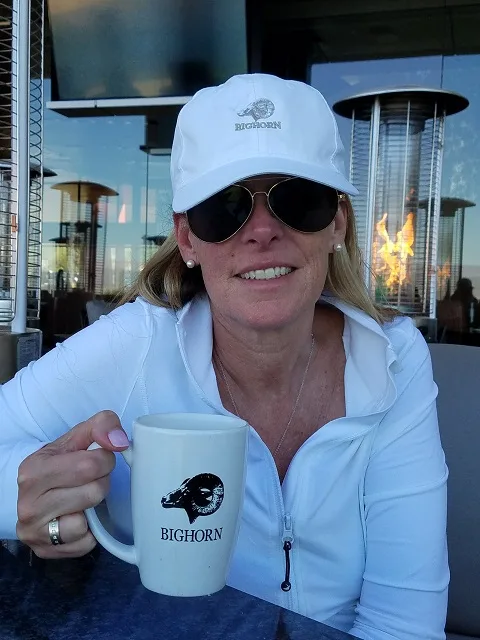 Bighorn is paradise, like a Disneyworld for adults XXOO.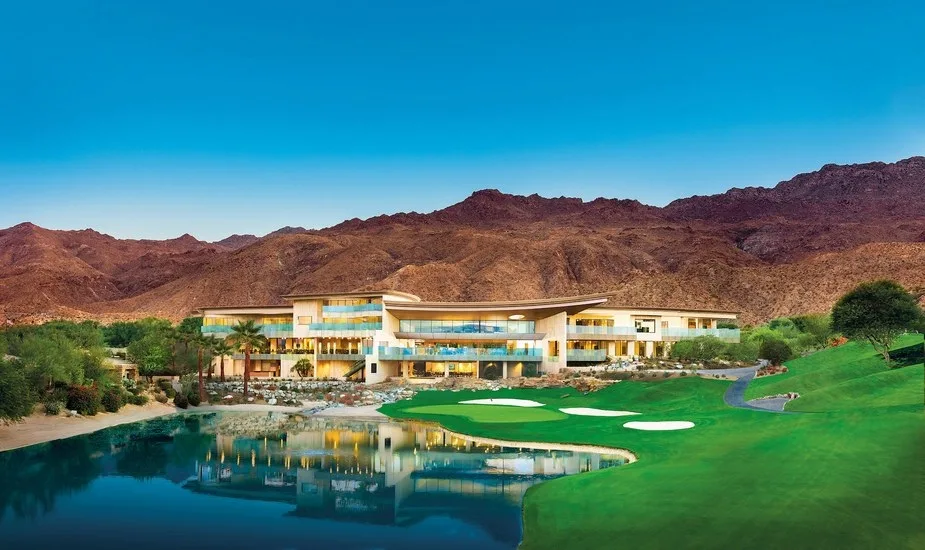 The back-end of the clubhouse, overlooking the 18th hole, framed by the surrounding mountains.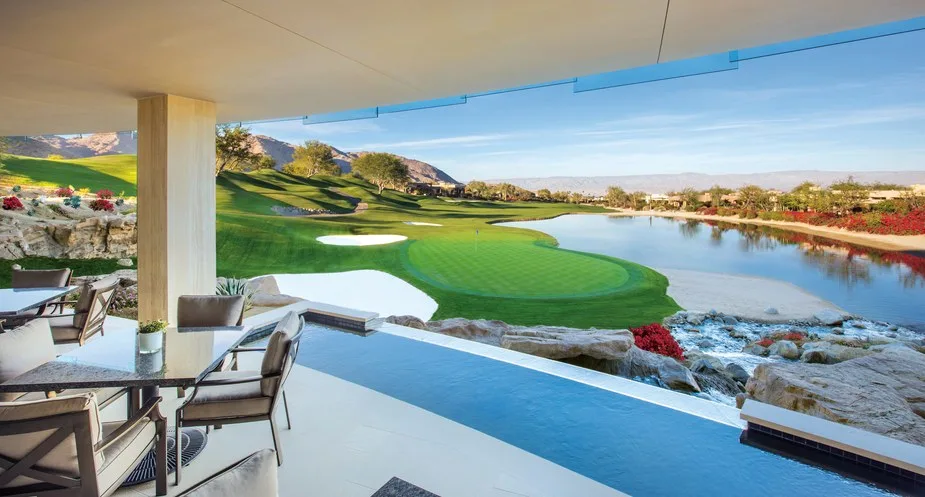 Here's the view looking out from the back of the clubhouse—complete with a horizon waterfall.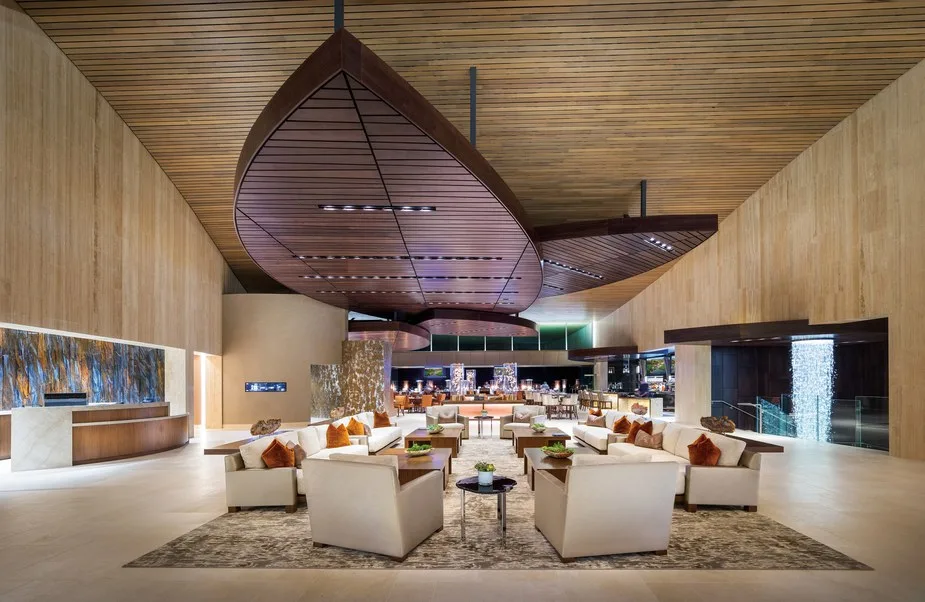 The living room and bar inside Bighorn.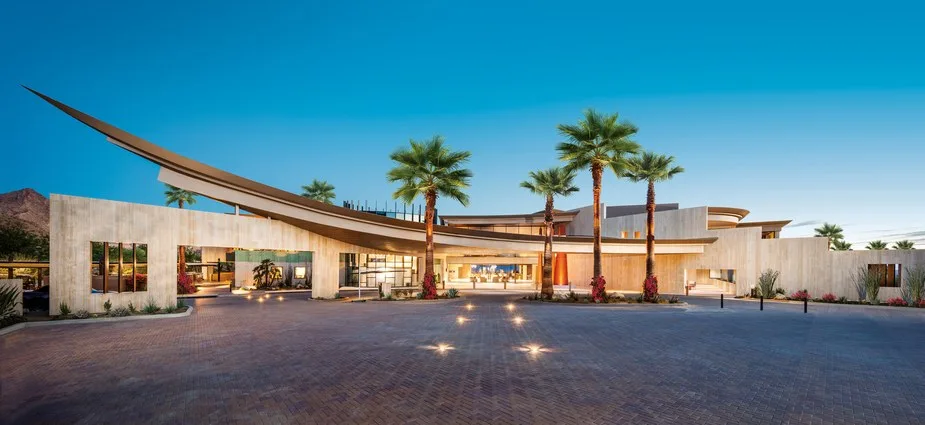 The view when pulling up to the entrance of Bighorn.
As we head over to Ojai, California, we popped into AZU Restaurant & Ojai Valley Brewery for apps and cocktails. The food is wonderful, loved the grapefruit-infused vodka. Met new friends and we were invited to the bartender's art show later that evening. Ojai is such a fun town. We spent one night at the Hummingbird Inn. Love the location, close to walking into town. So many great restaurants, so little time, we will be going back next year.
AZU Restaurant & Ojai Valley Brewery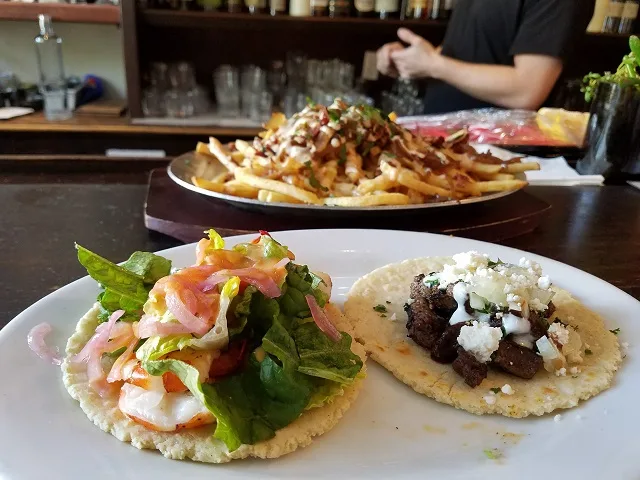 We dined at the Bar. Taco's, homemade tortilla's, fish tacos and steak, loaded fries at AZU Restaurant & Ojai Valley Brewery.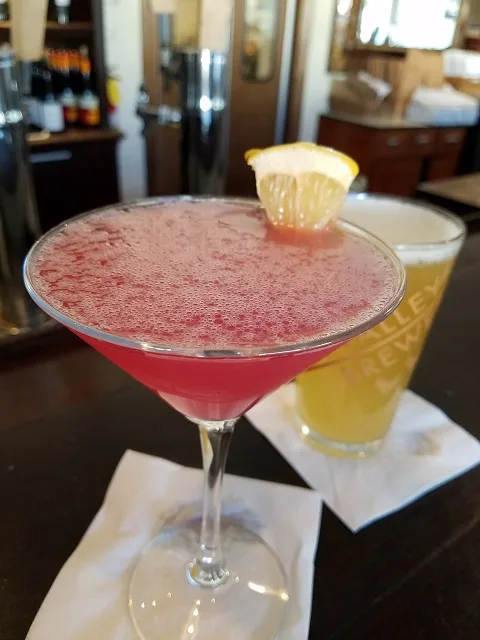 Grapefruit infused Vodka Martini and IPA beer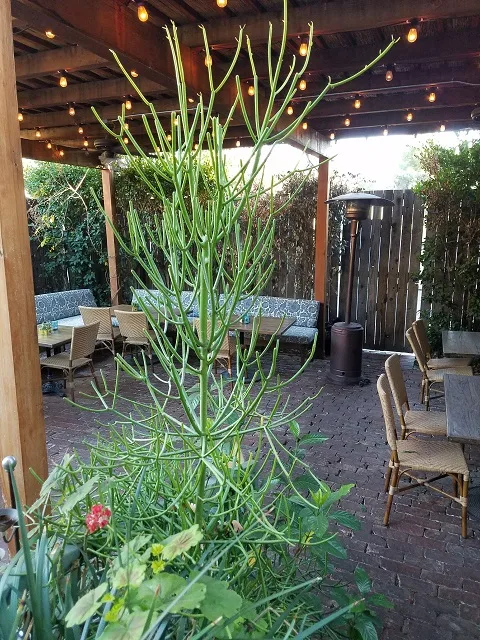 Comfy place with many wines by the glass, specializing in Spanish & Mediterranean comfort cuisine.
AZU Restaurant & Ojai Valley Brewery
457 E Ojai Ave
Ojai, California
One of our favorite sushi restaurants in Palm Desert is Tanpopo Japanese Restaurant. We have been going there for over 10 years. They cater to all of the resorts in the area. The sushi is made to order, very fresh and flavorful and very reasonably priced.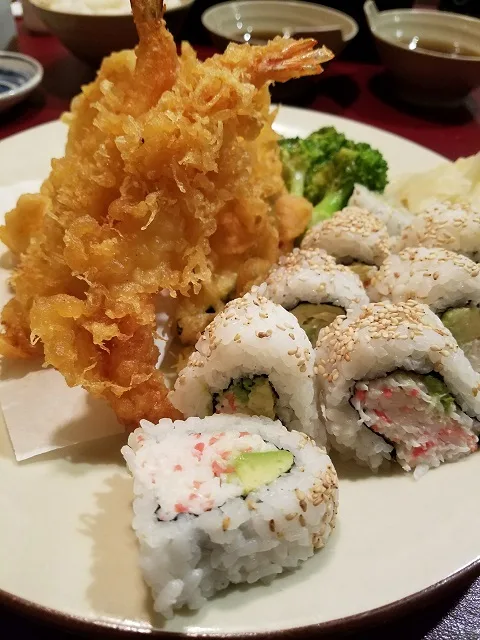 Shrimp Tempura and California Roll.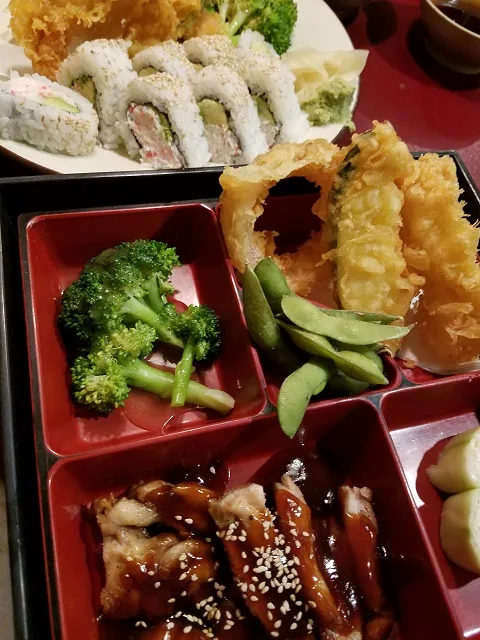 Bento Box, Tanpopo Teriyaki.
Tanpopo Japanese Restaurant
Casual Japanese cafe serving inventive sushi & traditional kitchen fare in a warm, simple space.
73540 Highway 111
Palm Desert, California
Happy hour food
· Late-night food
· Comfort food
Closes 2:30 AM
Heading over to West Los Angeles, If I told my husband that we would eat here every week, he would be a very happy man. Tatsu Ramen has the most delicious Ramen bowls in the city. Sit at the bar, or sit at a communal table. Bowls of garlic presses and strips of seaweed are there for extra flavor. Order Ramen Bowls to go online.
Tatsu Ramen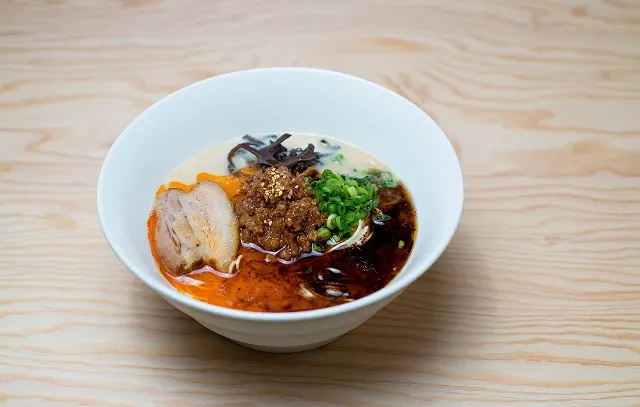 Their secret (or not-so-secret) recipe: Tonkotsu broth made fresh everyday right in front of you for 12-14 hours. Pork chashu simmered to perfection. Seasoned soft-boiled egg, firm on the outside, soft and gooey on the inside. Marry that with noodles cooked perfectly al dente and you have a ramen bowl so good you have to come back for seconds! We make the trip 3-4 times when we are in LA!
Want it spicy? Love garlic? With chicken instead of pork? You are in luck, all of the bowls of ramen can be customized via an easy-to-use iPad ordering system. Vegetarian/Vegan? They have a ramen for you. Oh, and corn, fresh garlic, and seaweed toppings are always free!
The bright, modern destination for Japanese noodle soups with customized ingredients & iPad ordering.
Tatsu Ramen
2123 Sawtelle Blvd, Los Angeles, CA 90025
The Best Thai Food in Palm Desert, California. Stylish bistro offering Thai curries, noodles, seafood dishes & salads, plus patio seating.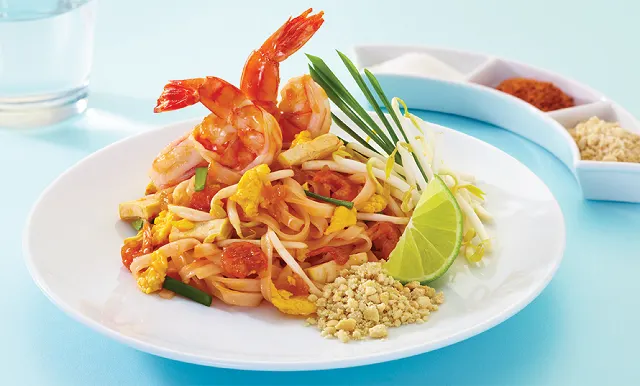 Shrimp PAD THAI~ With Thai rice noodles, bean sprouts, egg, crushed peanuts, scallions, and cilantro.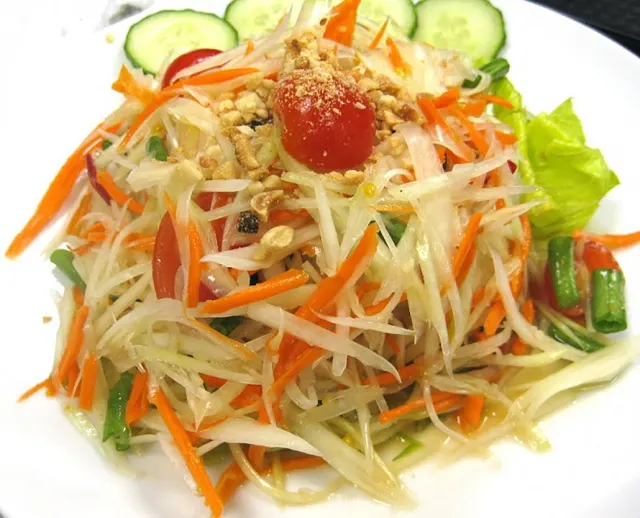 Papaya Salad: shredded green papaya, carrots, peppers, peanuts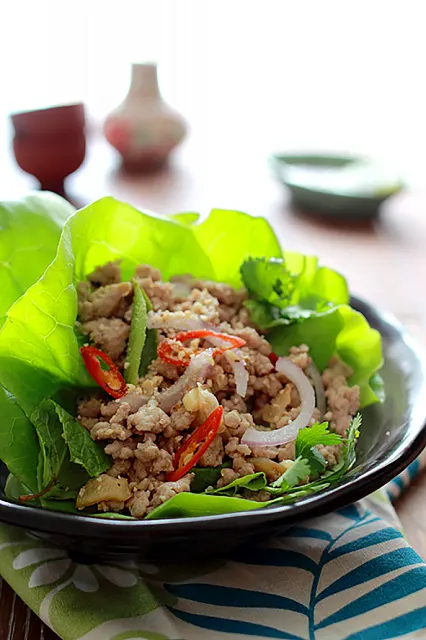 LARB~ Choice of minced chicken, beef or pork mixed with ground chili, lime juice, mint leaves, red onion, scallion, cilantro and rice powder. Served with a wedge of cabbage.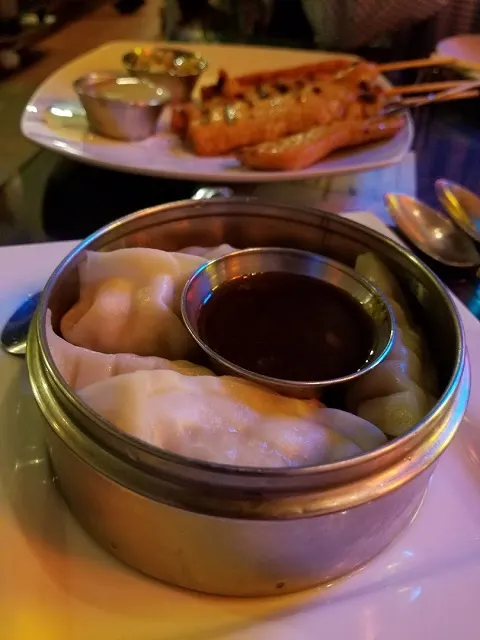 POT STICKERS~Stuffed with ground chicken, cabbage and mushrooms in a wonton wrapper, steamed to perfection, served with a soy-ginger sauce.
Blue Orchid Restaurant
73030 El Paseo #102
Palm Desert, CA.
In-N-Out Burger
Classic California-based burger chain serving customizable patties, hand-cut fries & thick shakes. At In-N-Out Burger they use only the freshest ingredients without heat lamps, freezers or microwaves to deliver on their promise of Quality You Can Taste.
In
1948, the FIRST IN-N-OUT BURGER OPENS. Harry Snyder introduces California's first drive-thru hamburger stand in a space barely 10 feet square at Francisquito and Garvey in Baldwin Park.
Every day before dawn, Harry visits the meat and produce markets to pick out fresh ingredients, which he prepares by hand. Meanwhile, his wife Esther diligently takes care of all the accounting for the new restaurant at their home right around the corner.
In-N-Out Burger
922 Gayley Ave, Los Angeles, CA 90024
Plus many more locations.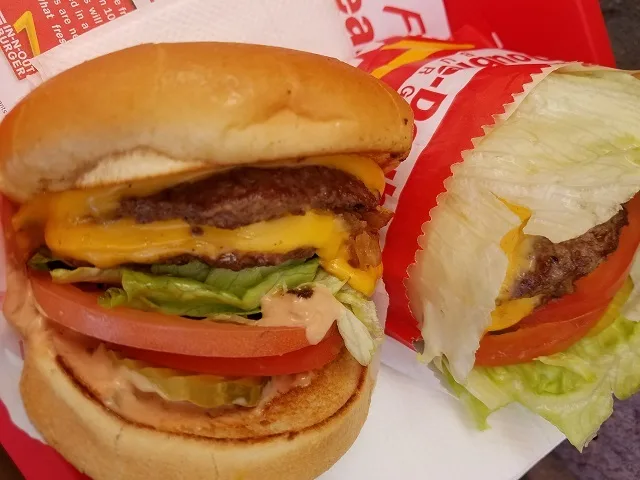 Double Double, Animal Style, Protein Style
AOC Restaurant
Eye-catching eatery with a courtyard furnishes premium Californian-French small plates & fine wines.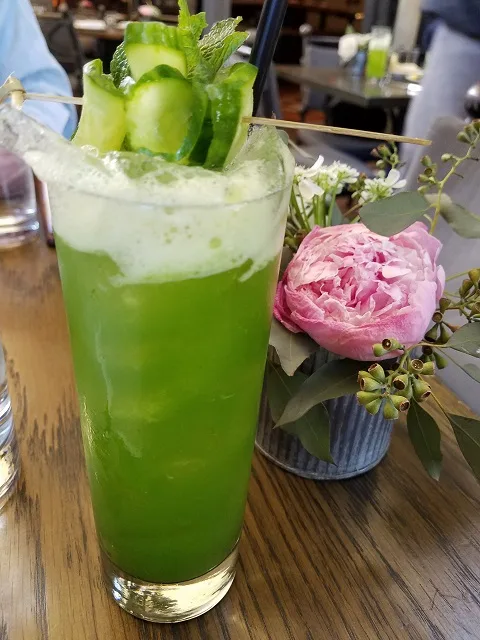 Mint Cucumber Green Tea, so refreshing. I was feeling very parched with the dry weather, perfectly hit the spot.
8700 W 3rd St, Los Angeles, CA 90048
Dominique Ansel
Serving the celebrated Cronut, a croissant-doughnut hybrid — in L.A.'s most celebrated mall, The Grove. Ansel has a restaurant upstairs from the bakery, 189 by Dominique Ansel, which serves brunch and dinner.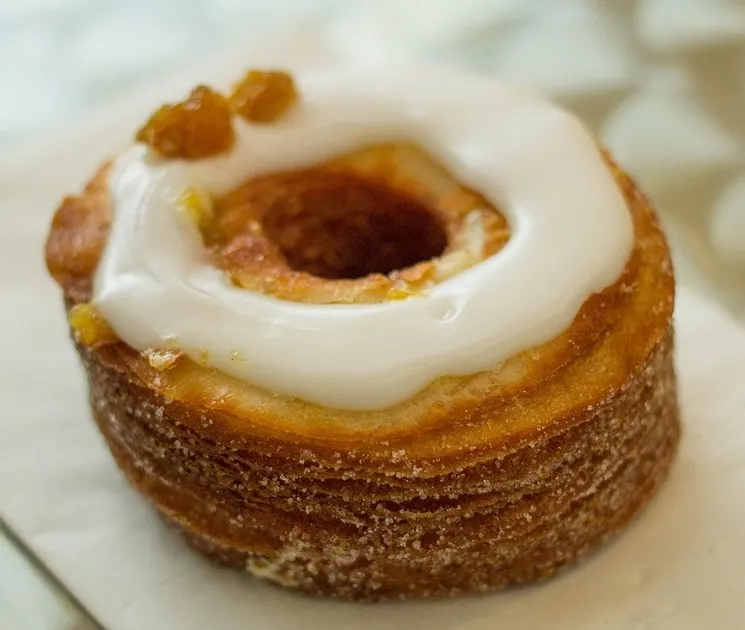 Cronut~ A dream come true!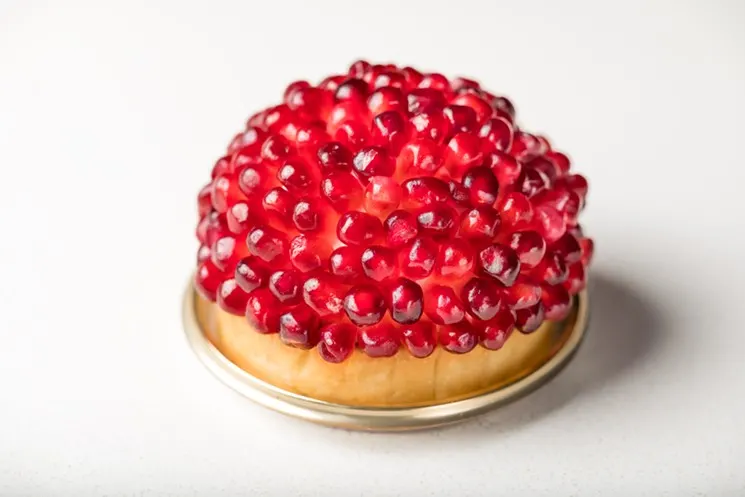 Ruby Tart, which sports approximately 75 hand-placed pomegranate seeds on a lychee ganache that reminds its Parisian creator (who was recently named Best Pastry Chef 2017 by World's 50 Best Restaurants) of Dorothy's ruby red slippers.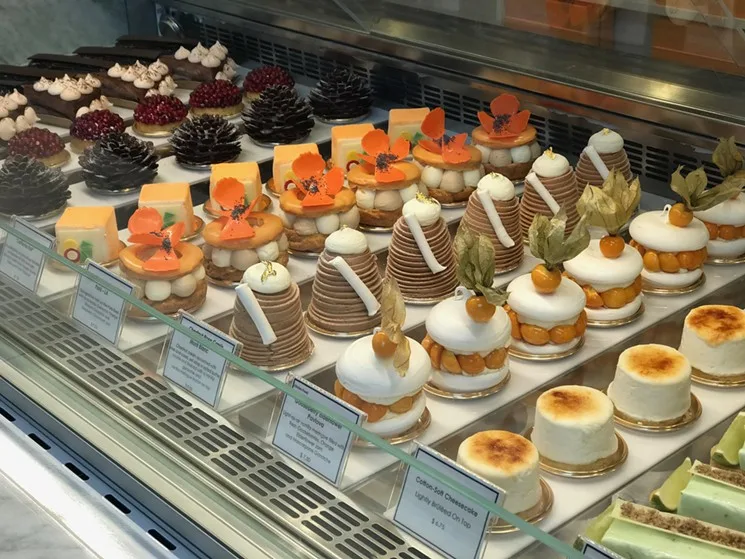 California Roll, a chilled olive oil biscuit cube with avocado and vanilla lime mousse with honey gelee.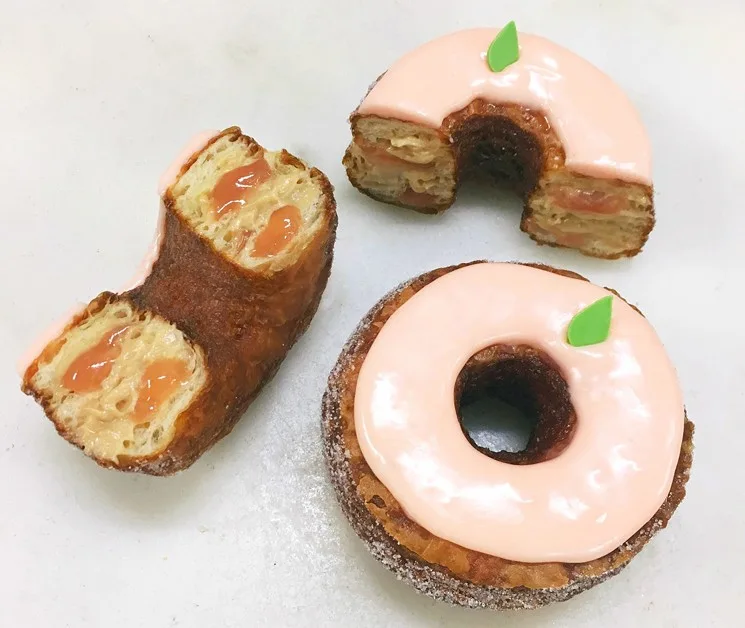 White peach Amaretto with muscovado ganache Cronut
Courtesy: Dominique Ansel Bakery
189 The Grove Drive, Beverly Grove; (323) 602-0096, dominiqueansella.com.
La Brea Bakery
Popular for its handmade bread, this casual cafe serves sandwiches, soup & other light fares.
Address:
3524, 468 South La Brea Ave, Los Angeles, CA 90036
Brunch at La Brea Bakery is always a treat! Lots of dark roast coffee and the best Eggs Benedict with roasted potatoes.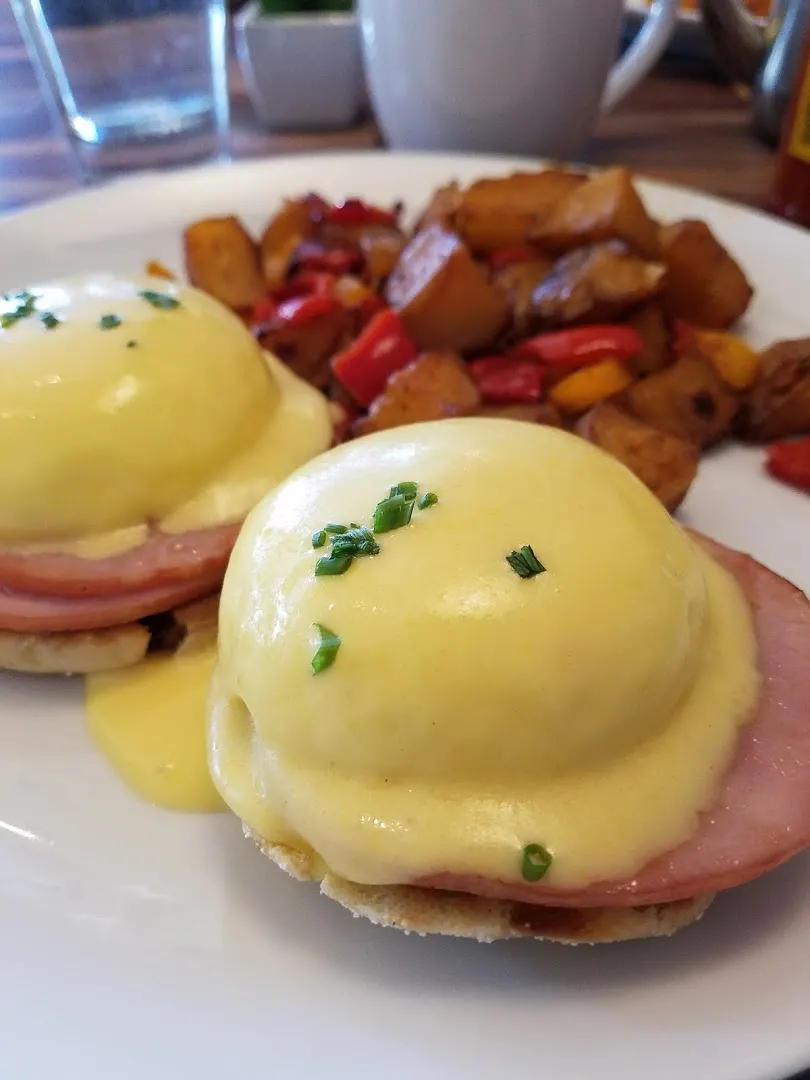 Breakfast is served all day.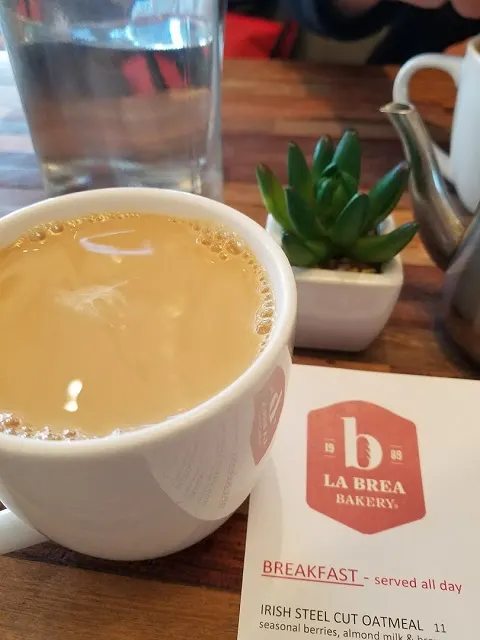 Our server offered to bring us to-go cups for our coffee as we ventured out to the La Brea Tar Pits.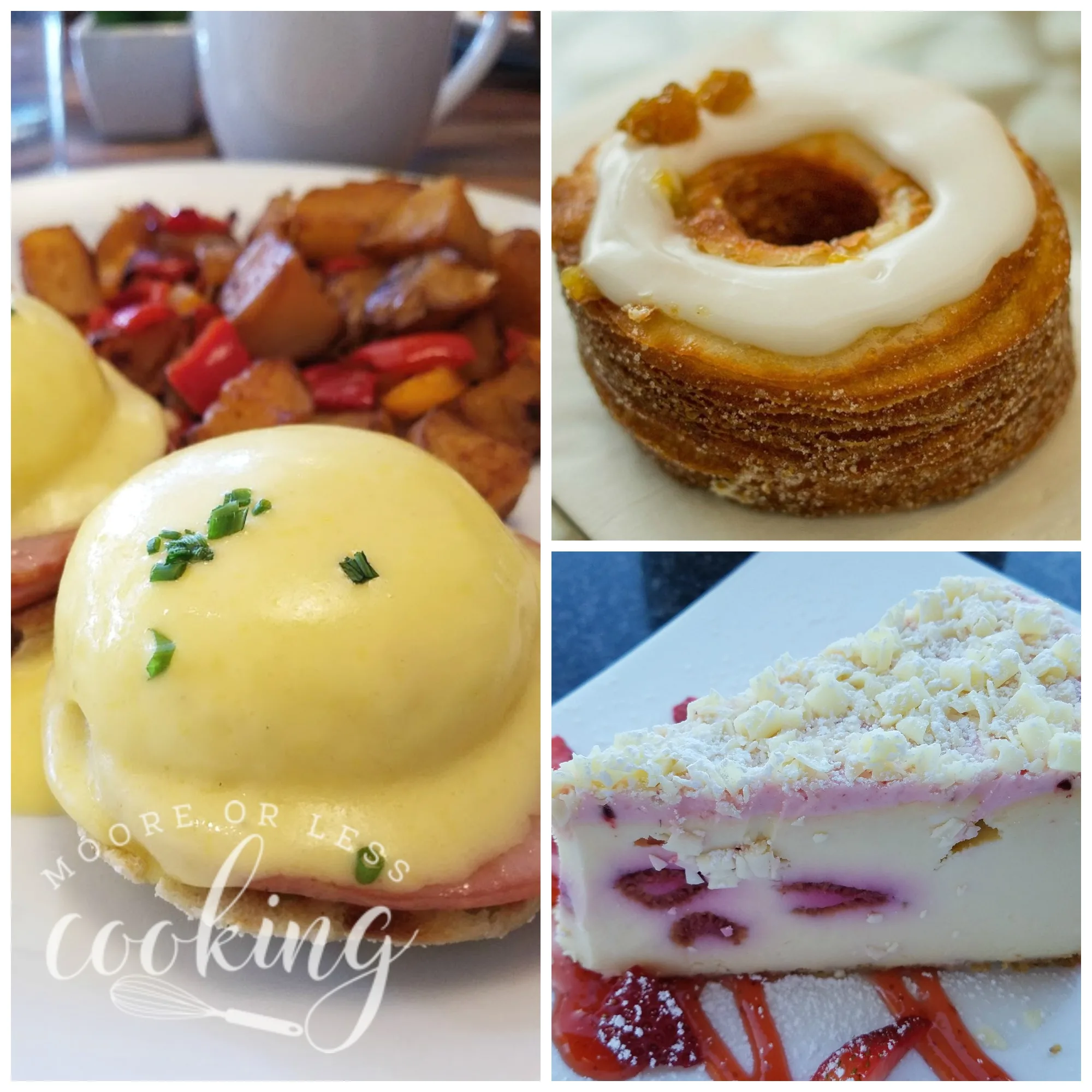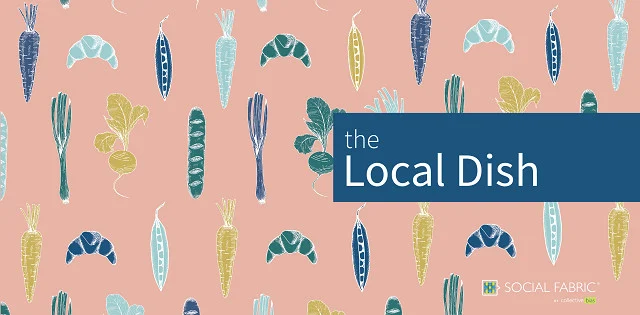 PLEASE REMEMBER TO SHARE ON FACEBOOK
AND PIN IT!

I would love to hear from you, leave me a comment letting me know if you visit any one of these wonderful restaurants. Happy Eating!!