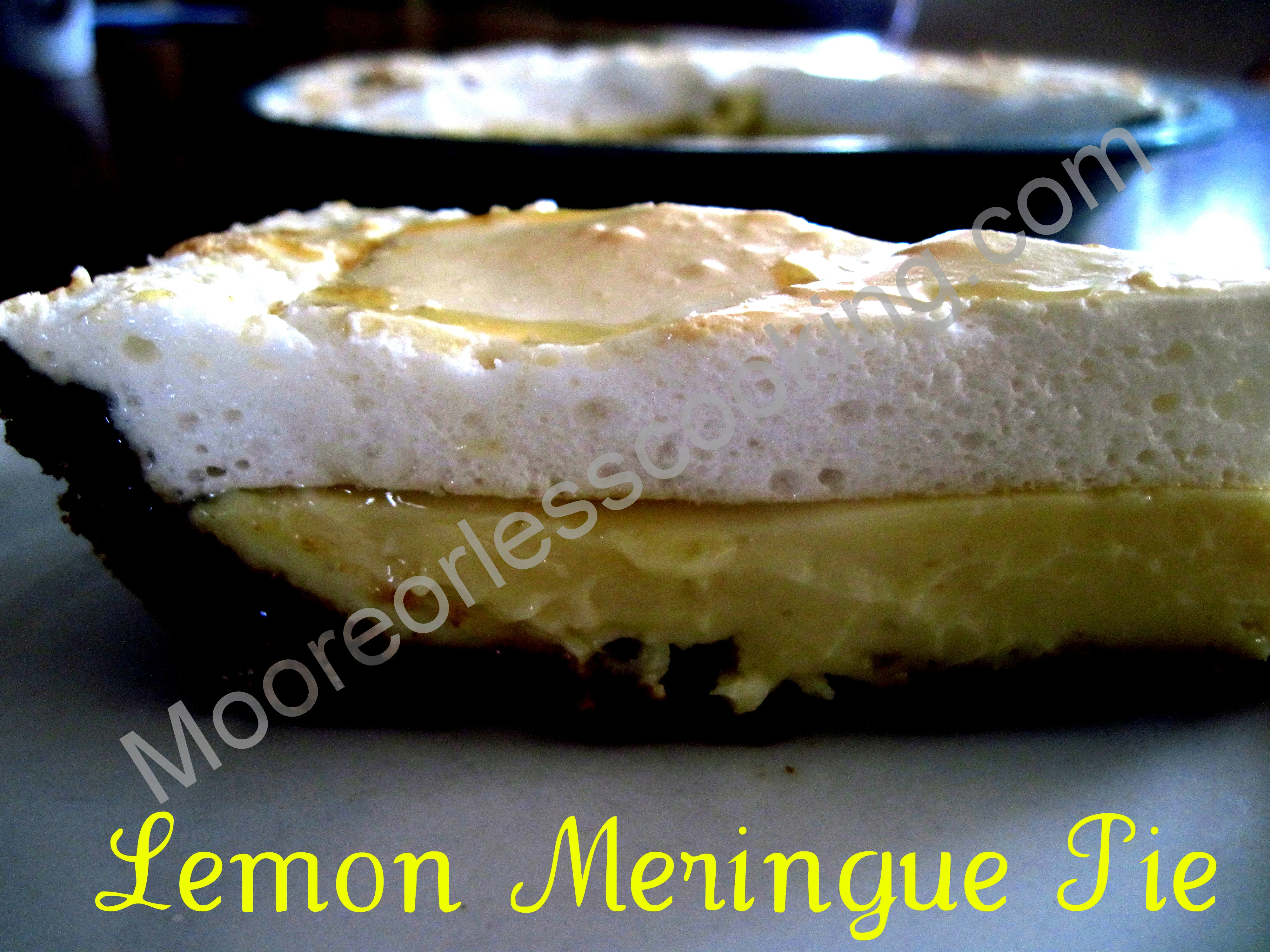 Hubs loves his gingersnap cookies as his afternoon snack with tea. So much so that he buys them in bulk. Yes we could survive on these snaps if we lost our power, knock on wood!!
These crunchy snaps make a perfect crust for my Lemon Meringue Pie. If you aren't as crazy about meringue as I am, you can always use Whipping Cream or that other stuff in a tub, your choice, I like this one, the lemony custard works so well with the snappy crust and meringue, it's a lemon party in your mouth.
My son could eat pie with every meal of the day, so this completes his summer dreams… don't tell anyone, but I had a piece for breakfast…what? It has fruit in it!!
Lemon Meringue Pie
Crust
1 1/4 cups Ginger Snaps (approx 25 cookies)
1/4 cup sugar
1/3 cup melted butter
Filling
3 egg yolks
14 oz Sweetened Condensed Milk
1/2 cup lemon juice
Meringue
3 egg whites
1/4 teaspoon cream of tartar
3/4 cup white sugar
Place cookies in Cuisinart, blend to crumbs. Empty crumbs into bowl, add melted butter and sugar. Mix until crumbs are moistened. Press into bottom of a 9″ pie plate. Bake shell in 350 degrees oven for 8 minutes. Cool.
Preheat oven to 325 degrees. In bowl, beat egg yolks. Stir in sweetened condensed milk and lemon juice. Whisk ingredients well.
Pour into prepared crust, and bake for 30 minutes. Cool.
In large bowl, beat egg whites and cream of tartar with electric mixer until foamy. Gradually add sugar, beating until mixture forms stiff peaks.
Bake at 350 degrees for 15 minutes or until nicely browned.
Recipe slightly adapted from Sweetzels Ginger Snaps