I may earn a small commission on purchases made through any product links on this page. Thanks for your support!
The easiest, most delicious Beef Pot Roast that you make in your slow cooker! Only 7 ingredients are needed to make this incredible roast!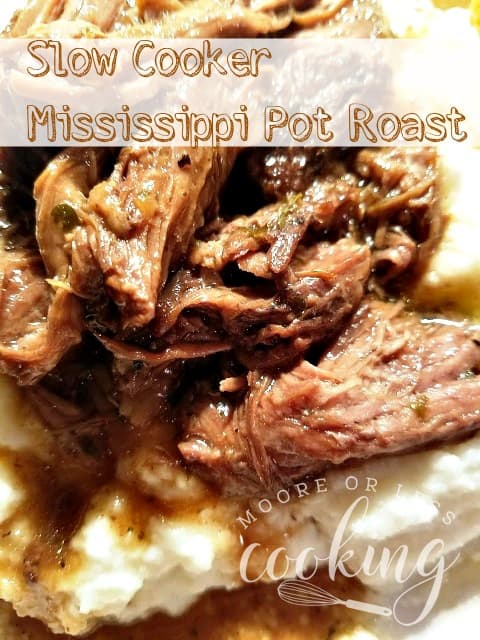 I just want to put this out there… this happens to be the best roast that I have ever tasted. There I said it.
What has taken me so long to make it? I have seen it going around on Pinterest for years but didn't really pay attention to all of the hype, but then a reader on my Facebook page recommended that I try it.
Check out my YOUTUBE video for easy to follow instructions. Follow me on YOUTUBE.
Hubs said it was the best roast that he has ever had and asked me to make it again for a dinner party that weekend. Everyone just raved about it and asked me for the recipe. They were shocked when I told them what I used for the recipe.
Don't be scared about the stick of butter. this roast makes its own amazing gravy, so serve it over your favorite mashed potatoes. With just a few simple ingredients, you will find it to be so easy and mouthwatering.
I couldn't stop taking nibbles of it when it was done. I burnt my tongue, but it was worth it! I am salivating now just thinking about it! I found out where this recipe originated. It has gone viral and has been pinned over a million times! I can see why!!
Hope you check out my video! It has been viewed over 53 Million Times!
…