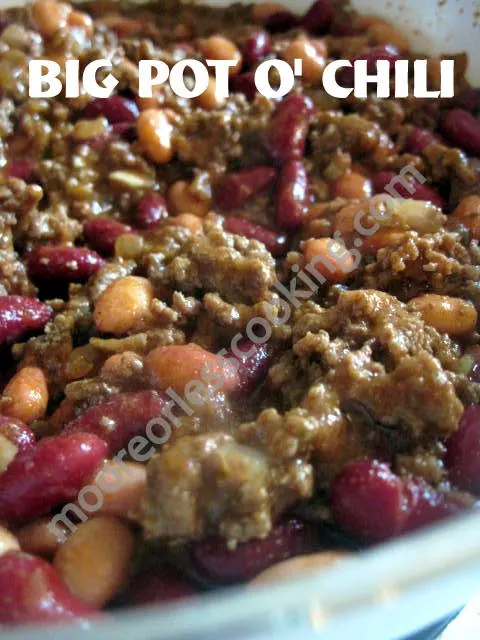 Chili should be full of beans and beef with lots of onions. Then it should be covered in cheddar cheese, sour cream, chopped onions, and some avocado, just thought I would let you in on one of my secrets!
The weather really started to cool down, so I thought a Big Pot O' Chili would be wonderful with homemade cornbread piping hot out of the oven….. sounds good huh???
I had seen The Pioneer Woman make her famous chili and had to give it a try, we all loved it. Perfect amount of spice, but you can always lick it up a notch with a couple of drops of Cholula as I do.
Don't forget all of the toppings! Great for parties, just put it all in a crockpot on low, let your guests enjoy!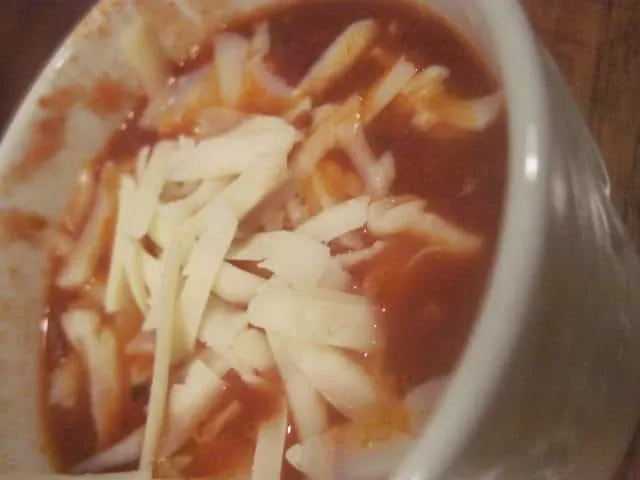 Yield:

8 servings
BIG POT O' CHILI
Ingredients
2 pounds ground beef
I added one whole onion chopped
2 cloves garlic, chopped
One 8-ounce can tomato sauce
2 tablespoons chili powder
1 teaspoon ground cumin
1 teaspoon ground oregano
1 teaspoon salt
1/4 teaspoon cayenne pepper
1/4 cup masa harisa (corn flour, found in the Mexican food section of many supermarkets)
One 15-ounce can kidney beans, drained and rinsed
One 15-ounce can pinto beans, drained and rinsed
Shredded Cheddar, for serving
Sour Cream, for serving
Avocado, for serving
Chopped onions, for serving
Tortilla chips, for serving
Lime wedges, for serving
Instructions
Place the ground beef in a large pot and throw in the onion and garlic.
Cook over medium heat until browned.
Drain off the excess fat, and then pour in the tomato sauce, chili powder, cumin, oregano, salt, and cayenne. Stir together well, cover, and then reduce the heat to low.
Simmer for 1 hour, stirring occasionally. If the mixture becomes overly dry, add 1/2 cup water at a time as needed.
After an hour, place the masa harissa in a small bowl. Add 1/2 cup water and stir together with a fork. Dump the masa mixture into the chili. Stir together well, and then taste and adjust the seasonings.
Add more masa paste and /or water to get the chili to your preferred consistency, or to add more corn flavor.
Add the beans and simmer for 10 minutes.
Serve with shredded Cheddar cheese, chopped onions, sour cream, tortilla chips, and lime wedges. If you prefer a spicy chili add a couple of drops of Cholula Chipotle Sauce.
Also perfect served with homemade cornbread.