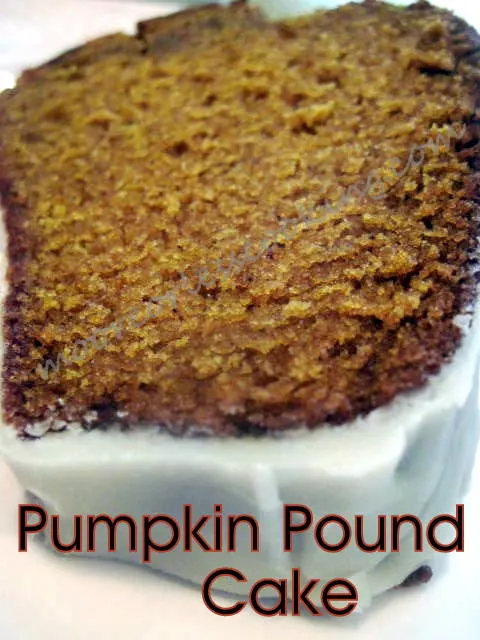 After raking the leaves, I was ready to hang up my rake, and start some fall baking. Something with pumpkin. My daughter walked into our home with her friends as I had the pumpkin pound cake in the oven. One friend said," Your house smells so good", the other friend replied, "Your house always smells so good". What better compliment?
So, if you want your home to smell absolutely wonderful, bake this cake, your family and friends will fall in love with you. Again.
This is a moist and delicious cake, the cake recipe is from Whipperberry and the Maple Glaze recipe is from Aubrey Cook, a finalist in the "Martha" show "Best Bakers in America" series. Whipperberry didn't include a recipe for a maple glaze, so I thought Aubrey's recipe sounded simple and very tasty.
It's a perfect combination of pumpkin and maple. I hope you enjoy it as much as we have.
Yield:

80 mins
Pumpkin Pound Cake with a Maple Glaze
Total Time:
1 hour
20 minutes
Delicious Pumpkin Pound Cake with a Maple Glaze, moist and perfect pound cake
Ingredients
2-1/2 cups sugar
1 cup canola oil
3 eggs
3 cups flour
2 teaspoons baking soda
1 teaspoon Cinnamon
1 teaspoon nutmeg
1/2 teaspoon salt
1 can (15 ounces) solid-pack pumpkin
Maple Glaze
2 TBSP unsalted butter
1/4 cup pure Maple Syrup
1 cup Powdered Sugar
Instructions
Preheat oven to 350 degrees.
Spray a bundt pan with non-stick spray. Set aside.
Stir together the flour, baking soda, cinnamon, nutmeg, and salt. Set aside.
Whisk together sugar, oil, eggs, and pumpkin.
Fold in the dry ingredients and stir until combined.
Pour into pan and bake for 1 hour, or until a toothpick comes out clean.
Let cake cool in pan for 15 minutes, then invert to a cooling rack until completely cool.
To Prepare the glaze; In a small saucepan, melt butter and syrup together over medium heat. Whisk confectioners' sugar into hot mixture until smooth, and immediately pour over cooled cake.
THIS RECIPE HAS BEEN LINKED TO THESE FABULOUS BLOGS: https://www.hoteatsandcoolreads.com/2013/10/spooktacular-halloween-round-up-and.html