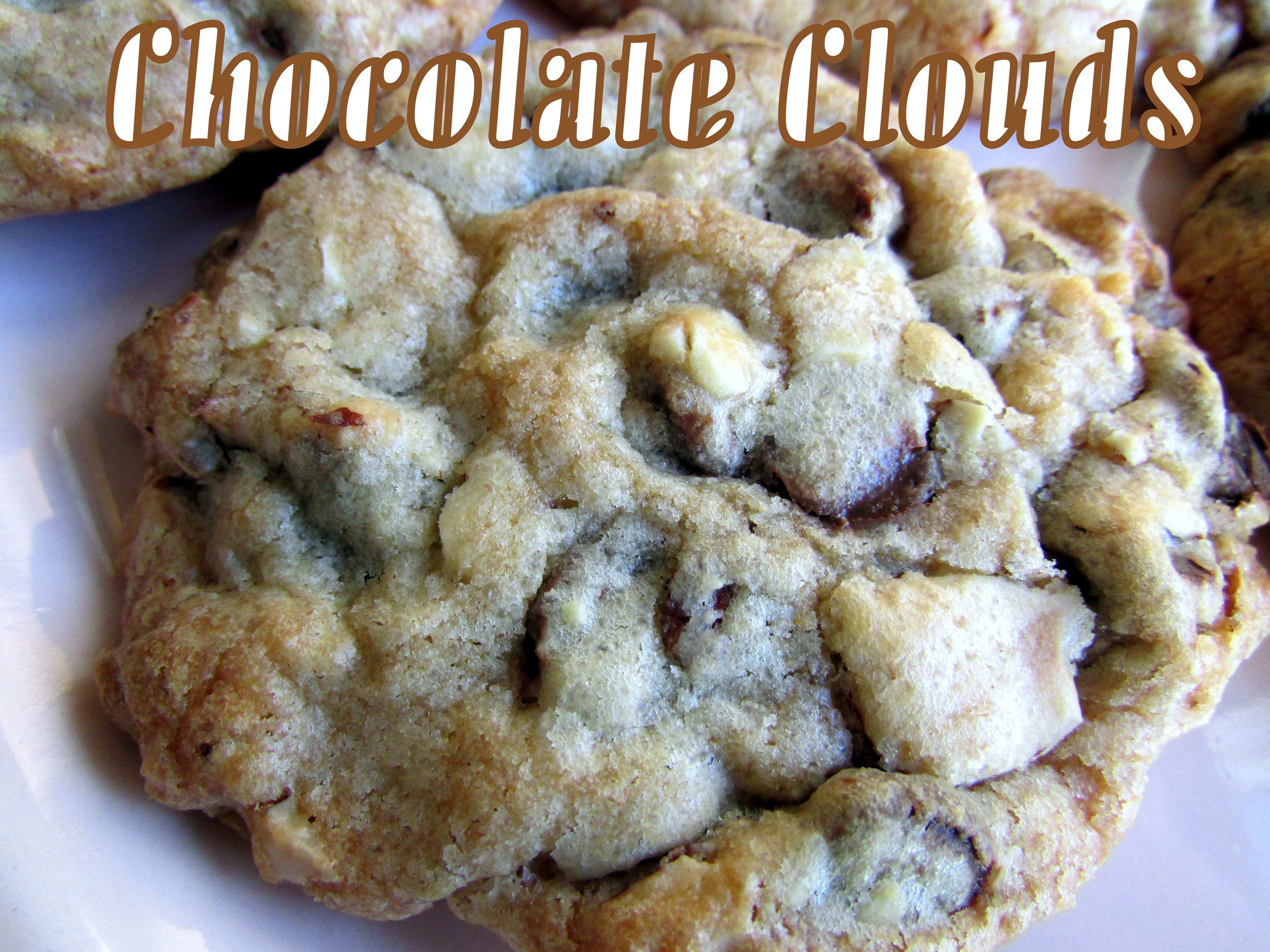 I was reading through SARABETH'S Bakery Cookbook and came to a screeching halt! Well, I really just flipped the cookbook to this recipe, the cookie looked so yummy and I really wanted to start baking for Christmas. I like to deliver cookies early to friends, so it's not stressful and I enjoy the baking time. Sarabeth said that she had stopped making these for her bakery and customers got irate, they wanted their favorite cookie back! I can see why, they are crunchy, almost meringue-like, the toasted almond slivers add a nice bite. These are my new addition to Christmas cookie platters!

CHOCOLATE CLOUDS COKIES
Makes about 3 dozen cookies
BAKERS NOTE: Place the dough about 3 inches apart on the half-sheet pans—they spread.
Ingredients
1 1/3 cup superfine sugar
1 1/3 cup packed light brown sugar
1 cup (2 sticks) unsalted butter, at room temperature, cut into ½-inch cubes
¾ teaspoon pure vanilla extract
2 large eggs, at room temperature, beaten
2 cups unbleached all purpose flour
¾ teaspoon baking soda
¼ teaspoon fine sea salt
2 cups (8 ounces) toasted sliced almonds
2 cups (12 ounces) chocolate chips
Instructions
1. Position the racks in the center and top third of the oven and preheat to 350°F. Line 3 half-sheet pans with parchment paper. Rub the sugar and brown sugar together through a coarse wire-mesh wire sieve into a medium bowl; set aside. Beat the butter in the bowl of a heavy-duty stand mixer fitted with the paddle attachment on high speed until smooth, about 1 minute. Gradually add the sugar mixture, then the vanilla. Beat, occasionally scraping the bottom and sides of the bowl, until the mixture is pale yellow and light textured, about 5 minutes. Gradually beat in the eggs.
2. Sift the flour, baking soda, and salt together into a medium bowl. With the mixer speed on low, add the dry ingredients in three additions, mixing just until each addition is incorporated. Add the almonds and chocolate chips and mix just until combined. Empty the dough onto the work surface, and use your hands to thoroughly distribute the almonds and chocolate chips in the dough.
3. Using a 2-inch-diameter ice-cream scoop, portion the batter onto the prepared pans. Using the heel of your palm, slightly flatten each ball of dough. Bake two of the pans with the cookies, switching the position of the pans from top to bottom and front to back about halfway through baking, until the cookies are evenly golden brown,15 to 18 minutes. During the last 3 minutes, rap each pan on the rack. The cookies will deflate and their signature cracks will appear on the tops. Repeat with the third pan. Cool on the pans. (Store in an airtight container for up to 5 days.)
Recipe Adapted from the Sarabeth's Bakery Cookbook
This post has been linked up to these wonderful blogs: