Strata means layers… generally layers of egg-soaked bread and meat of some kind (ham, sausage, bacon) and cheese. It is baked like a casserole.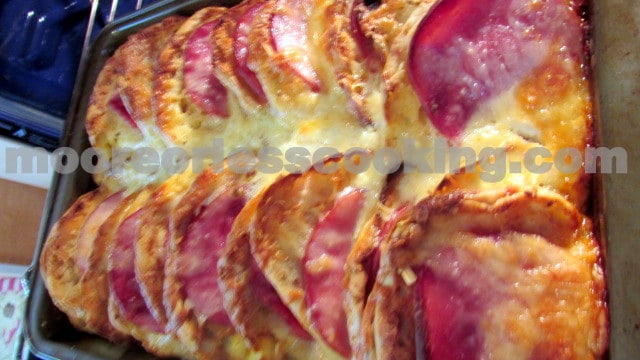 This is the other very popular strata ( Overnight egg casserole) that I prepared for the Bridal Breakfast that I catered last month. Other Items on the menu were a BROWN SUGAR STREUSEL COFFEE CAKE, Blueberry Crumb Coffee Cake, OVERNIGHT SAUSAGE AND EGG BAKE, Overnight Vegetarian Egg Bake, Fresh Fruit Salad, Coffee and Juices.
PLEASE REMEMBER TO SHARE ON FACEBOOK
AND PIN IT!
I did all of the preparation the day before, so the morning of the breakfast, I just popped the strata's in the oven so that they would be warm and ready for a beautiful breakfast.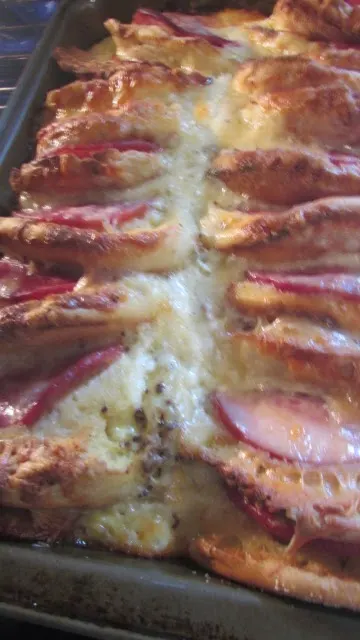 I doubled this recipe since there was a party of 23 people. Martha Stewart's recipe calls for Canadian Bacon, but I substituted small round ham, the same size as the English Muffin.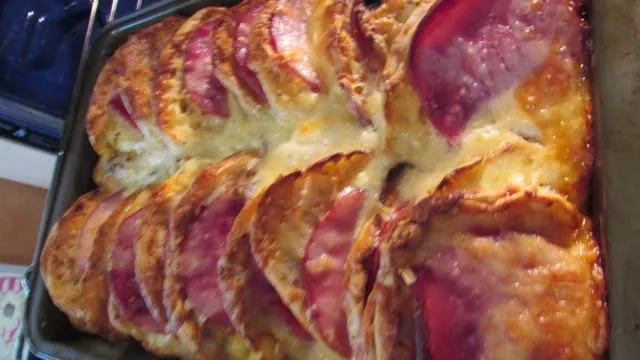 Recipe semi-adapted from Everyday Food, May 2006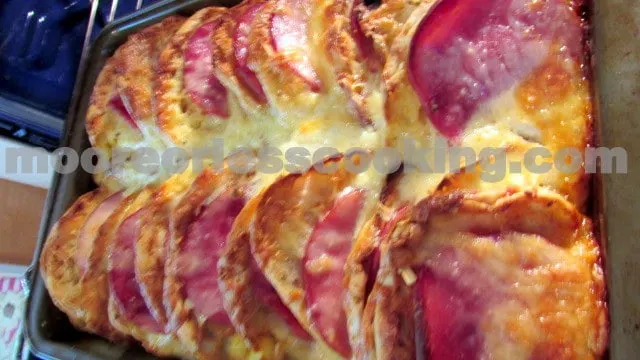 Yield:

10
English Muffin, Ham and Egg Strata ( Overnight Bake)
Cook Time:
1 hour
30 minutes
Total Time:
13 hours
30 minutes
I love making this dish the night before, then all you have to do is pop it in the oven in the am and you have a delicious breakfast. Perfect for parties, holidays or just when you want an easy breakfast or brunch.
Ingredients
Butter, softened (for pan)
4 English Muffins, split, toasted
1/2 pound sliced (about 10 slices) small round sliced Ham
1 1/4 cups shredded (5 ounces) sharp Cheddar Cheese
8 large eggs
3 cups milk
1 1/2 tablespoons Dijon Mustard
Coarse Salt and ground pepper
1/4 teaspoon Hot Sauce, such as Tabasco
Instructions
Generously Butter a 2-quart shallow baking dish (oval or square); set aside.
In a baking dish, alternately arrange, cut side down, muffin halves and Ham.
Sprinkle with cheddar cheese.
Set aside.
In a large bowl, whisk together eggs, milk, mustard, 1/2 teaspoon salt, a pinch of pepper, and hot sauce until combined.
Pour over English muffins and ham; cover tightly with plastic wrap.
Refrigerate at least 2 hours and up to overnight.
Place large pan over strata, place heavy pan on top. ( So all ingredients will be covered in egg mixture, soaked.)
In the morning, Preheat oven to 350 degrees.
Place baking dish on a rimmed baking sheet; remove plastic wrap.
Bake until puffed and set in the center (see note below), about 1 hour and 30 minutes. (Tent loosely with foil if strata starts to brown too quickly.)
Let stand 10 minutes before cutting and serving.
Let the strata chill 2 hours, and it will be nice and moist. If you leave it overnight in the refrigerator, it will be even more custardy.
To test to see if it is done, use a sharp knife and insert in center; it should not be jiggly, but should feel firm and the knife should come out clean.
Arrange the muffin halves and Ham upright for beautiful presentation and easier serving.
When cutting, you'll be able to see the layers and make sure each portion contains a few pieces of bread and ham.
Nettie Moore is the cook, baker, photographer and designer behind Moore or Less Cooking Food Blog. Nettie is a self-trained cook and baker. She loves creating easy recipes that don't call for a lot of unknown ingredients. Nettie's Blueberry Skillet Cake has been featured in Taste Of Home Magazine and her Peach Raspberry Pie has won awards! She was born and raised in Southern California and now calls New England her home, where she lives with her husband and two children.

Follow Nettie on her

blog

, Moore or Less Cooking, or on

FACEBOOK

|

TWITTER

|

GOOGLE+

|

PINTEREST

|

BLOGLOVIN

|

INSTAGRAM| Free email subscription here.