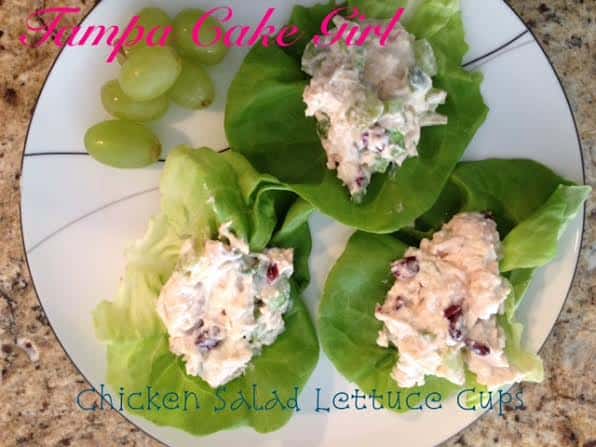 Hi, I am Cydnee, Owner/Proprietor and food blogger of Tampa Cake Girl. I bake and deliver cakes, pies, cupcakes and more to the Tampa Bay Area. I also blog on my page, sharing recipes too. Today I bring you one of my favorites, chicken salad.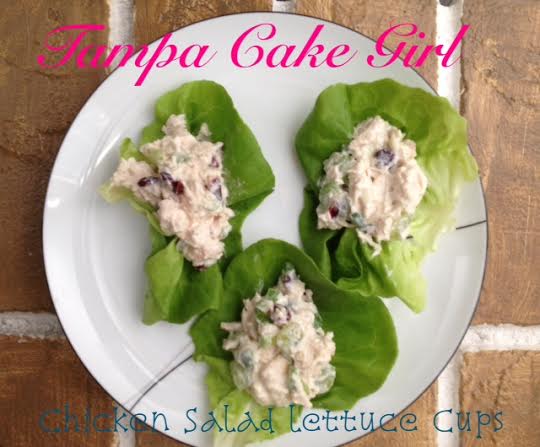 Chicken Salad Lettuce Cups
INGREDIENTS:
1 rotisserie chicken, picked clean and shredded
2 green onions, cut with kitchen shears
2 stalks of celery, I cut them with kitchen shears
1 cup of grapes, quartered, I used green seedless, quartered them because they were so large
3/4 cup Craisens
3/4 cup chopped pecans
Bibb lettuce
Mix all together in a large bowl.
Dressing:
Juice of 1 lemon
1/2 cup mayonnaise
1/2 cup sour cream
1/2 teaspoon of dry dill
1/2 teaspoon of salt
1/2 teaspoon of pepper
1 tablespoon of brown sugar
Whisk all ingredients together in a separate bowl. Not all rotisserie chickens are the same size, you do not want to have too much dressing in your chicken salad.
Arrange chicken salad on Bibb lettuce or put on bread for a delicious sandwich. You can make this recipe a day ahead and it will taste even better. Enjoy!
Recipe adapted from Ree Drummond.
Please stop by and visit me on my blog, or on Facebook!