I am so happy to be here today while Nettie is away. I am Tara the author of Noshing With The Nolands,
www.noshingwiththenolands.com
. I was a nurse for many years but now a full time blogger and stay at home mom. My
love of cooking started at a very young age where I would cook for my family. That love has continued over the years and now includes lots of time spent in the kitchen with my husband and daughter, creating and entertaining.
I
also have a new found love of photography, working hard to increase my skills. When pulled away from the kitchen, my family and myself love to explore and travel.
I hope you enjoy today post and these delicious blueberry muffins!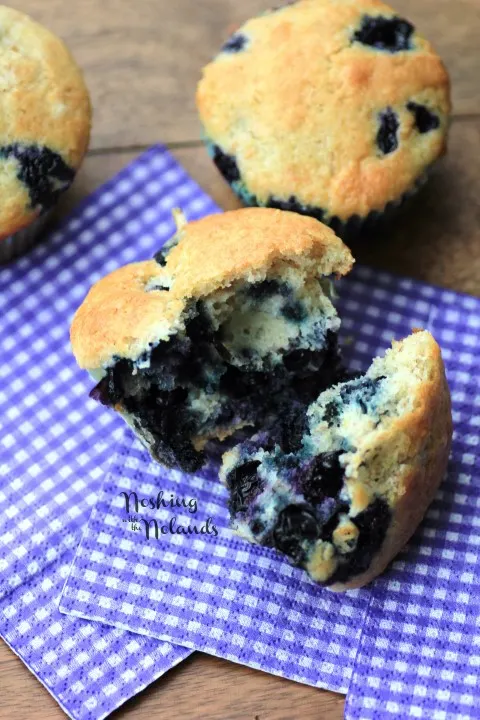 I adapted this recipe from Ida's Barefoot Series of Cookbooks. It had a big crunchy and yes yummy streusel topping but we weren't wanting that. I also amped up the healthy with some whole wheat flour. Well, they are all gone, disappeared in a flash. Not a drop of butter is needed with these moist muffins, just break into them and start eating!! ENJOY!!
Blueberry Muffins
Author: Tara Noland
Recipe type: Bread
Serves: 18-20
A deliciously moist and flavorful blueberry muffin.
Ingredients
2 cups all purpose flour
1½ cups whole wheat flour
4½ tsp. baking powder
1 tsp. baking soda
2 cups buttermilk, shaken
½ cup butter, melted and cooled
1½ tsp. grated lemon zest
2 large eggs
2 cups blueberries
Instructions
Line a muffin pan with muffin liners. Preheat oven to 375F.
Whisk the dry ingredients together in a large bowl. In another bowl mix together all the other ingredients but the blueberries. Stir the buttermilk mixture into the flour mixture using a fork and mix until just blended. Fold in the blueberries and do not over mix!
Fill the muffin liners until almost full. Bake 20-25 min. until golden brown. Let cool in the pan for 10 and then pop out onto a rack to cool completely.
Adapted from Barefoot Contessa's Back to Basics cookbook
You can check out more of Noshing with the Nolands and Tara's recipes by following her on the following social media sites