Today we welcome back the gentlemen from Platter Talk!
Hello again! We are Dan and Scott, the guys from Platter Talk. We are two working dads with six boys who keep us busy in and out of the kitchen. We have mix of old and new recipes, from Scott's urban childhood and Dan's rural and simple upbringing. We would love you to stop by and check out some of our food!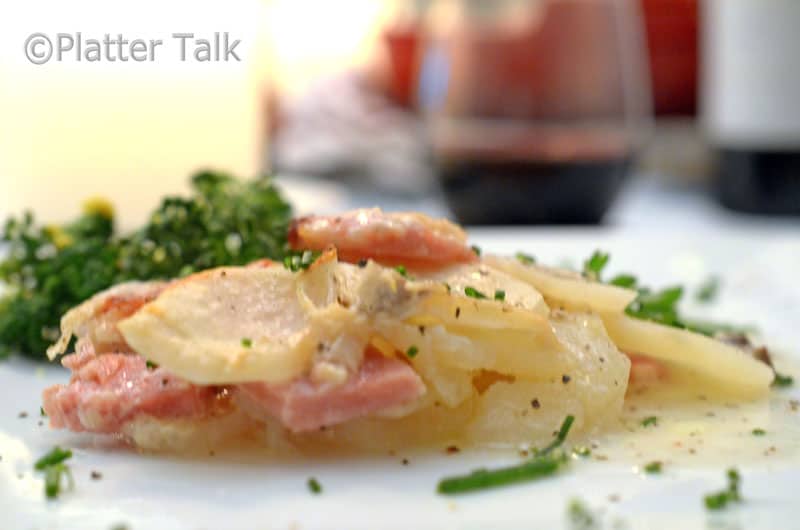 We only make scalloped potatoes a couple times each year, and every time I put this together I have to ask myself why we don't have it more often. This dish has it all: it's easy, economical, makes the house smell incredible, and everyone loves it – especially our boys. With or without the ham, the basic recipe requires precious few ingredients. Principally, potatoes, onions, milk, salt and pepper. Throw in a dab of butter, a little cream of something soup, and maybe some leftover ham if you have it and wham! Things start to delicious in a hurry. There are so many variation for preparing scalloped potatoes – none of them are wrong, as long as the end results are tantalizing and delicious.
Scalloped Potatoes and Ham
Recipe
Ingredients
3 lbs (1.5 kg) russet potatoes, peeled and thinly sliced.
1 medium size white onion, thinly sliced.
1 10 oz can cream of mushroom soup
1 cup milk
3 tablespoons flour, divided
1/4 cup butter
8 oz ham, thinly sliced or chopped
kosher salt to taste
fresh ground peppercorn to taste
Instructions
Preheat oven to 350 degrees F.
In small mixing bowl, combine milk and soup, stir until completely blended. Set aside.
Coat surface of baking dish with olive oil.
Place layer of potatoes, onions, and ham in baking dish, add salt and pepper and a couple of dabs of butter.
Repeat the above layer one or two times, adding a little flour to each layer.
Add half of milk and soup mixture to dish.
Continue adding layers of potatoes, onions, and ham (with dabs of butter and some of the flower) until all of these ingredients are used.
Add remaining milk and soup mixture to dish.
Cover with aluminum foil.
Bake for 60 minutes.
Remove foil and baked for an additional 30 minutes or until potatoes are tender.
Tips
Monitor dish a few times throughout oven-time. Add a bit more milk to dish if it seems dry.
Adjust baking time to depth of dish. Deep layers may require additional time while shallow layers may require less baking time.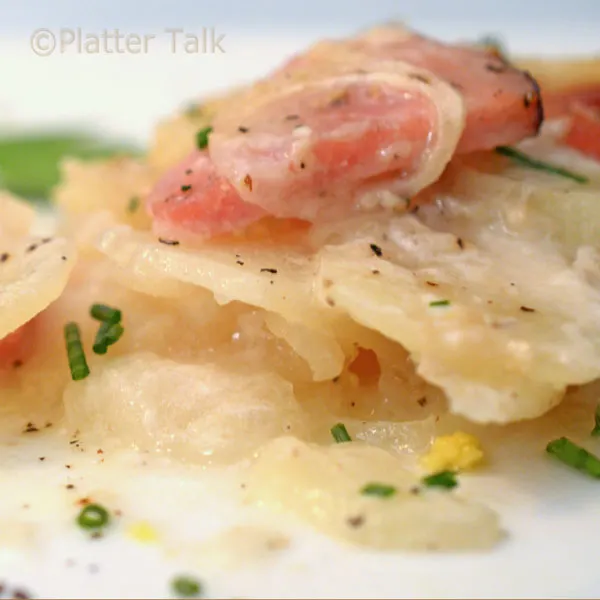 If you'd like to see more of our recipes and follow us on social media, you can find us at these following sites
Blog; https://www.plattertalk.com
RSS Feed: https://feeds.feedburner.com/plattertalk
Instagram: https://instagram.com/plattertalk
FB Fan Page: https://www.facebook.com/plattertalk
Twitter: https://twitter.com/plattertalk
Pinterest: https://www.pinterest.com/ddtcm/
G+ :https://plus.google.com/u/0/116361646450224462022/posts