The holidays are over and I am cutting back on the carbs. I was craving something sweet, with coconut and chocolate. I had a big bag of Almond Meal, so I thought I would use that. I also used Xylitol, which doesn't give your blood sugar a spike. This is a delicious , easy macaroon with no guilt!!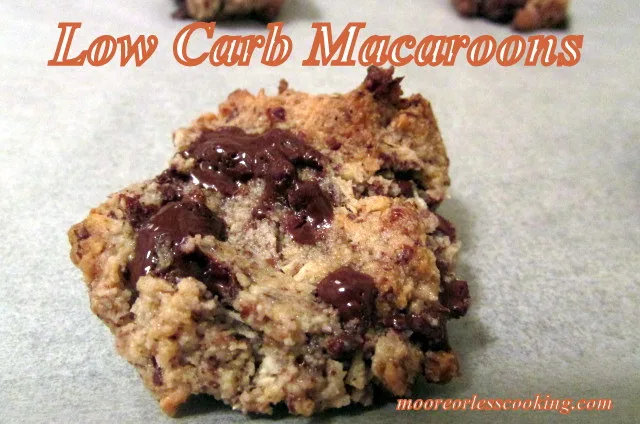 Yield:

25 cookies
Lo Carb Macaroons
Easy Lo Carb dessert! Chocolate macaroon without all of the guilt!
Ingredients
1 1/4 cup almond meal
1/4 cup unsweetened dark chocolate, chopped
1/2 cup unsweetened coconut
1/2 tsp baking powder
1/4 tsp sea salt
1/3 cup Xylitol
1 egg
3 Tbsp Coconut Oil
1/2 tsp Vanilla Extract
Instructions
In a large mixing bowl, stir together almond meal, chocolate, coconut, baking powder, salt and Xylitol.
In a separate bowl, beat egg.
Whisk in coconut oil and vanilla.
Add to dry ingredients, mix until just combined.
Place in refrigerator for 1/2 hour.
Preheat oven to 375 degrees F.
Shape dough into 1 ' balls and place on lined baking sheet, with 1 1/2 inches of space between cookies.
Press down slightly.
Bake until edges are brown, 7-10 minutes.
Remove from oven and let cool.
Makes 25 cookies
Note:
( Xylitol: is a natural substance found in fibrous vegetables and fruit, corn cobs and various hardwood trees like birch. Xylitol is also is a natural, intermediate product that regularly occurs in our glucose metabolism. Xylitol heals and repairs. It also builds immunity, protects against chronic degenerative disease and has anti-aging benefits.
Xylitol has 40% fewer calories than sugar and can replace sugar in cooking, baking or as a sweetener for beverages. Xylitol also dramatically reduces the incidents of middle ear infections (if kids chew xylitol-flavored chewing gum), it is a perfect sweetener for people with diabetes, and increases your bone density and fights osteoporosis.
My favorite aspect of Xylitol is that is helps with tooth decay since my daughter is prone to cavities. It helps to restore a proper alkaline/acid balance in the mouth and reverses destructive effects of sugar on oral health. It even has the ability to enhance the mineralization of the enamel and can stabilize cavities.
In the last two years, I have put some Biotene mouth wash, which has Xylitol in it, on our tooth brushes with our tooth paste, and our cavities have stabilized.
With so many health benefits, Xylitol is clearly the winner when it comes to sweeteners.
I suspect we will see it appear in many more products very soon, hopefully replacing chemical, artificial sweeteners for good.
One important note: you can get Xylitol in bulk for not much money by now, but that xylitol is processed from corn husks, which could be genetically modified (GMO) and is most likely not organic. Make sure the xylitol you buy is real birch sugar – search for "birch Xylitol."
One of my readers told me about Xylitol USA and I love all their products. I've bought their Xylitol packs, jams, lollipops, and gum. And they always have some kind of great sale. Need a lot of xylitol? They seem to have the best offer on non-GMO, birch Xylitol made in the USA. )