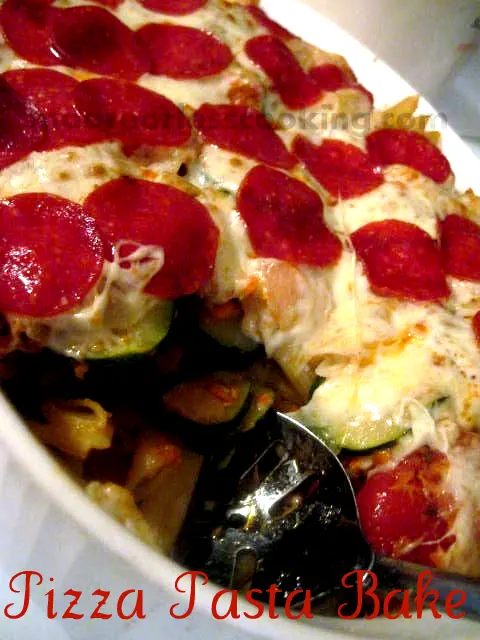 Sometimes you want pizza, sometimes you want pasta, what to do? Put them together! It is summer here and we have lots of veggies, I added Zucchini to this recipe, it is so delicious! Nettie
Recipe: Pizza Pasta Bake
1 lb pasta (penne)
2 tablespoons olive oil
1 onion chopped
2 garlic cloves chopped
3 celery stalks chopped finely in Cuisinart
3 carrots chopped finely in Cuisinart
15 ounces whole peeled tomatoes
3 zucchini ( sliced)
8 slices Provolone Cheese
18 slices pepperoni
1 tablespoon Italian Seasoning
Directions:
Preheat oven to 350
Bring water to a boil. Add penne and cook approximately 3-4 min less than stated on the package.
Without heating the oil first, put all ingredients: olive oil, garlic, tomatoes, zucchini, carrot and celery mixture, and Italian Seasoning in a pan and cook for about 30 min on medium heat.
Drain the pasta and toss into a greased casserole dish.
Add the cooked vegetable tomato sauce. Combine pasta and sauce.
Then place sliced cheese over pasta. Place sliced pepperoni over cheese.
Bake in oven covered for about 20 minutes, remove cover and cook for another 10 minutes until cheese is bubbly and golden.
Enjoy!!