This Pumpkin French Toast Casserole has autumn's best baking ingredients like pumpkin, brown sugar, cinnamon, and pecans. Next, pour the thick pumpkin custard mixture over French Bread cubes topped with a brown sugar pecan crumb topping. This memorable casserole can be prepped the night before, so it's convenient for a holiday brunch or any busy fall morning.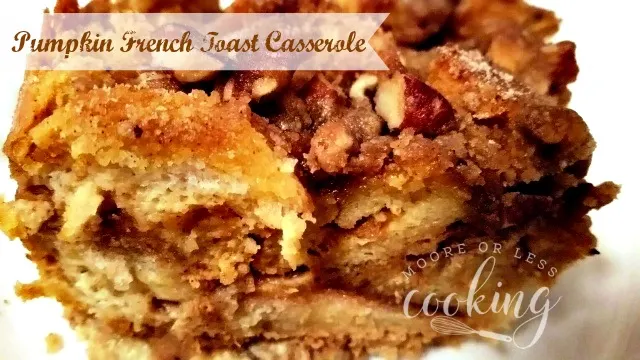 Pumpkin French Toast Casserole: Make this easy Pumpkin french toast casserole loaded with pecan streusel the night before, then just bake it in the morning for a scrumptious breakfast!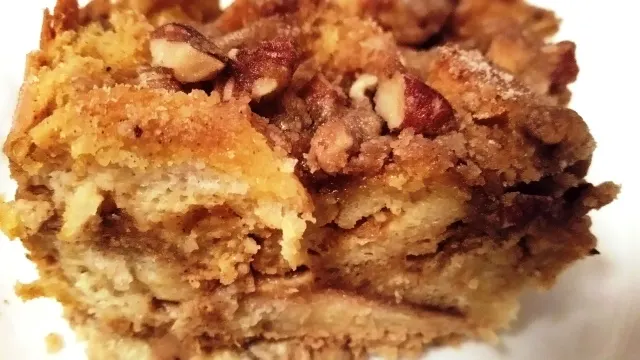 What are your favorite sleepover foods? I love french Toast! This pumpkin french toast casserole is so easy to make. Just get it ready the night before and then have a delicious meal for breakfast, serve with fruit. Your guests will go crazy, smells like fall in the kitchen!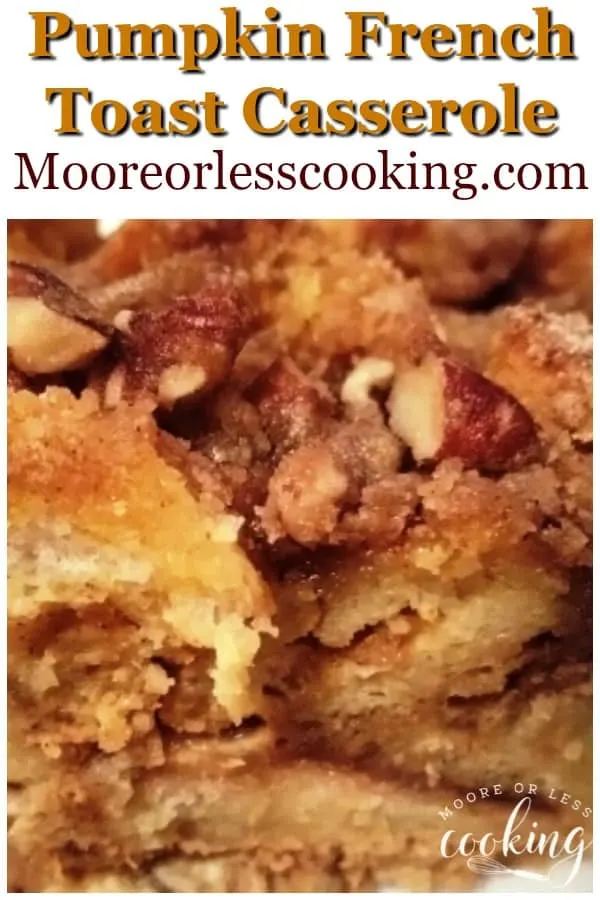 What you will need to make this yummy Pumpkin French Toast Casserole: Sugar, Half and Half, vanilla, cinnamon, pumpkin, French Baguette, heavy cream and eggs.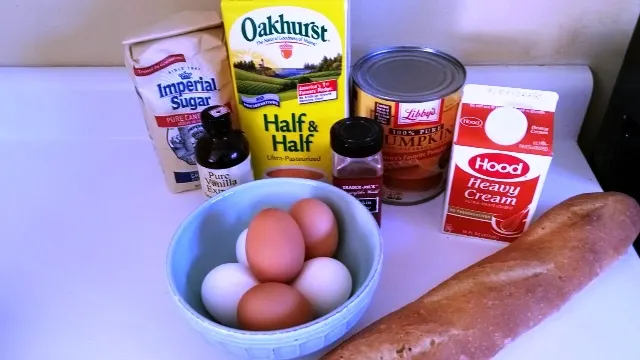 Pumpkin French Toast Casserole
Taste: Each serving of Pumpkin French toast casserole tastes like warm spice, pecan, and pumpkin flavors are incredibly delicious.
Texture: It has a bread pudding-like texture. Let the bread get a bit stale, it will work better for this recipe. The bread will absorb the custard. Every bite will be thick, soft, and dense instead of soggy.
Simple: Just prep it all the night before. (French toast casserole tastes better setting overnight before baking.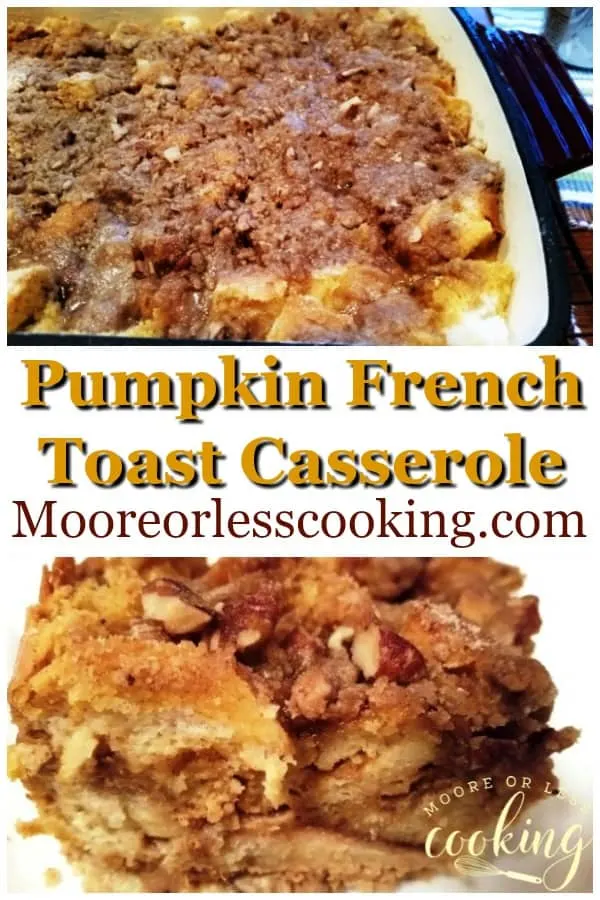 What Is The Best Bread to Use for Pumpkin French Toast Casserole?
Since this is a French Toast Casserole, I am using French Bread. It has substance. I also recommend sturdy flavorful bread like Challah, Brioche, or sourdough.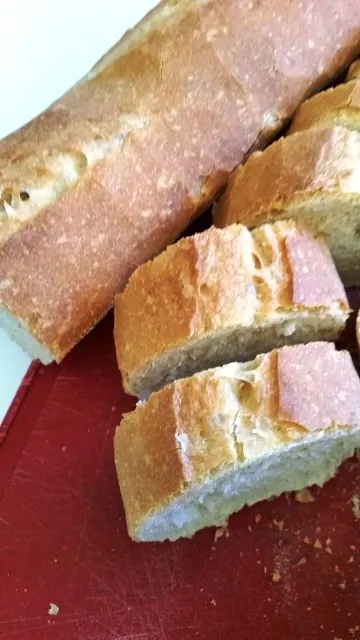 Simply cut up a French baguette.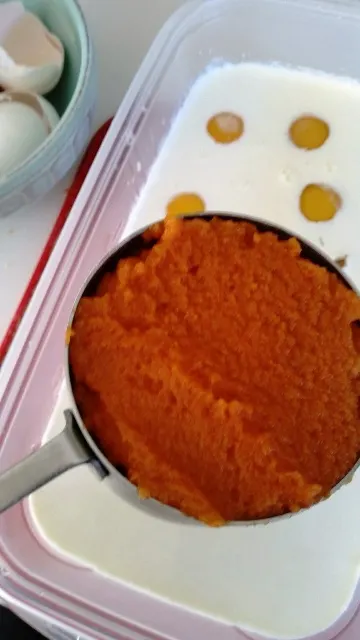 Mix half and half, cream, eggs, and pumpkin.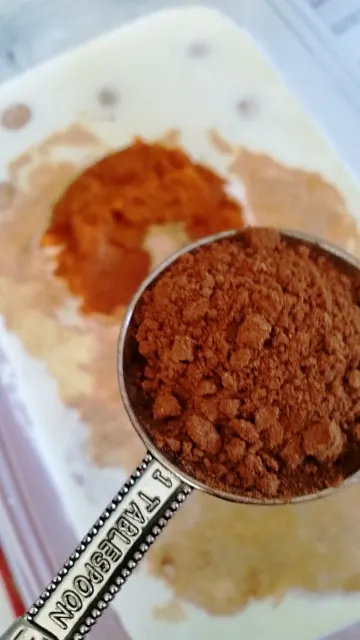 Add pumpkin spice.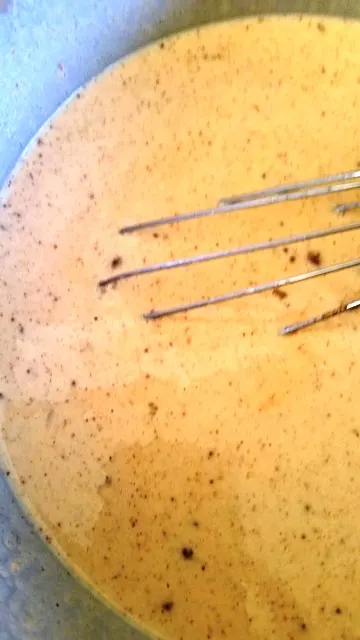 Mix until thoroughly blended.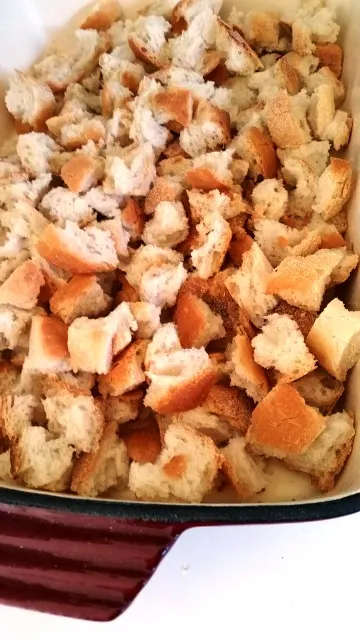 Spray a 9×13″ casserole dish, and add the bread.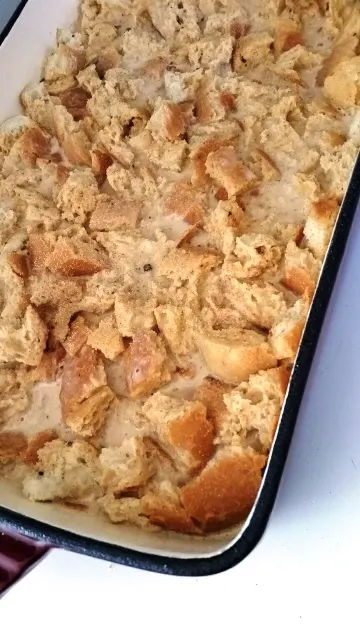 Pour the custard mixture over the bread, and mix until the bread absorbs custard. Cover with saran wrap, place in refrigerator overnight.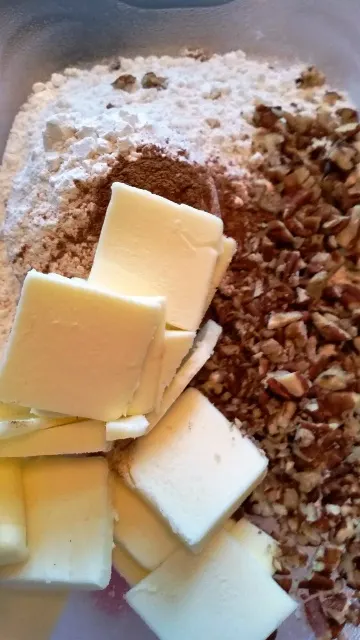 Make streusel topping, sprinkle over bread.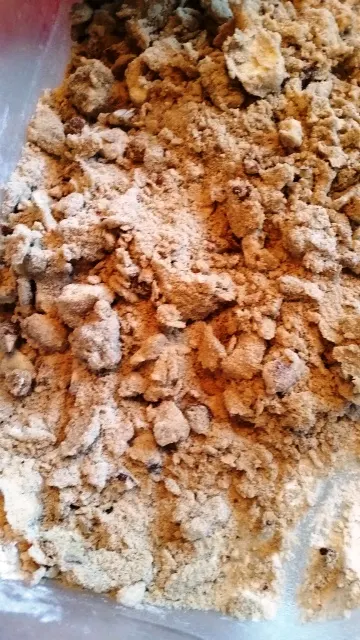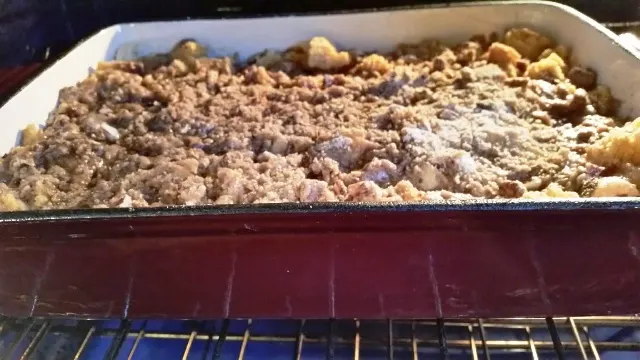 Bake for 45 minutes.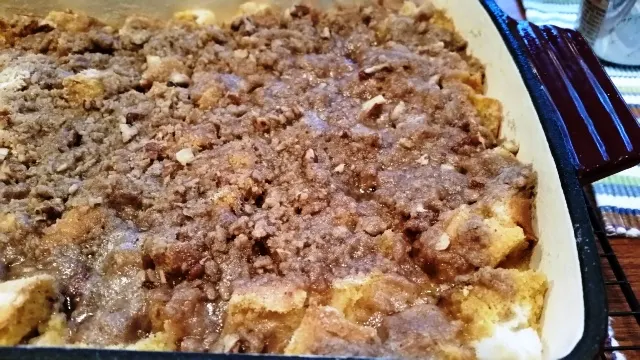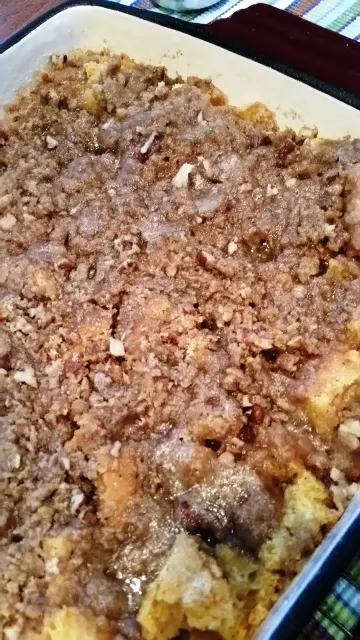 How To Make the Best Pumpkin French Toast Casserole
Pumpkin Custard. The rich and spiced custard comes together with a whisk, mixing bowl, and a few basic ingredients. When testing this recipe, I used half and half but you can use milk or cream.
Let the bread soak. The more the bread soaks up the custard, the less time the casserole takes to bake (check at 45 minutes as instructed below), and the less soggy the casserole tastes. I recommend at least 3 hours and up to 1 day in the refrigerator.
Make the Crumb Topping in Advance Prepare the brown sugar pecan topping in advance so it can also chill in the refrigerator. Remember, crumb toppings are butter heavy which means they'll melt quickly in the oven.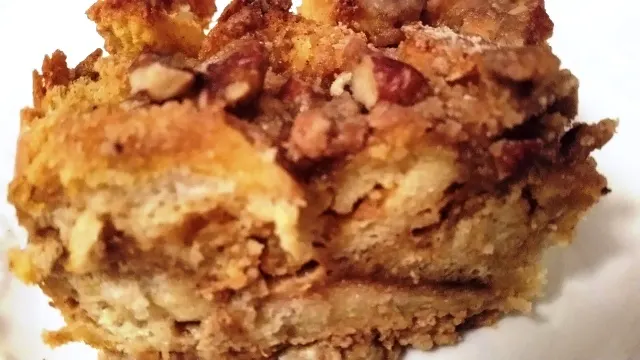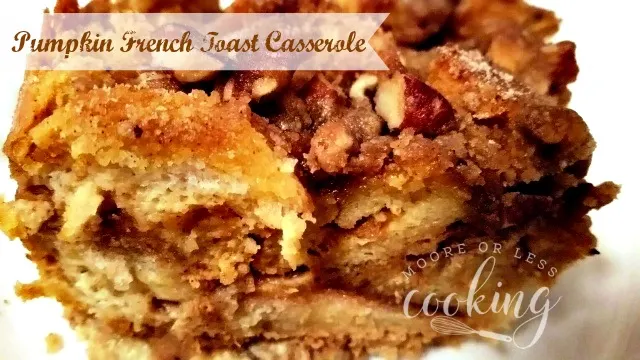 Yield:

8 servings
Pumpkin French Toast Casserole #SundaySupper
Delicious Overnight Pumpkin French Toast Casserole with a yummy pecan streusel.
Ingredients
1 baguette, cubed
2 cups half and half or milk
½ cup heavy cream
1 cup granulated sugar
6 large eggs
1 cup pumpkin
2 tablespoons vanilla
1 tablespoon pumpkin pie spice
STREUSEL:
½ cup brown sugar
½ cup cold salted butter, diced
½ cup all-purpose flour
⅓ cup chopped pecans
2 teaspoons pumpkin spice
Instructions
Spray a 9x13 pan with nonstick cooking spray. Place the diced bread in the baking pan; set aside.
In a medium bowl, whisk together the half and half, cream, sugar, eggs, pumpkin, vanilla, and pie spice. Pour the prepared custard over the prepared baking pan. Cover with plastic wrap and refrigerate for at least 3-4 hours and preferably overnight.
STREUSEL:Combine brown sugar, butter, all-purpose flour, pecans, and pumpkin spice in a small bowl. Using your hands, mix together until the butter breaks down into smaller pieces. Sprinkle the streusel mixture over the french toast casserole.
When ready to bake, position a rack in the center of the oven and preheat the oven to 350ºF. Bake for 45-55 minutes or until thoroughly cooked. If your streusel starts to brown too much at any point, tent with a piece of foil. Let cool for a few minutes before serving. Serve with maple syrup, butter, and powdered sugar.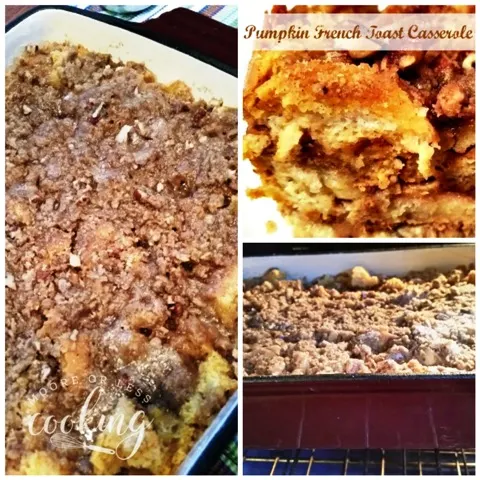 Breakfast
Desserts
Snacks