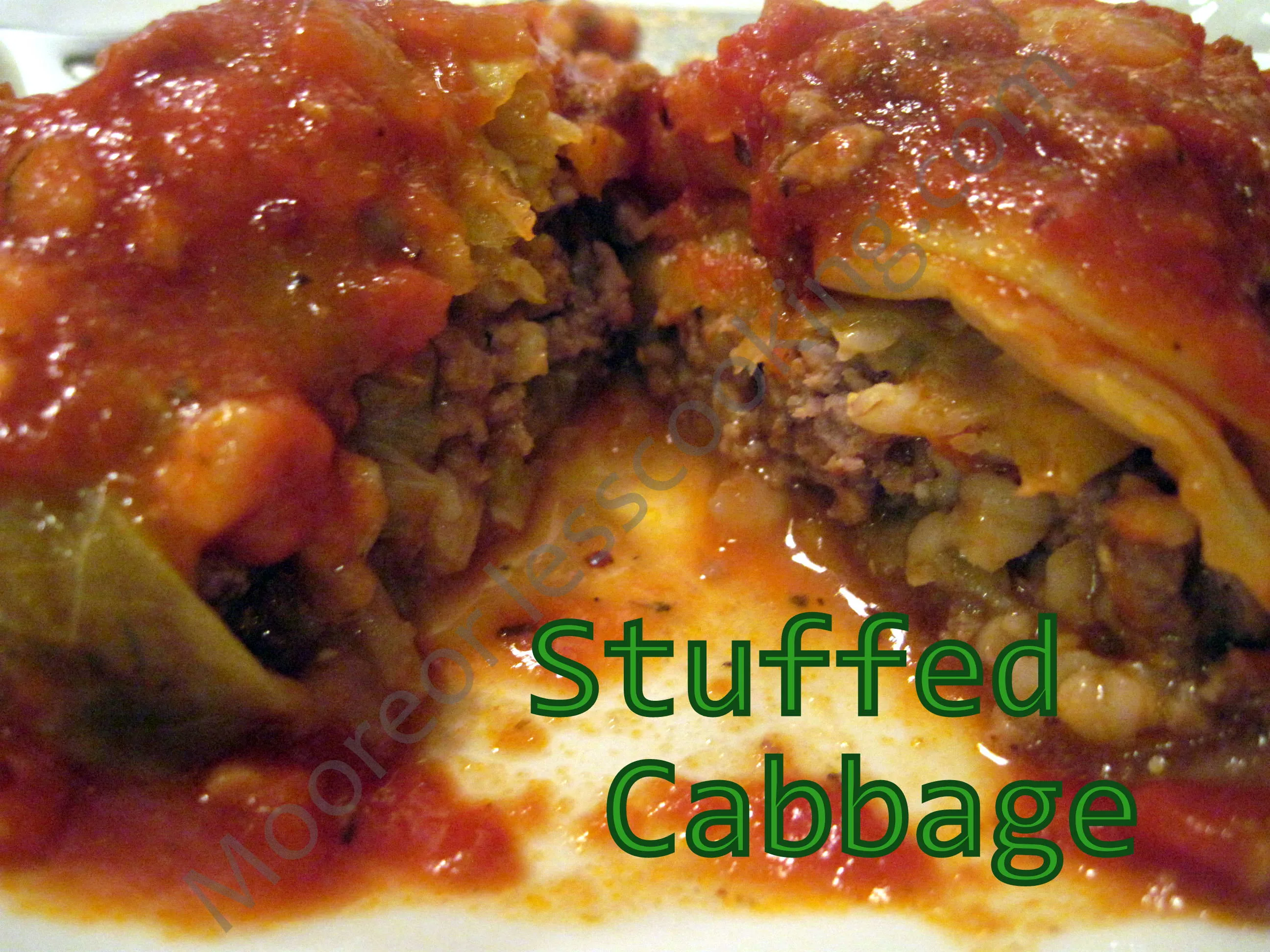 Stuffed cabbage is a perfect dish when you you want to use leftover's in your refrigerator. I had pasta meat sauce and brown rice already, so this was easy to put together. It's a lot
of steps, but well worth it.
This recipe comes from one of my favorite cookbooks, The Fannie Farmer Cookbook, 12th Edition. The great thing about this recipe is you can use what you have on hand, for the beef, you can substitute pork or chicken or sausage, you can use any kind of rice and add the seasonings that you prefer.
I have Bavarian Seasoning from Penzey's Spice. This just sounds like something I would order in a Bavarian Restaurant so I went with the feeling and it worked great.
STUFFED CABBAGE LEAVES
Yield:

serves 4
Stuffed Cabbage Leaves
Total Time:
1 hour
10 minutes
This is a fantastic recipe for cold weather. Use any leftover ingredients that you may have in the refrigerator, such as rice or tomato sauce.
Ingredients
8 large cabbage leaves
1 large onion, chopped
4 tbsp. butter
1 tsp. paprika
2 c. minced cooked beef or pork
2 c. cooked rice ( I used brown rice)
1/4 c. parsley
1/2 tsp. rosemary ( I didn't have rosemary, so I used Penzey's Bavarian Seasoning)
I also added Penzey's Minced Garlic and Toasted Onion- 1 tsp each
salt to taste
ground black pepper to taste
3/4 c. gravy ( or a meat sauce~ gravy, juice or strong bouillon) I used meat sauce from the night before.
16 oz. can tomatoes ( I used 1- 24 oz can of Tomato sauce)
Instructions
Boil water in a large pot.
Add cabbage leaves and cook for about 3-4 minutes.
Carefully lift out the leaves and let drain on a towel.
Cut a small V out of the root end to remove the hard spine of the leaves.
Saute onions in butter until soft.
If you need to brown any ground beef, do it at this time in the same pan with the onions.
Drain off any fat.
Add seasonings, rice and gravy.
Stir well to combine all these ingredients.
Spoon about 1/8 of the mixture on each of the cabbage leaves.
Fold in sides and roll to make a neat sausage-shaped package ( Like a burrito).
Place seam-side down in a greased baking pan.
Pour tomatoes sauce over the rolls.
Cover lightly with foil and bake at 350 degrees for 50 minutes.
Recipe semi adapted from Fannie Farmer Cookbook