You can turn any day into a special occasion with these 12 delicious quick bread recipes! Easy quick bread recipes are ideal for packing into a lunch box, for an easy dessert, or as an afternoon treat with a cup of tea.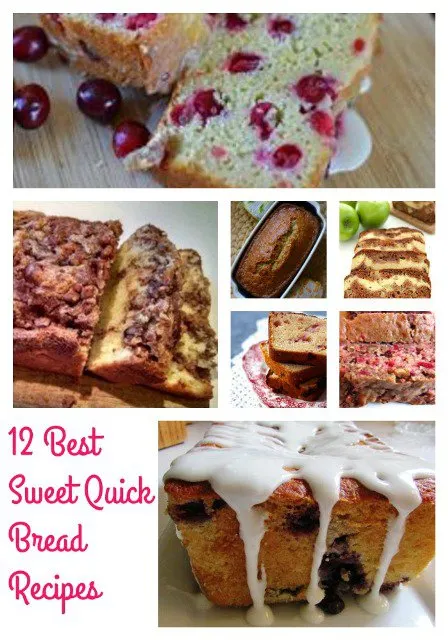 These baked goods are so quick and easy because they don't require yeast for leavening – there's no need to knead or let them rise. These quick bread recipes include banana bread, zucchini bread, pumpkin bread, apple bread, blueberry bread, cranberry bread, and more! Surprise a friend or loved one with a delicious loaf of sweet quick bread today!
Banana Chocolate Nut BreadBanana bread with gooey, melty chocolate and nuts. Recipe from Moore or Less Cooking
Apple Cinnamon Cream Cheese BreadStuffed with a yummy cream cheese layer that blends well with apples and cinnamon. Recipe CincyShopper
Banana Split Banana BreadAll of the ingredients that you love on your banana split but inside a bread! Recipe Tampa Cake Girl
Zucchini BreadA family recipe…and the reason why zucchinis were invented, I think! Recipe Moore or Less Cooking
Cranberry Orange BreadMoist & flavorful cranberry bread packed with orange zest and an orange glaze. Recipe Small Town Woman
Lemon Blueberry BreadSweet bread studded with fresh blueberries, hints of lemon, and drizzled with a decadent lemon glaze. Recipe Moore or Less Cooking
Strawberry Dream Tea BreadFresh strawberries, cream cheese, and strawberry milk make for an over-the-top delicious tea bread. Recipe ChinDeep
Cinnamon Swirl BreadEveryone enjoys this sticky, sweet, and delicious quick bread that tastes like a cake! Recipe Cooking With Mary and Friends
Chocolate Chunk Pumpkin BreadPumpkin, spices, and coarsely chopped chocolate chunks make this bread perfect all year round. Recipe from Moore or Less Cooking
Mayonnaise Banana BreadYou probably have everything you need in your fridge and pantry to whip up this ridiculously moist, just sweet enough loaf. Recipe ChinDeep
Cranberry Applesauce BreadCranberry sauce, apple sauce, and spices make an incredible quick bread. Recipe Moore or Less Cooking
Cinnamon Apple Pie BreadQuick and easy bread with brown sugar and cinnamon topping – it's as sweet as apple pie. Recipe Wishes and Dishes
Nettie Moore is the cook, baker, photographer and designer behind Moore or Less Cooking Food Blog. Nettie is a self-trained cook and baker. She loves creating easy recipes that don't call for a lot of unknown ingredients. Nettie's Blueberry Skillet Cake has been featured in Taste Of Home Magazine and her Peach Raspberry Pie has won awards! She was born and raised in Southern California and now calls New England her home, where she lives with her husband and two children. Follow her on her blog Moore Or Less Cooking,Facebook, and Pinterest.