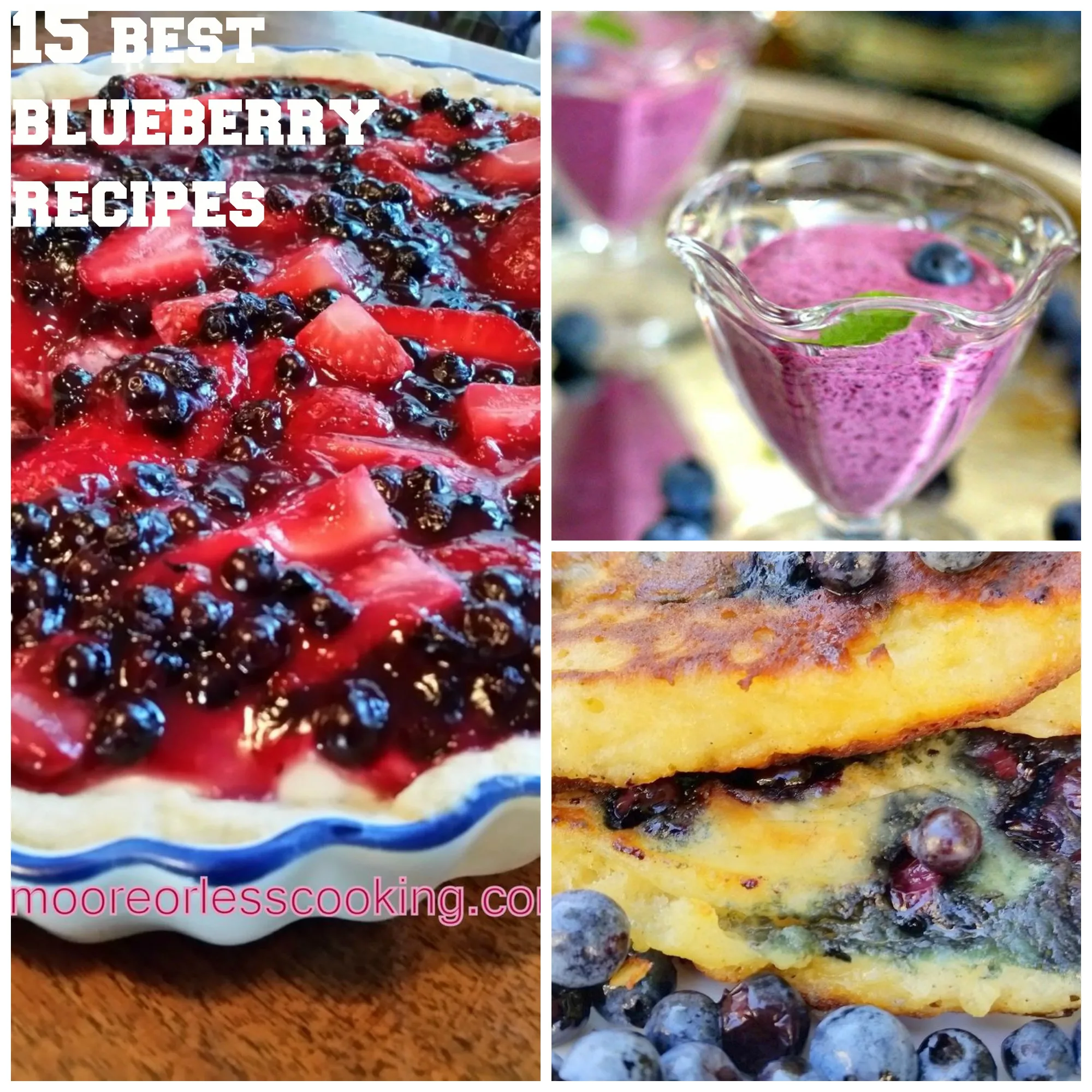 It's feeling like spring is right around the corner and I am dreaming about blueberry recipes. I love to cook and bake with blueberries. They are one of the healthiest fruits that you can eat…which I like to keep in mind when I am baking a blueberry cake! I have a collection of some of the most delicious blueberry recipes: pancakes, donuts, cheesecake, waffles, coffeecake, salad, Mojitos, and more!
Blueberry Dutch Baby~
Easy to make in a blender! It's like an amazing combination of a crepe and a popover.
Blueberry Crumb Coffee Cake
Tender, moist coffeecake bursting with blueberries in every bite.
Blueberry Waffles
Light and crispy waffles with a blueberry burst in every bite!
Recipe Moore or Less Cooking
Blueberry Cake
A wonderfully light and fluffy blueberry cake with lemon zest and a sour cream lemon glaze.
Recipe Moore or Less Cooking
Blueberry Skillet Cake
This is a very simple cake recipe with blueberries and almonds. The cake is very moist and the blueberries are sweet and tender – an easy recipe perfect for a Sunday brunch or for a light dessert.
Recipe Moore or Less Cooking
Blueberry Yogurt Pancakes
Wonderful blueberry yogurt pancakes, perfect for two!
Recipe Moore or Less Cooking
No-Bake Berry Cream Pie
Easy, luscious, and creamy no-bake pie with a cheesecake-like filling and juicy berries.
Recipe Moore or Less Cooking
Blueberry Spooncakes
Every bite has a healthy burst of sweet blueberries. And, since you're baking them in ramekins, there's no need for slicing. Everyone gets their own baby spooncake!
Recipe Ally's Kitchen
Blueberry Pancake Bites
A bite-sized pancake loaded with blueberries!
Recipe CincyShopper
No-Bake Blueberry Cheesecake Parfaits
Quick and easy dessert, perfect when you are on the go!
Recipe Cooking With Mary and Friends
Blueberry Cobbler
This is an easy dessert that you can make for guests right before they arrive and they will be coming back for more!
Recipe Moore or Less Cooking
Click Here for More Blueberry Recipes
This post originally aired on Parade, Community Table.
Nettie Moore is the cook, baker, photographer and designer behind Moore or Less Cooking Food Blog. Nettie is a self trained cook and baker. She loves creating easy recipes that don't call for a lot of unknown ingredients. Nettie's Blueberry Skillet Cake has been featured in Taste Of Home Magazine and her Peach Raspberry Pie has won awards! She was born and raised in Southern California and now calls New England her home, where she lives with her husband and two children. Follow her on her blog Moore Or Less Cooking, Facebook, and Pinterest.