Hi I'm Cynthia from What a Girl Eats. I am a classically trained cook. I attended the California Culinary Academy where I completed their 16 month Master Chef's program. After graduating I worked in London. My husband and I traveled around the world on our honeymoon, which is why my blog's tagline is "healthy food with a global spin". By day I am a kindergarten teacher with a Master's degree in teaching English to second language learners. I love cooking healthy food and hope to inspire others that cooking is easy and fun with simple recipes using real ingredients.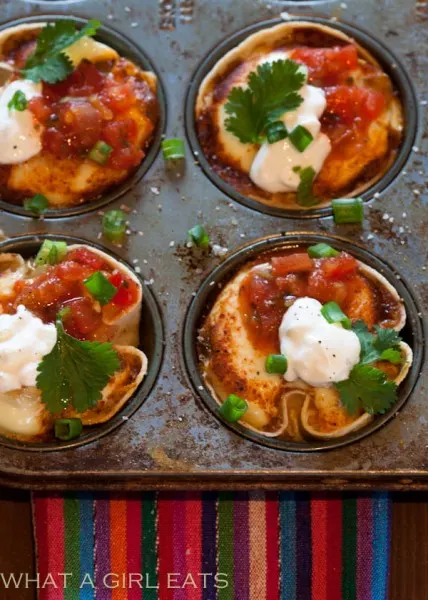 These super easy Mexican Egg Cups , a take-off on Huevos Ranchero, are perfect for a brunch. Baking them in a muffin tin enables you to cook a dozen (or more) at once. You can jazz them up with hotter sauce, depending on your crowd. I used a medium enchilada sauce for my guests. Small corn tortillas, about 4″ in diameter, fit into the muffin tin perfectly, but a larger tortilla would work as well.
Mexican Egg Cups
Author: Cynthia McCloud Woodman
Ingredients
1 dozen eggs
1 small 10 ounce can of enchilada sauce, I used medium hot
Grated cheese, any kind, I used sharp cheddar, but Mexican cojita or pepper jack would be great as well.
Homemade or fresh deli style salsa
Cilantro, chopped
Green onions, sliced
Sour cream
Instructions
Preheat oven to 350 degrees F.
Oil the sides and bottom of a muffin tin.
Soften 12 small, 4″ tortillas in the oven or microwave, until soft and flexible, about 25 seconds for 4 tortillas.
Press tortillas into each cup.
Add one tablespoon of enchilada sauce into the bottom of each tortilla cup.
Add one tablespoon( or so) of grated cheese.
Crack an egg on top of sauce and cheese mixture.
Season with kosher salt and cracked pepper.
Top each egg with 1-2 teaspoons additional enchilada sauce.
Bake in the center of the oven for approximately 20 minutes.
Top with salsa, sour cream, cilantro and green onions.