Hi, I am Cydnee, owner of Tampa Cake Girl. I bake and deliver cakes, pies, cupcakes and more throughout the Tampa Bay Area. I am helping my friend Nettie out while she is in California. Today I made Strawberry Streusel Muffins. Enjoy!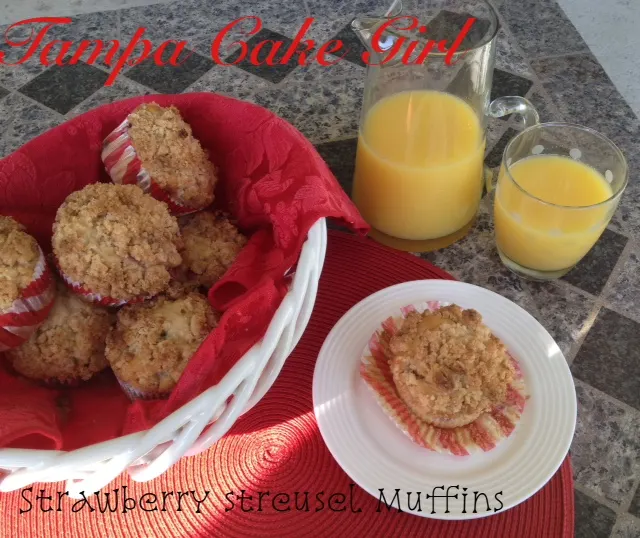 Strawberry Streusel Muffins
Muffin Batter Ingredients:
1 egg, I used jumbo
3/4 cup milk
1/4 cup vegetable oil
1 teaspoon vanilla
1/2 cup sugar
1 1/2 cups all purpose flour
2 Tablespoons of baking powder
1/2 teaspoon salt
1/4 teaspoon cinnamon
2- 2 1/2 cups of strawberries, rough cut
Crumb Topping:
1 cup flour
4 Tablespoons light brown sugar
2 teaspoons granulated sugar
1 teaspoon of baking powder
Pinch of salt
6 Tablespoons butter, melted
Preheat oven to 400 degrees. Line 12 muffin tins with liners.
Mix egg, milk, vanilla and oil in a bowl. In a large mixing bowl, whisk dry ingredients. Add wet ingredients to dry and do not over mix. Add strawberries and stir gently. Fill muffin tins with batter.
For crumb topping, combine flour, brown sugar, granulated sugar, baking powder and salt. Stir in butter. You should have pea size crumbles or larger. Top muffin batter with crumb mixture.
Please join Tampa Cake Girl on her blog and over on her Facebook page!