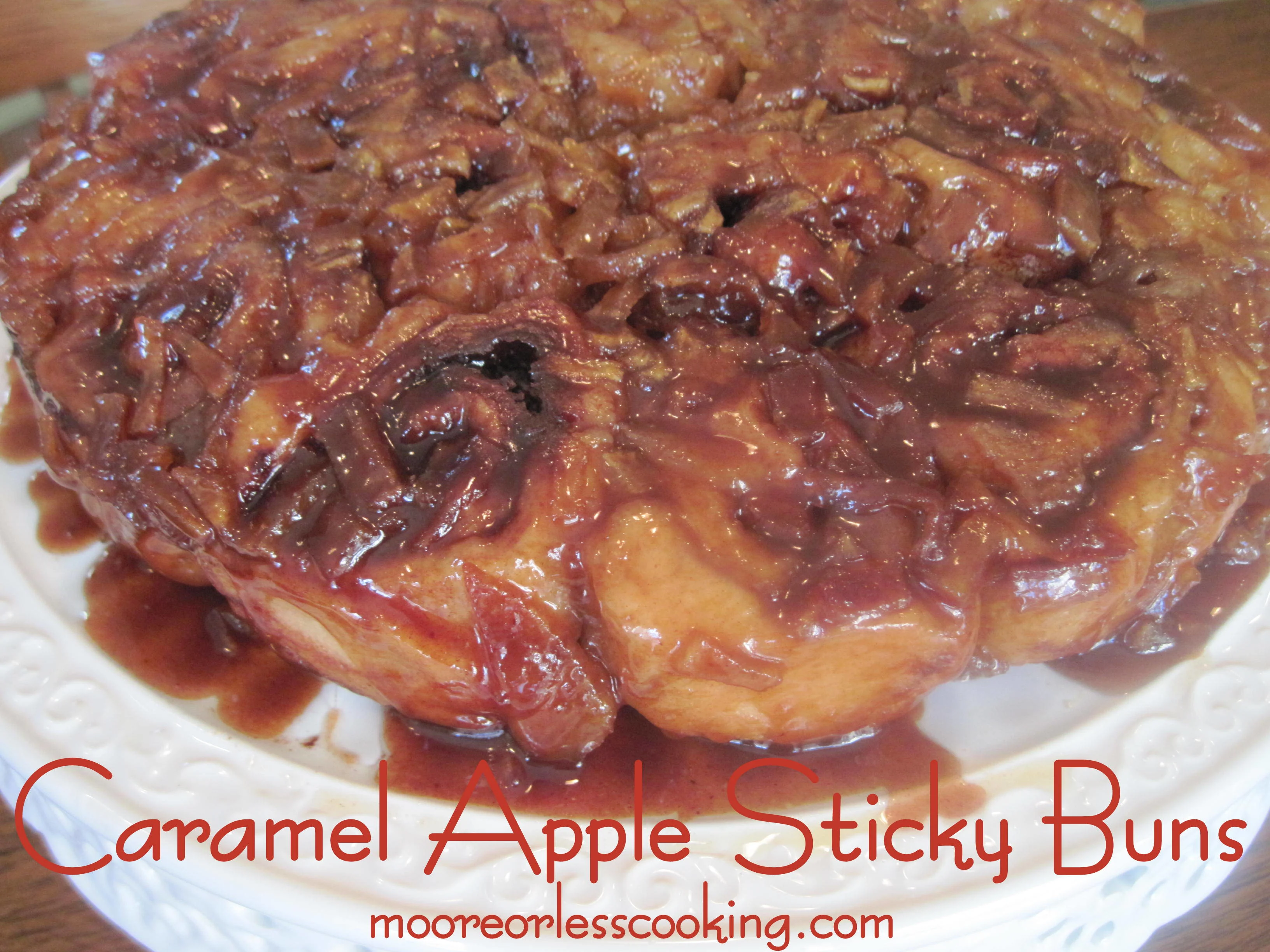 Give yourself some time to make these Sticky Buns, they are a bit of work, but well worth it.
I made one batch with a Granny Smith apple and the second batch with a cup of pecans. I had my kids taste them and they are both wonderful.
The buns are not heavy, but a lighter dough. These are perfect for a brunch party, or just when you happen to have a lot of kids in the house. Each sticky bun is a two bite size, so have a couple!
Yield:

12
Caramel Apple Sticky Buns
Total Time:
2 hours
35 minutes
Light and fluffy Sticky Buns, apple or pecan.
Ingredients
FOR THE ROLLS:
2 cups Whole Milk, (I used half and half)
1-1/4 cup Sugar
1/2 cup Canola Oil, I used Vegetable Oil
1 package (2 1/4 Teaspoons) Active Dry Yeast
4-1/2 cups Flour, Divided
2 teaspoons Salt
1/2 teaspoon (scant) Baking Soda
1/2 teaspoon (heaping) Baking Powder
3/4 cups Melted Butter
4 Tablespoons Ground Cinnamon
FOR THE CARAMEL TOPPING:
1 stick Salted Butter
1-1/2 cup Packed Brown Sugar
1 Tablespoon Dark Brown Corn Syrup ( I used light corn syrup)
2 Tablespoons Cream
2 Tablespoons Apple Brandy Or Apple Juice (optional) I didn't have either, still worked out perfectly
1 whole Granny Smith Apple, Peeled And Finely Diced
Instructions
To make the dough:
Heat milk, oil, and 1/2 cup sugar until warm (do not boil).
Allow to cool to lukewarm. Sprinkle in yeast and 4 cups flour. Stir gently and cover with a tea towel, allowing it to rise for 1 hour.
After 1 hour, add remaining flour, baking soda, baking powder, and salt.
Set aside.
To make the caramel topping:
Add 1 stick butter, brown sugar, corn syrup, cream, and optional apple brandy or apple juice. Allow to melt over low heat until totally combined. Allow to boil for a few seconds, then remove from heat.
Set aside.
To make the rolls:
Roll out half the dough into a large rectangle.
Pour on half the melted butter, half the remaining 3/4 cup sugar, and half the cinnamon. Roll into a long roll, then slice into rolls.
To assemble:
Spray 9-inch cake pan with cooking spray.
Pour in half the caramel topping.
Sprinkle diced apple over the top, then arrange sliced rolls all over the pan.
Allow to rise for 20 to 30 minutes.
Bake at 375 degrees for 30 to 35 minutes, covered in foil for the first 25 minutes.
(Repeat with the other half of dough if desired, or save the dough in the fridge for another use.)
I substituted pecans for apples for the second batch. I used 1 cup roughly chopped pecans.
Invert on a cake pedestal or serving plate.
Rolls will be very hot at first; allow to cool slightly before serving.