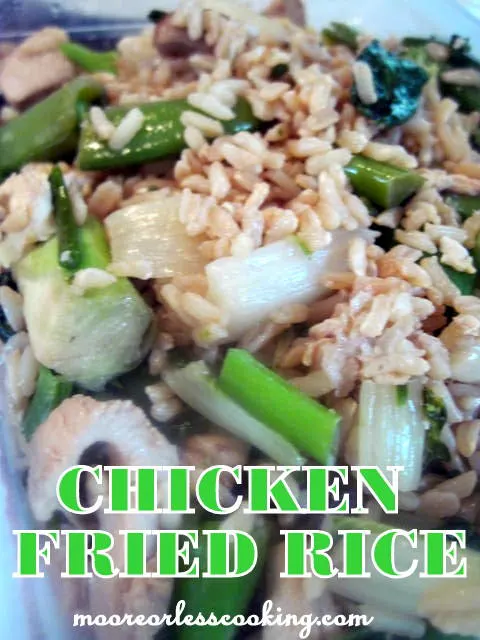 Make the best Chinese Food at home! My Mom used to serve the BEST food at her Chinese parties when I was a kid. So when she came to visit us, we all begged her to make Chinese Fried Rice for us. My Mom doesn't measure ingredients when she cooks or bakes, so I had to follow her around with a pen and paper and ask her to measure everything!
Ingredients
1 pound chicken breasts thinly sliced
2 bok choy stalks, leaves separated, leaves and stalks cut diagonally
1/2 Sugar Snap Peas (optional)
1/2 cup Bean Sprouts (optional)
1 clove garlic, crushed and chopped
1 piece ginger, sliced
2 green onions, sliced diagonally (optional)
2 eggs, beaten
Oil for stir-frying
2 cups cold rice, Long Grain
Marinade:
2 tablespoons light soy sauce
1 tablespoon Chinese rice wine or dry sherry
1/4 teaspoon sesame oil
Directions
Cut all of the vegetables into similar size so that the cooking time will be the same.
Cut chicken into strips. Add the marinade to the chicken, let marinate for 15 minutes.
Heat wok and add 2 tablespoons oil. When the oil is hot, add the chicken. Stir-fry until it is cooked. Remove from the wok and drain on paper towels. Add eggs, stir until cooked, set aside.
Add 2 – 3 tablespoons oil to the wok. When the oil is hot, add the ginger and garlic. Stir-fry briefly and add the onions. Stir-fry until onions are tender, then add the bok choy stalks. Stir-fry a bit longer, then add the Sugar Snap Peas and finally the bok choy leaves and Bean Sprouts.
Push the vegetables up to the side and add the rice in the middle, turning up the heat. Return the chicken and eggs to the wok. Mix well and stir in the green onions if using. Serve hot!
Recipe from MOM