We have been lo- carbing at the Moore's so I have invented a new recipe for you!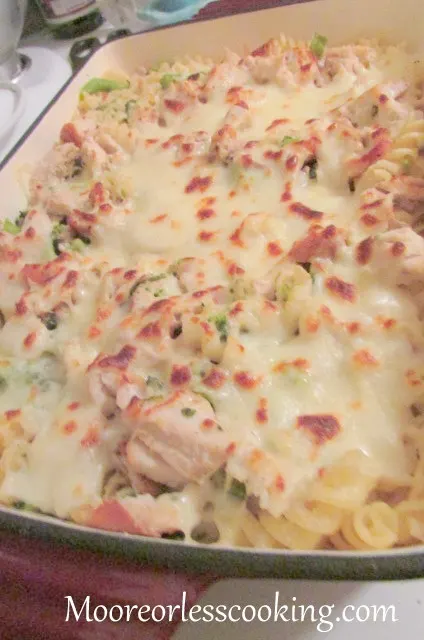 If you have all of your ingredients ready, it is a cinch to put together. I used soy flour to make the bechamel sauce, it doesn't get as thick as a regular flour Bechamel for mac and cheese, but don't worry, the Rotini Pasta thickens it up.
I used shredded Cabot Sharp Cheddar and Mozzarella and Romano for the cheeses.
My daughter requested Chicken Alfredo for this weeks menu, so I thought I would add Broccoli so that it was a one dish meal, the kids had no idea it was lo carb, so it was a win -win!!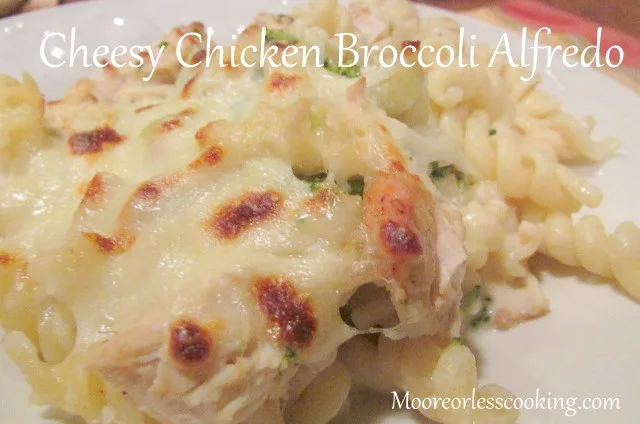 Linked up: Simple Supper Tuesday
8 ounces rotini pasta
12 ounces broccoli florets
1 tablespoon olive oil
2 boneless, skinless thin-sliced chicken breasts
Kosher salt and freshly ground black pepper, to taste
2 tablespoons unsalted butter
2 tablespoons all-purpose flour
3/4 cup chicken broth
3/4 cup milk, or more, as needed
1/4 cup heavy cream
1/4 teaspoon garlic powder
1/4 cup freshly grated Romano Cheese
1/2 cup Mozzarella Cheese, shredded
1/2 cup Cabot Cheddar, shredded
INSTRUCTIONS
In a large pot of boiling salted water, cook pasta according to package instructions. Within the last 2 minutes of cooking time, add broccoli; drain well.
Heat olive oil in a large skillet over medium high heat. Season chicken breasts with salt and pepper, to taste. Add to skillet and cook, flipping once, until cooked through, about 3-4 minutes per side. Let cool before dicing into bite-size pieces.
Melt butter in the skillet over medium heat. Whisk in flour until lightly browned, about 1 minute. Gradually whisk in chicken broth and milk, and cook, whisking constantly, until incorporated, about 1-2 minutes. Stir in heavy cream and garlic powder until slightly thickened, about 1-2 minutes.
Stir in Parmesan until well combined, about 1 minute. If the mixture is too thick, add more milk as needed.
Stir in pasta, broccoli and chicken. Gently toss to combine; season with salt and pepper, to taste.
Sprinkle shredded cheeses over pasta mixture, place in preheated oven at 350 F, bake until cheeses are melted and golden brown.