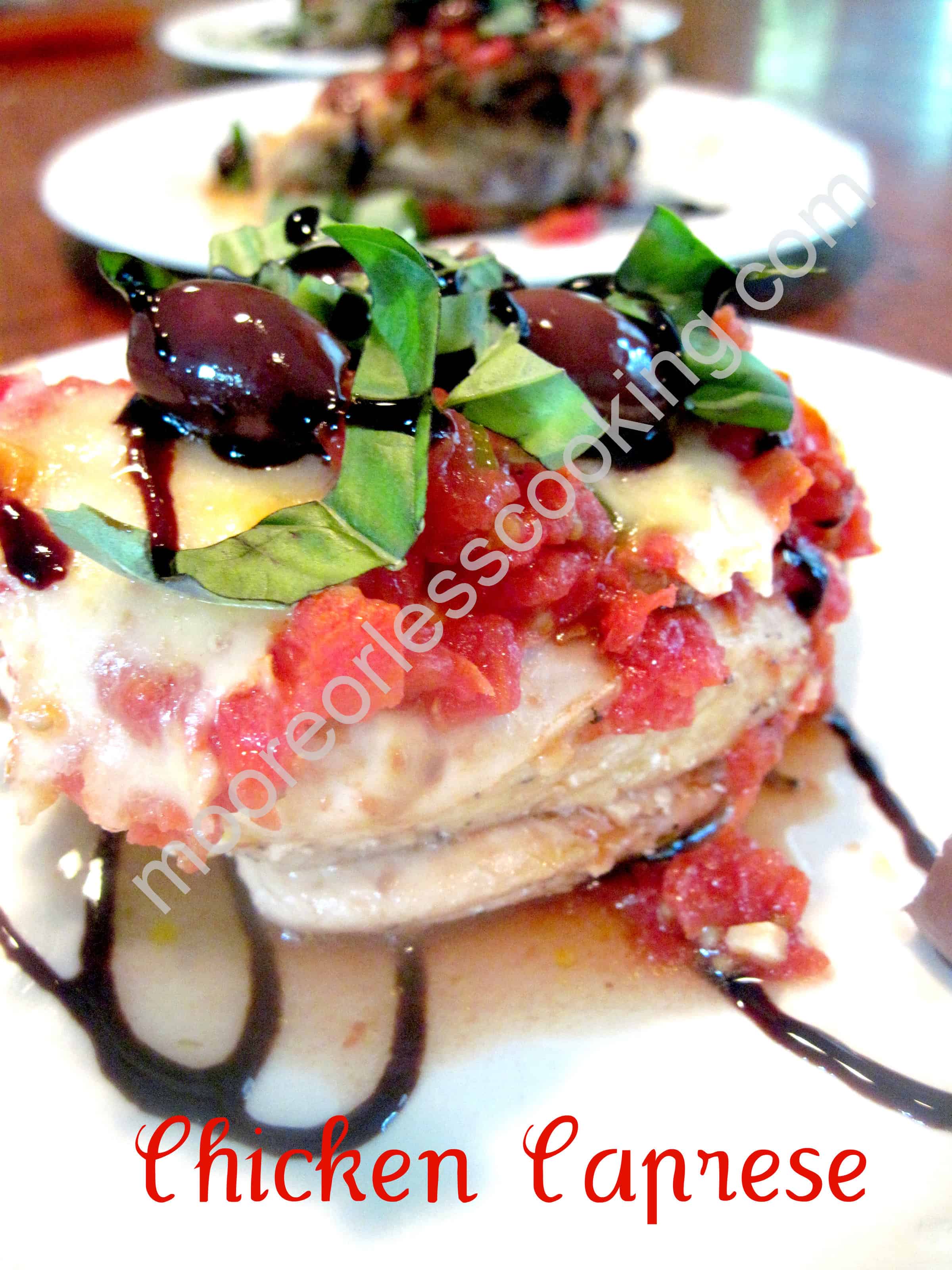 I am the lucky recipient of a wonderful bottle of Mandarano Balsamic Glaze and Sauce. You could be too! Giveaway Link: https://mooreorlesscooking.com/2013/07/09/giveaway-mandarano-balsamic-glaze-and-sauce/
My garden is bursting with basil, so Caprese Bread and Pesto have been popular on our menu.
I decided that Caprese Chicken would be a delicious dish made with garlic, Mozzarella, Tomatoes, Basil, Kalamata Olives with Balsamic Glaze!
My family was OOH-ING and AAH-ING by the beautiful presentation. Hands down, the chicken is moist with flavors popping in your mouth, fantastic combo. Perfect served with a side of cheese ravioli and summer squash and a perfectly chilled bottle of Crisp Chardonnay.
Caprese Chicken
Yield: 5 servings
recipe note: Balsamic vinegar comes in many forms. I really recommend a higher quality one – it truly does make a difference. A low quality balsamic vinegar is very thin – like water. A higher quality one is slightly thicker (not as thick as balsamic glaze, but somewhere in the middle of the two). I have chosen to use a Balsamic Glaze for this recipe.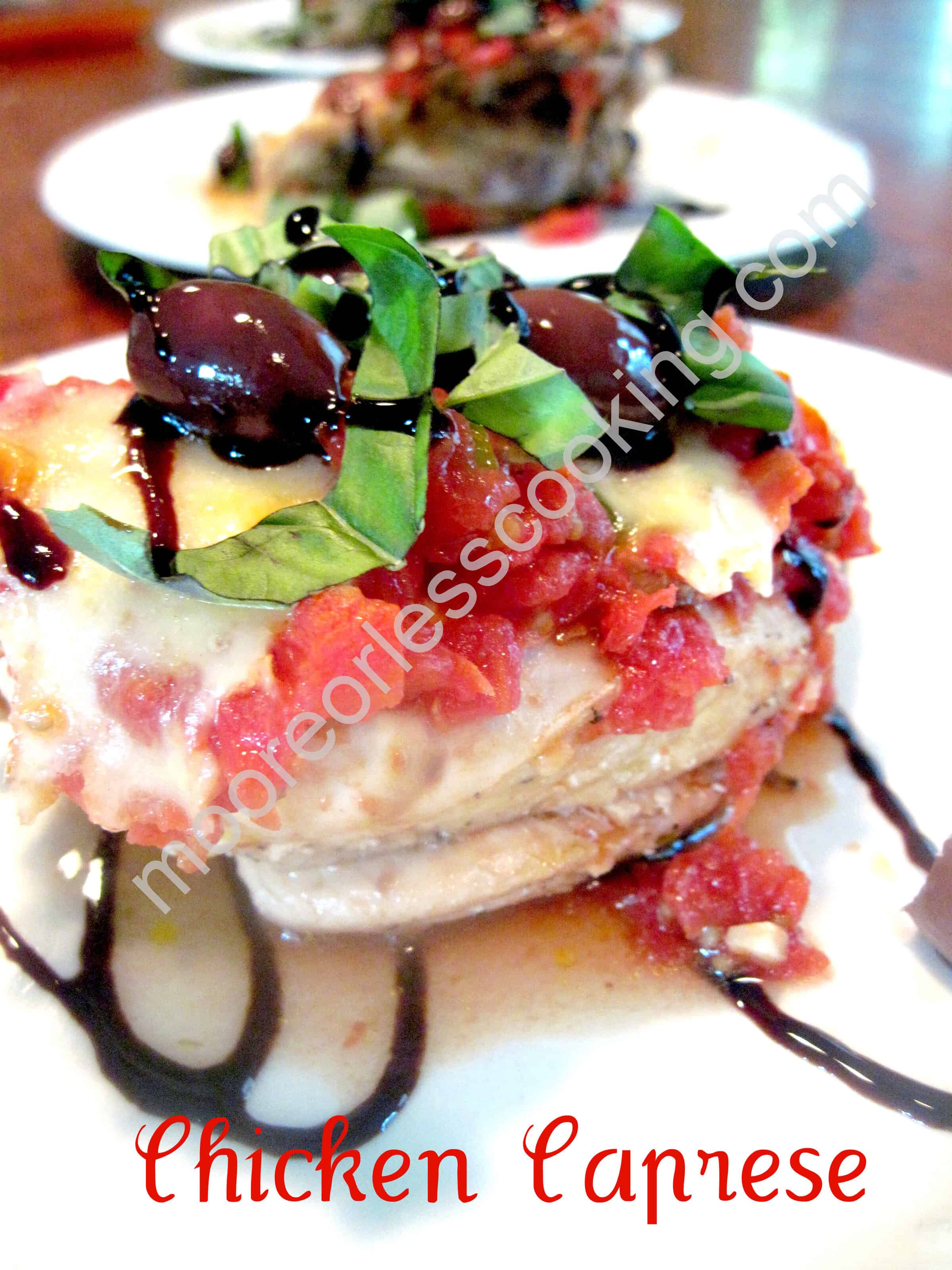 Chicken Caprese
2015-02-13 00:54:49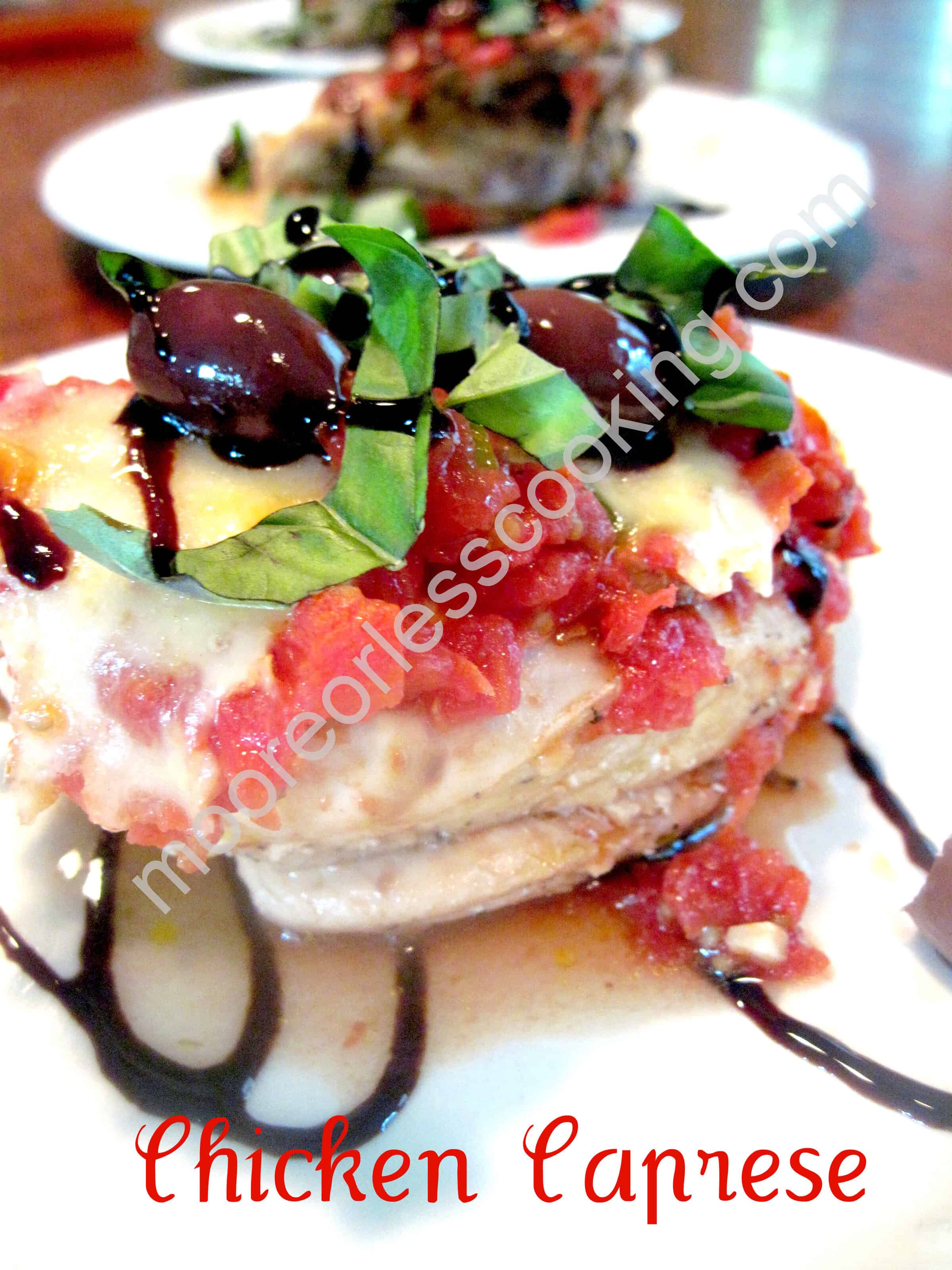 Serves 5
Delicious juicy chicken with Kalamata Olives, Tomatoes, fresh basil, melted mozzarella with Balsamic drizzled over it.
Nutrition Facts
Amount Per Serving
* Percent Daily Values are based on a 2,000 calorie diet. Your Daily Values may be higher or lower depending on your calorie needs.
Ingredients
5 skinless chicken breasts, bone in
Smoked salt & freshly ground black pepper
2 tablespoons olive oil, divided
3 large garlic cloves, minced
1 garlic scape minced
1 pint cherry tomatoes, halved
1 small can chopped tomatoes
10 large basil leaves, finely chopped for sauce and garnish
8 oz fresh buffalo mozzarella, sliced in 1/2 inch thick slices
1 small jar Kalamata Olives, including liquid
balsamic glaze drizzled on plate, drizzled on chicken
Instructions
Salt and pepper both sides of the chicken breasts and set aside.
In a large sauté pan over medium-high heat, warm 1 tablespoon olive oil.
Add chicken, cover pan, and cook for about 10 minutes.
Flip chicken breasts and continue cooking until the chicken is cooked thoroughly (or has reached an internal temp of 165°F).
While chicken is cooking, in a medium sauté pan over medium-high heat, warm remaining 1 tablespoon olive oil.
Add garlic and garlic scape,cook for about 1 minute, or until fragrant.
Add tomatoes and continue sautéing until tomatoes skin starts to soften/wrinkle, about 5 minutes. Add canned tomatoes, warm for one minute, add olives, bring to a simmer.
Remove from heat and stir in basil. Set aside.
Once chicken has reached desired doneness, top the tops of each chicken breast with 2 slices of mozzarella.
Pour tomato mixture on top.
Place in a 350 degree oven until cheese has melted about 10 minutes.
Lastly, drizzle plate with Mandarano Balsamic Glaze and Sauce and Drizzle over Chicken Breast.
Adapted from The Novice Chef
Adapted from The Novice Chef
Moore or Less Cooking https://mooreorlesscooking.com/