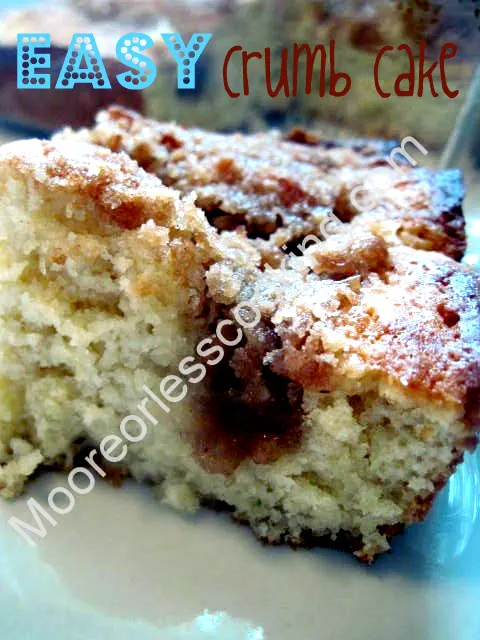 Where has the summer gone? It was winter forever and then a crazy spring of rain, then a really hot summer, now August with the perfect Maine summer days that you don't want to end. I just want those lazy summer days never to end.
My perfect morning is a cool breeze flowing through the kitchen, Pandora playing Etta James, and a Crumb Cake in the oven, like it's no trouble at all, sit down and have a coffee and a piece of coffee cake perfect kind of morning.
Make all my mornings like this, life is perfect.

Yield:

1 9x13 pan
Easy Crumb Cake
Easy and the BEST Crumb Cake!
Ingredients
2 tablespoons canola oil
4 cups all-purpose flour
1⁄2 cup granulated sugar
2 1⁄2 teaspoons baking powder
1⁄2 teaspoon salt
1 large egg
1⁄2 cup milk
2 teaspoons pure vanilla extract
1 cup light-brown sugar, firmly packed
1 1⁄2 teaspoons ground cinnamon
1 cup unsalted butter, melted and cooled
confectioners' sugar, for dusting
Instructions
Place rack in center of oven, and preheat oven to 325°F Lightly brush a 9-by-12 1/2-inch baking pan with canola oil, dust with flour, and tap to remove excess. Set aside.
In a medium bowl, sift together 1 1/2 cups flour, the granulated sugar, baking powder, and salt; set aside.
In a second bowl, whisk together the egg, milk, canola oil, and vanilla.
Using a rubber spatula, fold dry ingredients into egg mixture.
Spread batter evenly into prepared pan, and set aside.
In a medium bowl, combine remaining 2 1/2 cups flour, brown sugar, and cinnamon.
Pour melted butter over flour mixture, and toss with a rubber spatula until large crumbs form.
Top batter evenly with crumb topping.
Bake for 35 to 40 minutes or until the cake tests done.
Turn the pan once during baking.
Transfer pan to a wire rack to cool.
Dust with confectioners' sugar.
Using a serrated knife or bench scraper, cut into 3-inch squares, and serve. Note: This cake can be stored, refrigerated, in an airtight container for up to 3 days.
If you think this sounds yummy, I'd sure ♥ it if you'd click to pin it, tweet it, stumble it, or share it on Facebook to help spread the word – thanks!
Please remember to SHARE on FACEBOOK
and PIN IT!
Nettie is a wife and mother who is passionate about cooking and baking… especially when easy meals are involved! With 5 children, Nettie insists that all meals, snacks, and desserts come together quickly! You will find a wide variety of easy yet scrumptious recipes on her very popular website Moore or Less Cooking FACEBOOK | TWITTER | GOOGLE+ | PINTEREST | BLOGLOVIN |INSTAGRAM|