Easy and flavorful! Kick those tacos up a notch with incredible duck legs! Taco night just got better!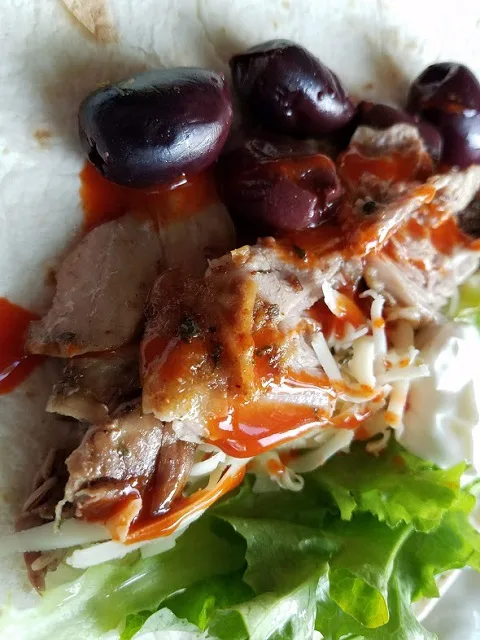 Have you ever cooked with duck before? I have not. I know, it's crazy, and I have been food blogging for 7 years! This is my first time making duck. So I thought, how could it be so different than chicken? Well. Let me tell you. It is amazing and puts the chicken to shame. My husband said that these were the best tacos that he has ever had. EVER. Seriously? Seriously.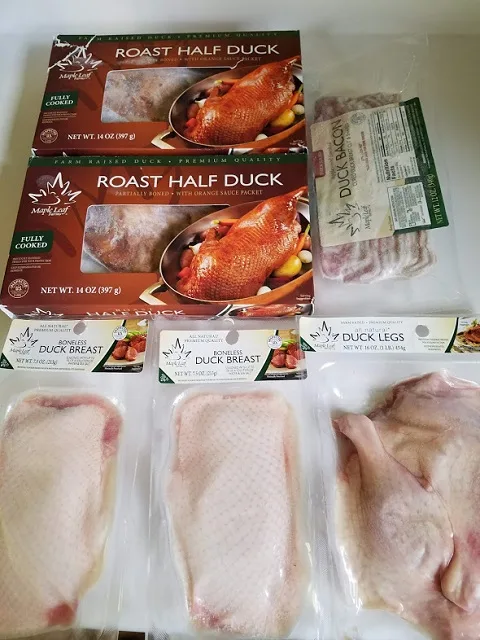 EVER? Wow. That is a testimony. I am seriously having a duck cooking adventure, and it is so much fun! These are the perks of being a food blogger, I get to make recipes that I never thought that I would imagine or try, my world gets bigger and better every day.
What you will need to make these yummy Easy Duck Tacos:
Maple Leaf Farms Duck Legs
Spices
Taco toppings:
Mesclun lettuce
Olives
Cholula Sauce
Sour Cream
Guacamole
I used the basic seasonings that I do for tacos: Seasoned Salt, Black Pepper, Cumin, Garlic Powder, and Parsley. Combine those in a bowl. They are just the right amount of spice. Add Chile powder if you like your tacos really spicy. Some people in my family aren't so crazy about spicy, but we won't mention any names…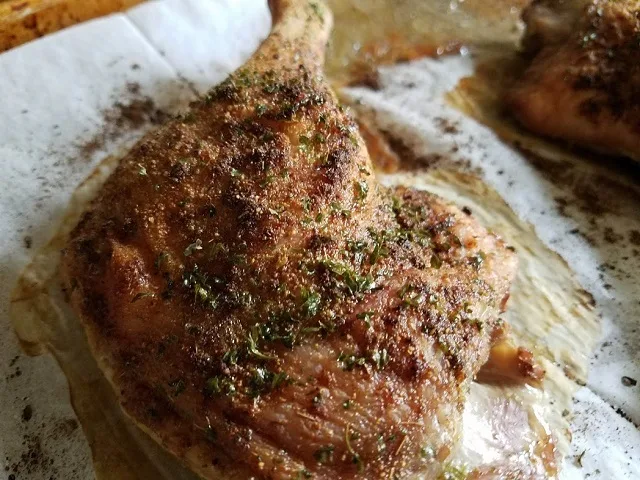 I covered a baking sheet with parchment paper, seasoned the duck legs, roasted them in the oven from 35-40 minutes until the skin was crispy and the meat was pulling away from the bone, by testing, just poke a fork into the duck and the juices will run clear.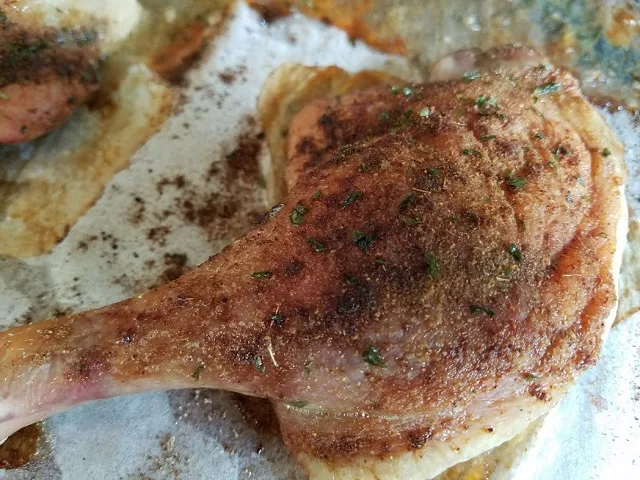 Shred up the duck when done in a bowl using two forks. Leave the skin on to add more flavor. Taste to see if you need any more spices or salt and pepper.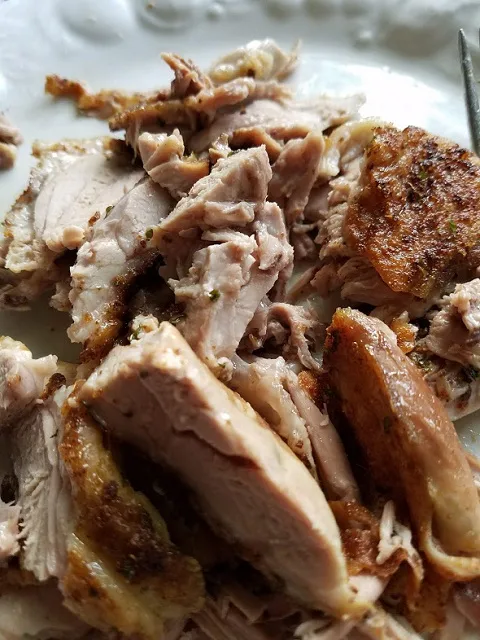 Set up your ingredients in small bowls so that everyone can make their own tacos. I love using Shredded Pepper Jack cheese, Kalamata Olives, chopped tomatoes, Mesclun greens, chopped onions, Cholula Sauce, Guacamole, but you can add whatever makes your heart sing.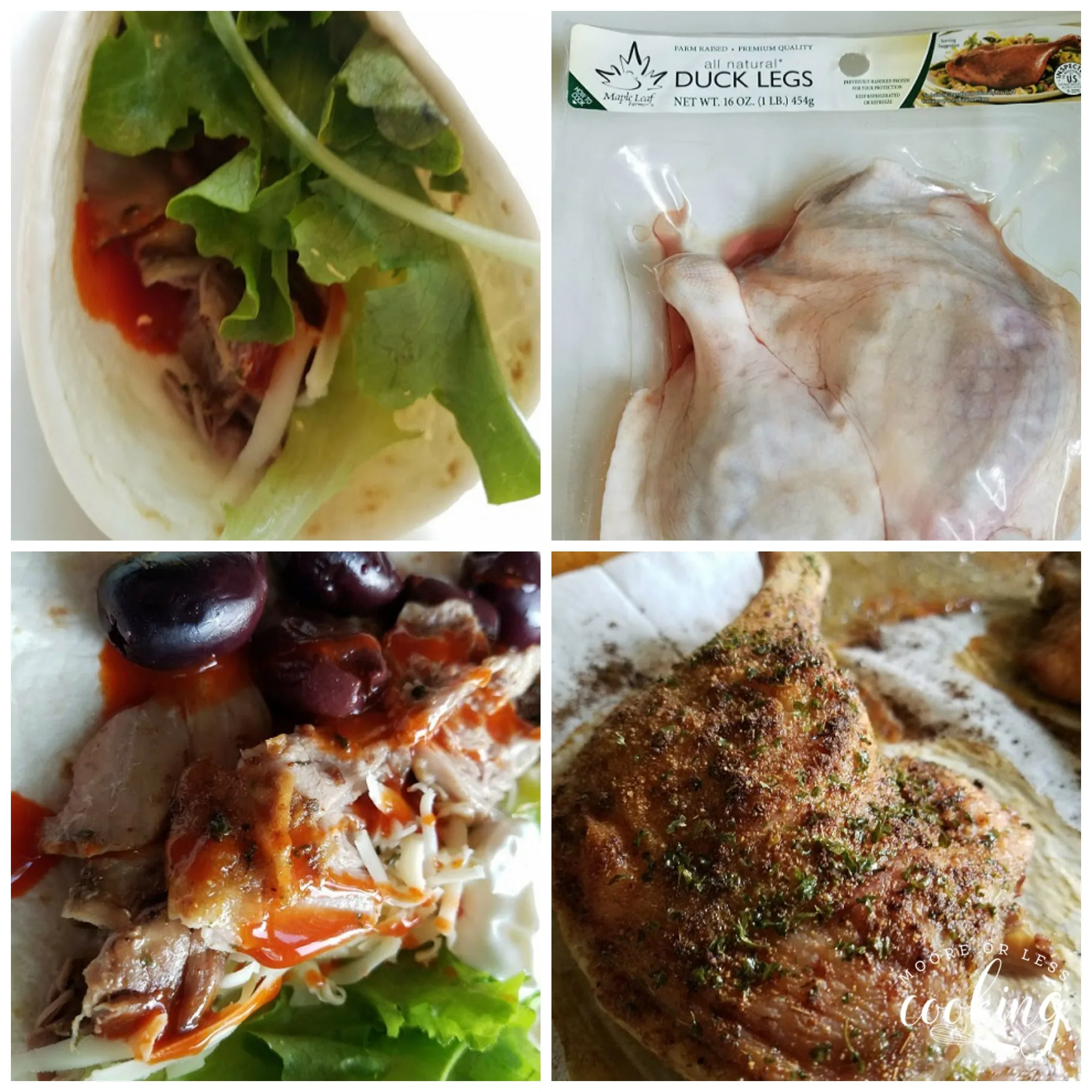 Roll it all up in a flour or corn tortilla. I chose a Low Carb tortilla because that is my thing right now. But you choose whatever makes your taste buds happy, and make a couple tacos per person, trust me, they are so delicious!
Maple Leaf Farms
sent me a fabulous box full of Roast Half Duck with Orange Sauce, Natural Duck Legs, Boneless Duck Breast and Duck Bacon, so stay tuned for some more delicious duck recipes! Duck Bacon is next!
PLEASE REMEMBER TO SHARE ON FACEBOOK
AND PIN IT!
It's the 3rd day of #CookoutWeek and I have joined up with 50 Bloggers to present you with some amazing Cookout Recipes!!
#CookoutWeek 2018 is here! During the next week, I am joining over 50 of my blogger friends to celebrate summer by posting delicious cookout-themed recipes. If you love grilling, frozen treats, picnics, berries, s'mores, campfire meals, and other summer goodies… you are in the right place!
This week, we are also hosting a HUGE giveaway thanks to our generous #CookoutWeek sponsors. Enter below to win. Here's what one lucky will receive:
That's a prize pack worth over $750!
To enter, follow our sponsors and bloggers on social media by entering your information below: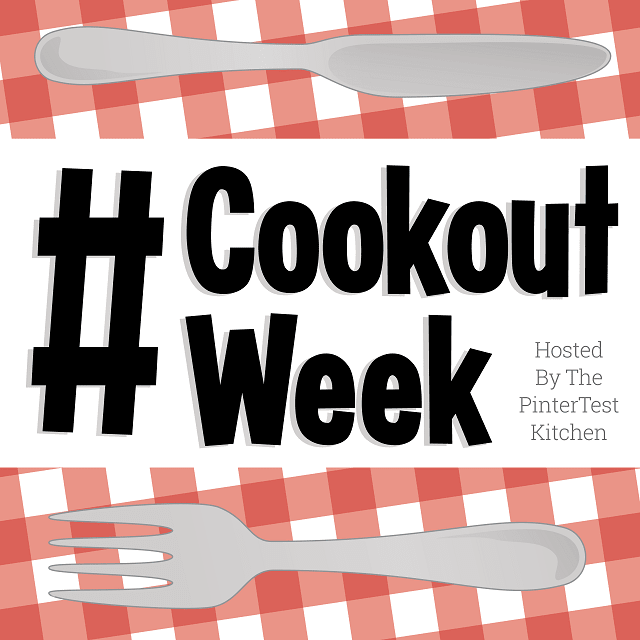 Here's a full list of the bloggers participating in #CookoutWeek 2018! You can find yummy recipes by checking out any of the links below:
The PinterTest Kitchen ♥ 2 Cookin Mamas ♥ A Day in the Life on the Farm ♥ A Kitchen Hoor's Adventures ♥ April GoLightly ♥ Authentically Candace ♥ Blogghetti ♥ Body Rebooted ♥ Bottom Left of the Mitten ♥ Cheese Curd In Paradise ♥ Chef Sarah Elizabeth ♥ Coconut & Lime ♥ Cookaholic Wife ♥ CookwithRenu ♥ Daily Dish Recipes ♥ Everyday Eileen</a ♥ Fairyburger ♥ Faith, Hope, Love, & Luck Survive Despite a Whiskered Accomplice ♥ Family Around the Table ♥ Fix Me a Little Lunch ♥ For the Love of Food ♥ Frankly Entertaining ♥ Frugal & Fit ♥ Get the Good Stuff! ♥ Hardly A Goddess ♥ Herbivore Cucina ♥ Join Us, Pull up a Chair ♥ Jolene's Recipe Journal ♥ Jonesin' For Taste ♥ Karen's Kitchen Stories ♥ Kelly Lynn's Sweets & Treats ♥ Mildly Meandering ♥ Moore or Less Cooking ♥ Our Good Life ♥ Oven Tales By Syama ♥ Palatable Pastime ♥ Sarah Cooks the Books ♥ Savory Moments ♥ Seduction In The Kitchen ♥ Strawberry Blondie Kitchen ♥ Sweet Coralice ♥ Technotini ♥ That Recipe ♥ The Baking Fairy ♥ The Beard and The Baker ♥ The Freshman Cook ♥ The Simple Supper ♥ The Spiffy Cookie ♥ The Weekday Gourmet ♥ This is How I Cook ♥ Who Needs A Cape? ♥ Wildflour's Cottage Kitchen
Leave your favorite Cookout Recipe in the comments!
Ingredients
1 pound Maple Leaf Duck Legs
4 Tortillas
1 tsp. Seasoning Salt
1/2 tsp.Garlic Powder
1/2 tsp. Parsley
Additional toppings:
3 ounces Mesclun lettuce
1/2 cup Kalamata olives
1 cup Pepper Jack cheese, shredded
Cholula Sauce
1 Avocado
1/2 cup Sour Cream
Instructions
Preheat oven to 375 degrees Fahrenheit
Cover a baking sheet with parchment paper
Mix seasonings together in a small bowl.
Sprinkle seasoning over the front and back of duck legs
Bake in over for 35-45 mins or until duck is golden brown.
Place duck in a bowl and using two forks shred the meat.
Heat tortilla, place a heaping tablespoon on each tortilla, a couple olives, lettuce and cheese and sauce and any of your favorite taco toppings.
Serve immediately.
Nettie is a wife and mother who is passionate about cooking and baking… especially when easy meals are involved! With 5 children, Nettie insists that all meals, snacks, and desserts come together quickly! You will find a wide variety of easy yet scrumptious recipes on her very popular website
Moore or Less Cooking

FACEBOOK
|
TWITTER
|
GOOGLE+
|
PINTEREST
|
BLOGLOVIN
|
INSTAGRAM|