This post is sponsored by Barlean's Organic Coconut Oil. All opinions are my own.
When you are in the mood for something sweet, with no sugar or flour, Low Carb Fudge is the answer to your chocolate cravings!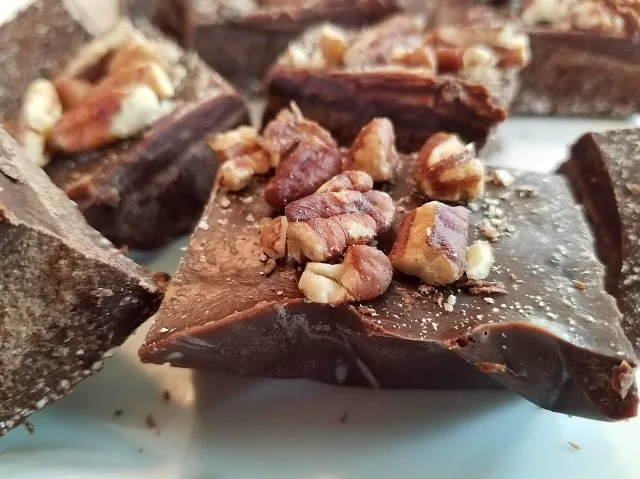 This no-bake, no-cook Low Carb fudge is so simple to make and only requires a few ingredients. I have been making all kinds of Low Carb desserts and am so excited to share this yummy Low Carb Fudge recipe with you! It's so easy to make, requires only a few ingredients and it really satisfies those sweet chocolate cravings without all of that icky guilt. I didn't tell anybody that it was low carb and they had no idea and loved it!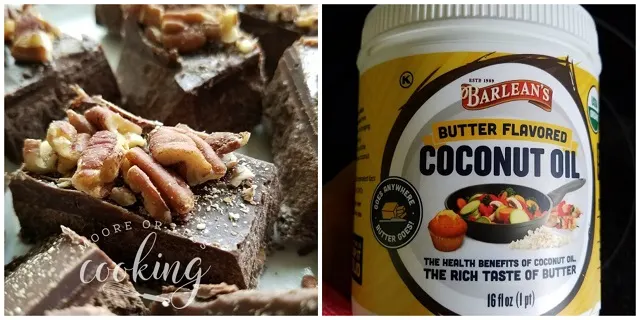 I am using Butter-flavored Organic Coconut Oil from Barlean's. This dairy-free option offers all the health benefits of organic coconut oil, with the rich taste of butter. It's great on toast, popcorn, baked potatoes, or cooked vegetables. You can also substitute it 1:1 for butter in baking, cooking, and frying, and of course it is perfect as a butter substitute for all your favorite cookout recipes.
What you will need to make 5 ingredients, Low Carb Fudge:
Barlean's Butter Flavored Coconut Oil
Cocoa
Vanilla Extract
Sweetener
salt
nuts (optional)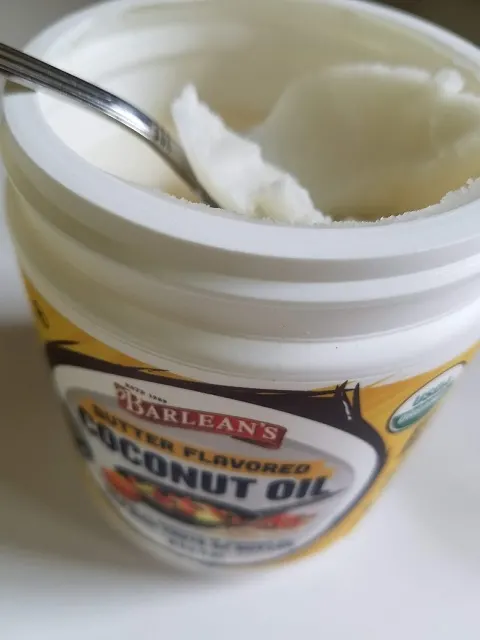 Melt Barlean's Coconut Oil in the microwave.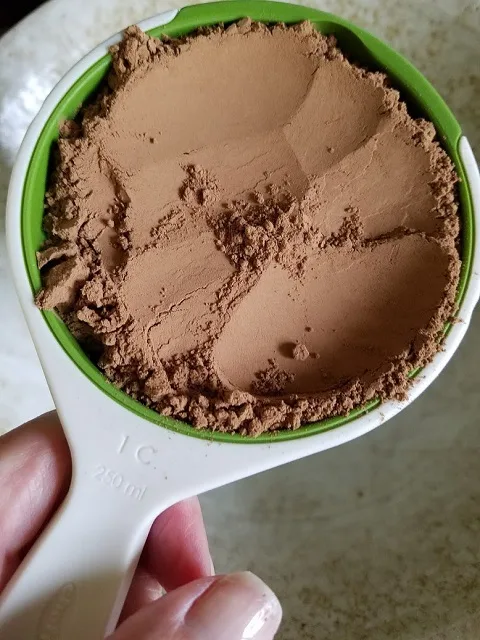 Add cocoa powder.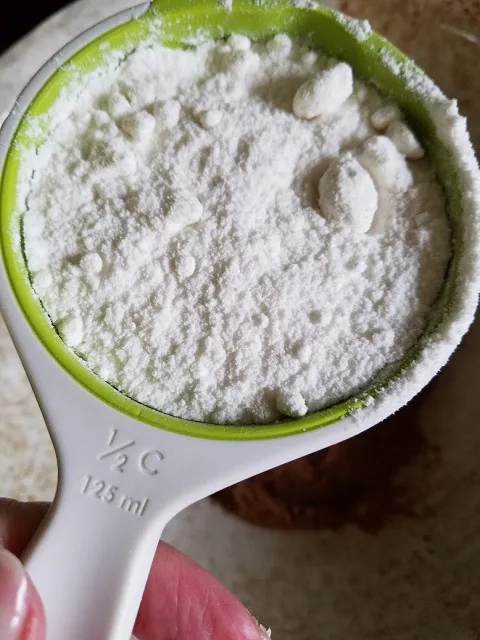 Add sweetener (Confectioners)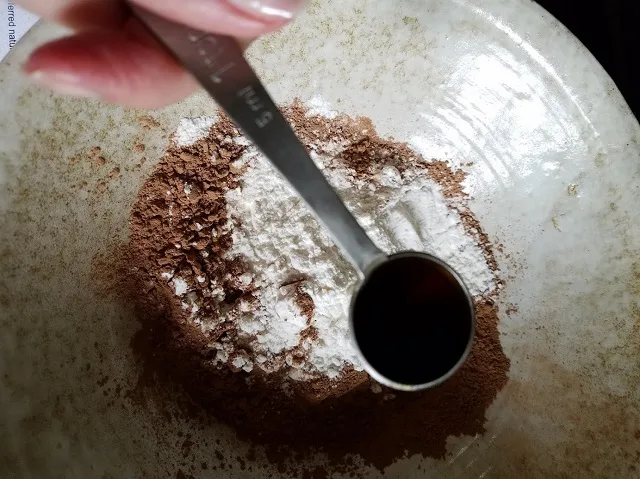 Add Vanilla Extract.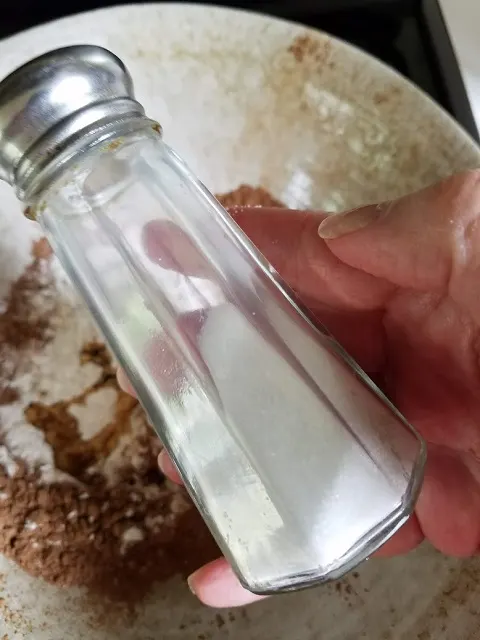 A dash of salt.
5 ingredients to make this delicious Low Carb Fudge, 6 if you add nuts, I love Pecans and thought that they would be a nice addition, love the crunch!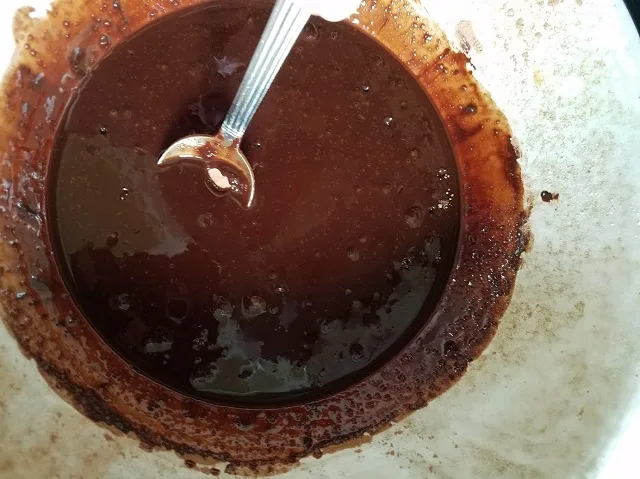 Stir ingredients all together in a bowl.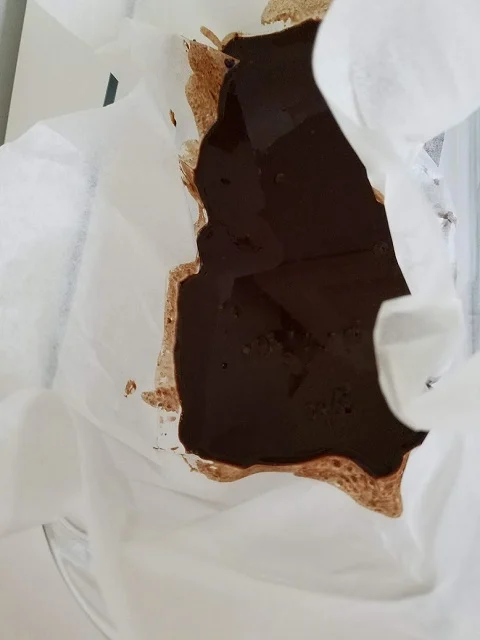 Pour into a parchment lined loaf pan. Place in the refrigerator for 1 hour.
PLEASE REMEMBER TO SHARE ON FACEBOOK
AND PIN IT!
After an hour sprinkle pecans over fudge.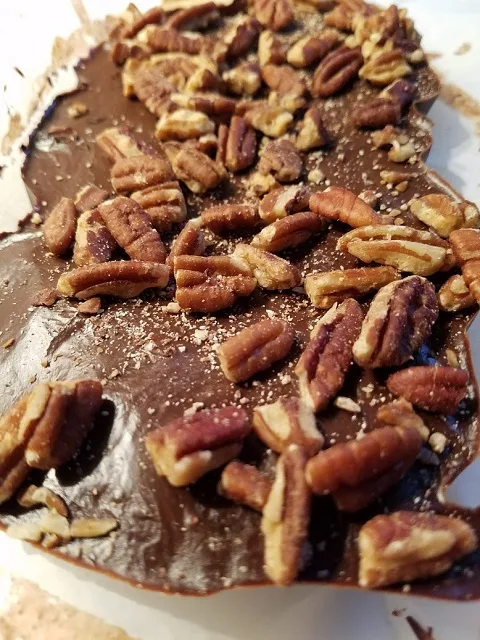 Return back to the refrigerator.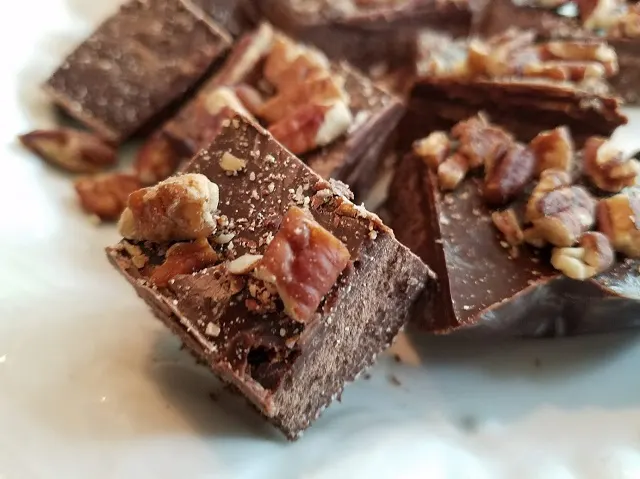 Cut up into small pieces.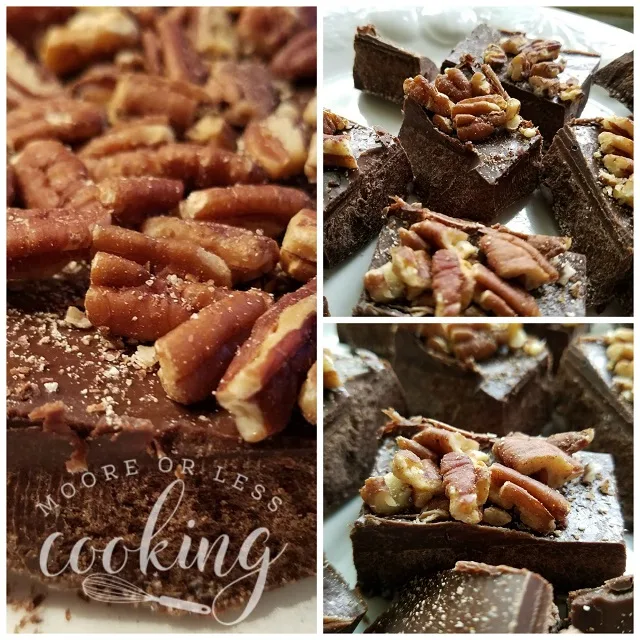 It's the 5th day of #CookoutWeek and I have joined up with 50 Bloggers to present you with some amazing Cookout Recipes!!
"

"
#CookoutWeek 2018 is here! During the next week, I am joining over 50 of my blogger friends to celebrate summer by posting delicious cookout-themed recipes. If you love grilling, frozen treats, picnics, berries, s'mores, campfire meals, and other summer goodies… you are in the right place!
This week, we are also hosting a HUGE giveaway thanks to our generous #CookoutWeek sponsors. Enter below to win. Here's what one lucky will receive:
THAT'S A PRIZE PACK WORTH OVER $750!
TO ENTER, FOLLOW OUR SPONSORS AND BLOGGERS ON SOCIAL MEDIA BY ENTERING YOUR INFORMATION BELOW: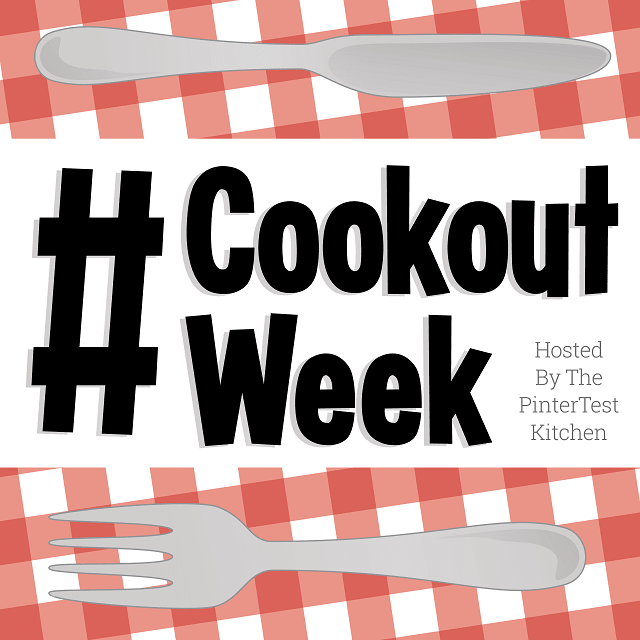 Here's a full list of the bloggers participating in #CookoutWeek 2018! You can find yummy recipes by checking out any of the links below:
The PinterTest Kitchen ♥ 2 Cookin Mamas ♥ A Day in the Life on the Farm ♥ A Kitchen Hoor's Adventures ♥ April GoLightly ♥ Authentically Candace ♥ Blogghetti ♥ Body Rebooted ♥ Bottom Left of the Mitten ♥ Cheese Curd In Paradise ♥ Chef Sarah Elizabeth ♥ Coconut & Lime ♥ Cookaholic Wife ♥ CookwithRenu ♥ Daily Dish Recipes ♥ Everyday Eileen</a ♥ Fairyburger ♥ Faith, Hope, Love, & Luck Survive Despite a Whiskered Accomplice ♥ Family Around the Table ♥ Fix Me a Little Lunch ♥ For the Love of Food ♥ Frankly Entertaining ♥ Frugal & Fit ♥ Get the Good Stuff! ♥ Hardly A Goddess ♥ Herbivore Cucina ♥ Join Us, Pull up a Chair ♥ Jolene's Recipe Journal ♥ Jonesin' For Taste ♥ Karen's Kitchen Stories ♥ Kelly Lynn's Sweets & Treats ♥ Mildly Meandering ♥ Moore or Less Cooking ♥ Our Good Life ♥ Oven Tales By Syama ♥ Palatable Pastime ♥ Sarah Cooks the Books ♥ Savory Moments ♥ Seduction In The Kitchen ♥ Strawberry Blondie Kitchen ♥ Sweet Coralice ♥ Technotini ♥ That Recipe ♥ The Baking Fairy ♥ The Beard and The Baker ♥ The Freshman Cook ♥ The Simple Supper ♥ The Spiffy Cookie ♥ The Weekday Gourmet ♥ This is How I Cook ♥ Who Needs A Cape? ♥ Wildflour's Cottage Kitchen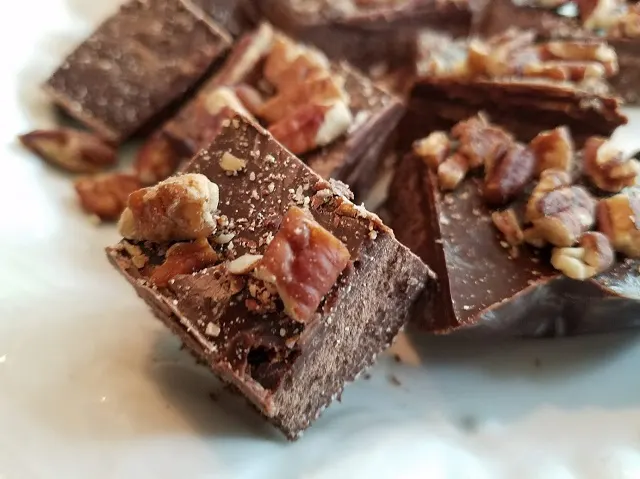 Low Carb Fudge & Giveaway
Ingredients
1 cup melted Organic Barleans Coconut Oil
1 cup cocoa powder
1/2 cup confectioner's natural sweetener
1 teaspoon vanilla extract
dash of salt
1/2 cup pecans
Instructions
Line a small loaf pan with parchment paper.
In a bowl, mix Barlean's Coconut Oil, cocoa, sweetener, vanilla and salt.
Combine well.
Pour mixture into lined loaf pan.
Refrigerate for about an hour.
Remove the chilled fudge and sprinkle pecans on top.
This will keep them from sinking.
Return fudge to the refrigerator.
When your fudge is solid, remove from loaf pan.
Using a large knife, cut into small squares.
Store in an airtight container and refrigerate.
Do not store at room temperature, the fudge will melt.
Makes about 12-15 servings.
Leave your favorite Cookout Recipe in the comments!
Nettie is a wife and mother who is passionate about cooking and baking… especially when easy meals are involved! With 5 children, Nettie insists that all meals, snacks, and desserts come together quickly! You will find a wide variety of easy yet scrumptious recipes on her very popular website Moore or Less Cooking
FACEBOOK | TWITTER | GOOGLE+ | PINTEREST | BLOGLOVIN |INSTAGRAM|