This post is sponsored by Budweiser BBQ Sauce. All opinions are my own as always.
Backyard burgers just got so much better! Delicious and flavorful Beer Can Burgers will delight your guests at your next BBQ Cookout! These stuffed burgers are wrapped in crispy Bacon, filled with sauteed veggies and covered with melted pepper Jack cheese.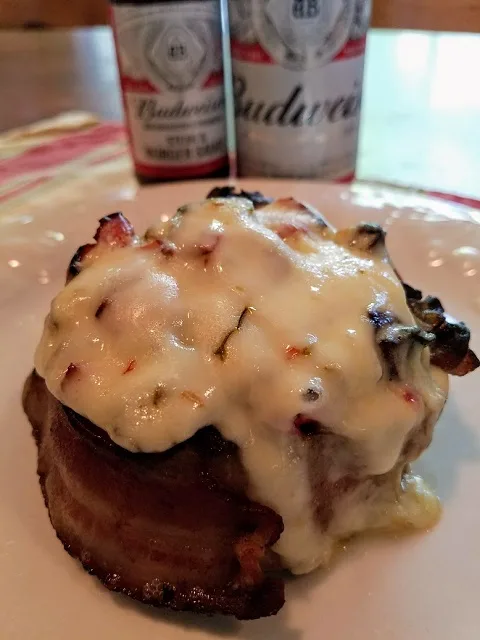 Throw this burger on a bun or delight your family and friends who are following a low carb diet and serve it just as is! If you are a burger fan, you will love this Beer Can Burger! It's time to change it up kids, why just settle for an old boring cheeseburger? Make these Beer Can burgers tonight! They are so easy to make and are so impressive and filling! Especially if you are cutting out the buns and fries, you won't feel like you are missing out! These Beer Can Burgers are showstoppers!
Here is what you will need to make these Beer Can Burgers:
ground beef
1 can Budweiser Beer
garlic powder
red pepper, chopped
red onion, chopped
bella mushrooms, chopped
pepper jack cheese, sliced
Olive oil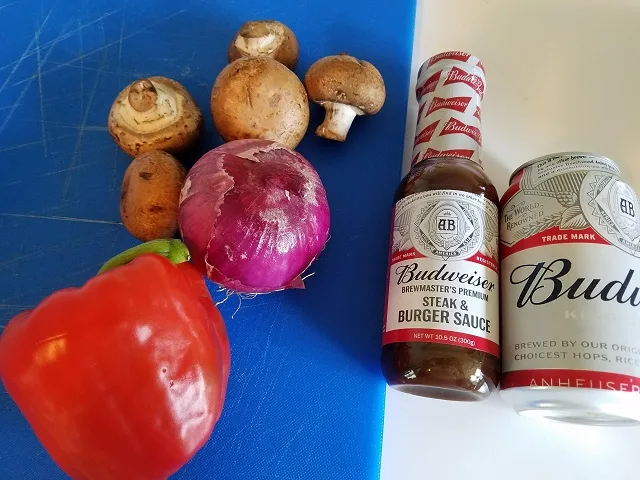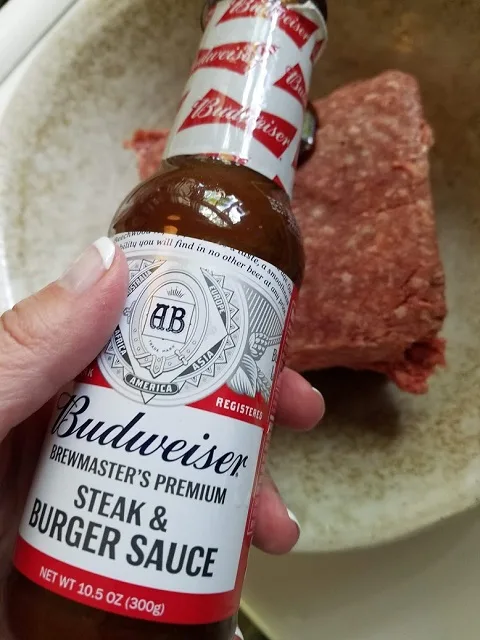 Add Budweiser Brewmaster's Premium Steak & Burger Sauce to ground beef. Made with Budweiser beer, the Steak & Burger Sauce has never met a flame-grilled hunk of beef it didn't love. Made with Budweiser beer and the perfect blend of spices, this bold sauce is a true original.
Now that it's almost summer, Budweiser Sauces are a great compliment to any grill or cookout.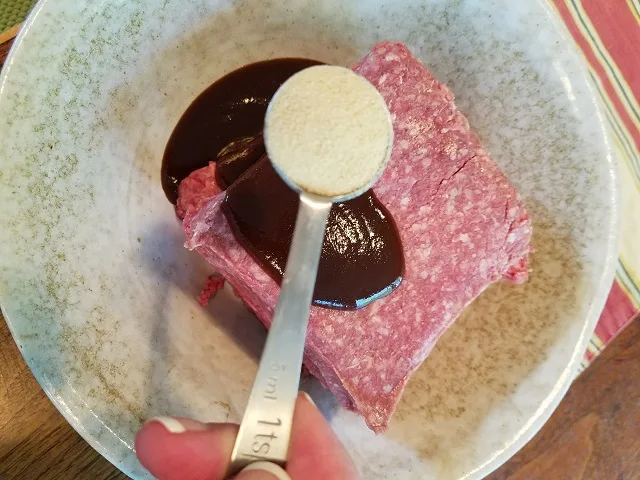 TASTE THE BUDWEISER DIFFERENCE! Like the famous Budweiser beer, this genuine line of sauces contains only the finest ingredients for a truly exceptional taste experience. Budweiser Executive Chefs, in conjunction with the Brewmasters of Anheuser-Busch, have perfected the sauce recipes, assuring that the cooking experience is the best it can be. Taste the difference that only a premium sauce with the Budweiser name can deliver.
Add garlic powder for some zest!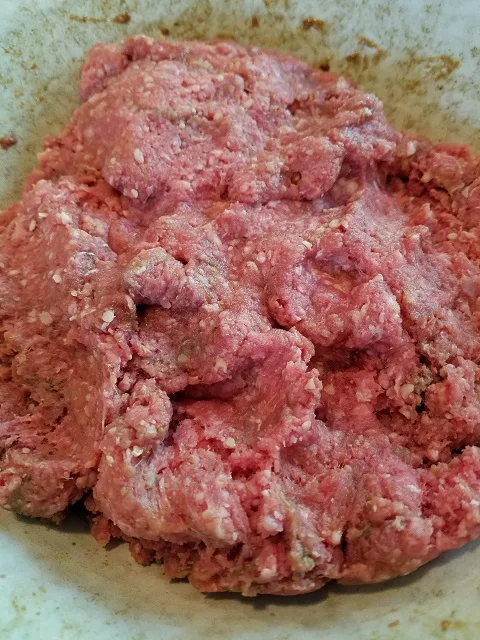 Mix it all up with your hands.
You can stuff these Beer Can Burgers with whatever you want. I stuffed these burgers with Budweiser Brewmaster's Premium Steak and Burger Sauce, mushrooms, red onions, red pepper and Pepper Jack cheese, all wrapped in a couple slices of bacon.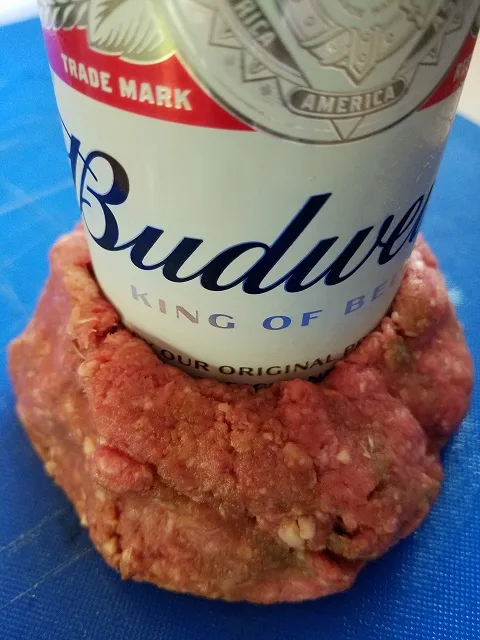 Shape beef mixture into a big ball. Push a can of Budweiser down into the ball so that the beef comes up around the can about a half an inch. Wrap bacon around beef mixture.
Saute veggies in a pan with a tbsp. of olive oil until soft.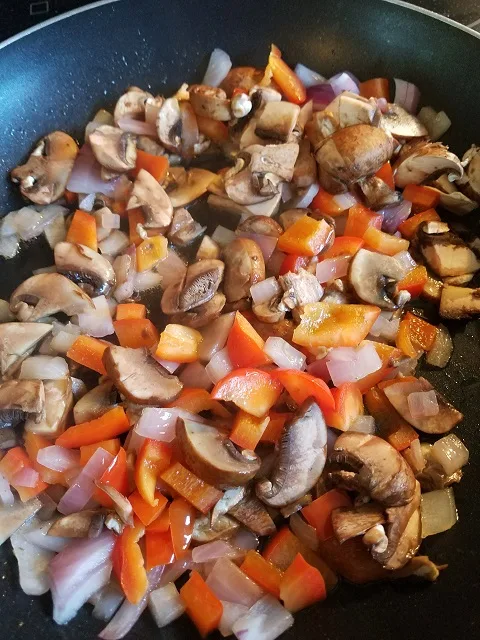 Spoon sauteed veggies into burger hole.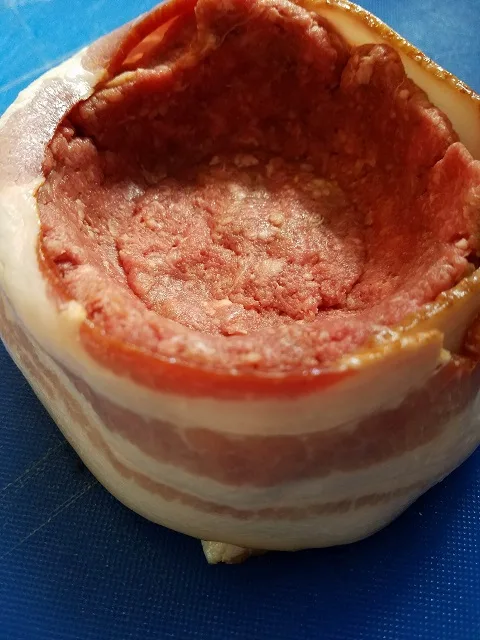 PLEASE REMEMBER TO SHARE ON FACEBOOK
AND PIN IT!
These are big burgers, so I wrapped them in two slices of bacon. Once stuffed, place on the grill and grill until the burger and bacon are cooked through, about 15-20 minutes. The cheese gets nice and golden and the burger gets infused with incredibly tasty bacon!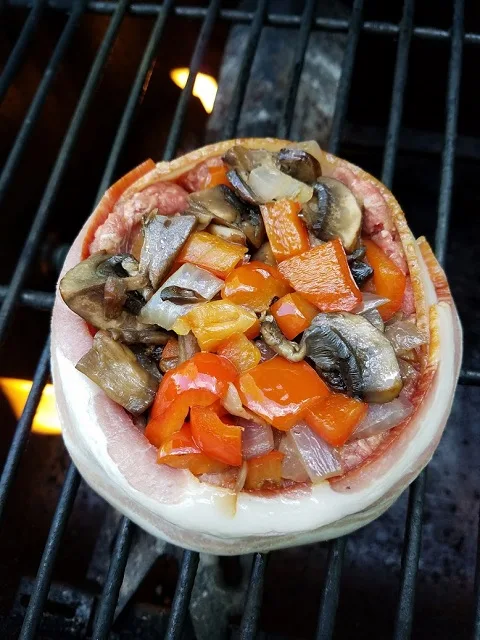 Add some pepper jack cheese.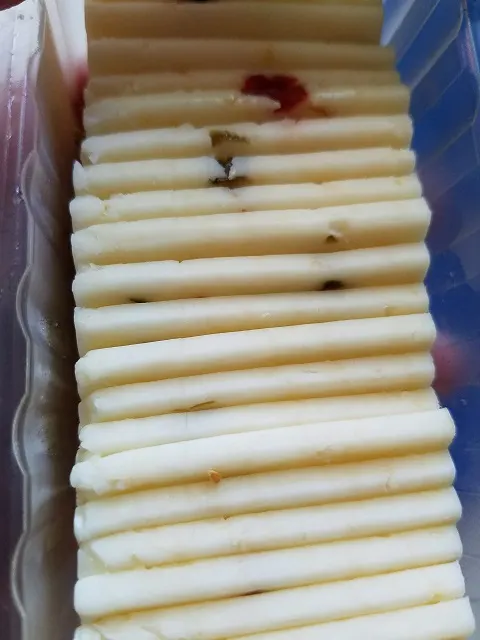 Let the cheese cook until it is melty and gooey.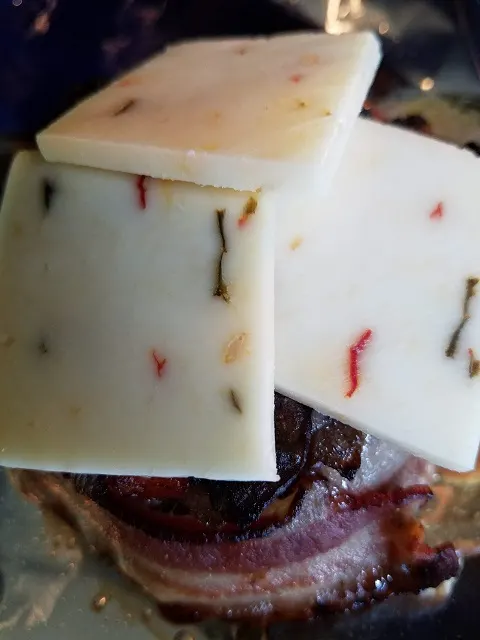 Place it on a plate and serve with a salad or coleslaw.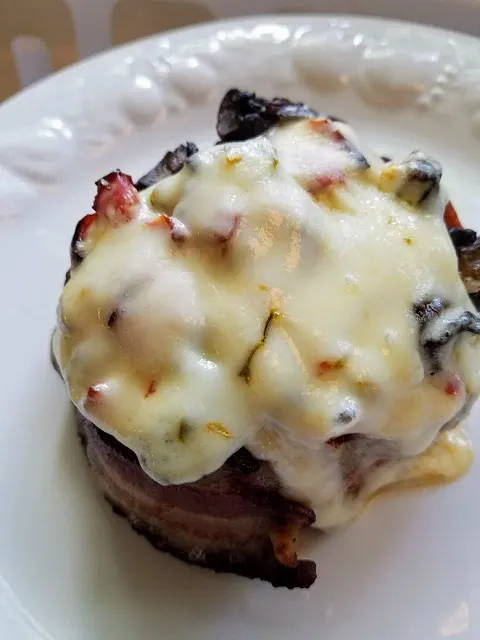 It's making me hungry again just looking at that crispy bacon and gooey cheese!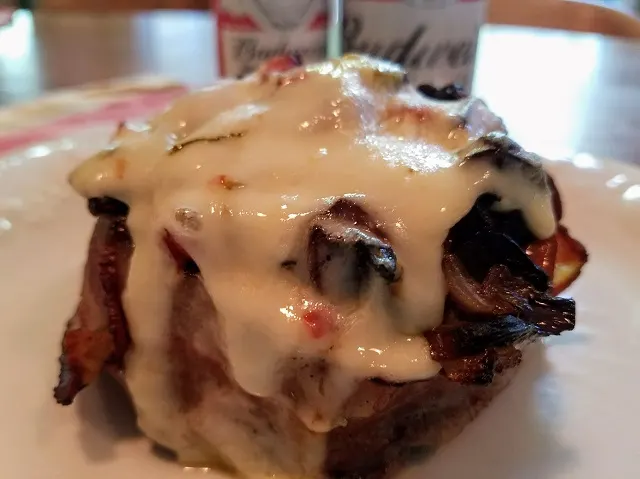 Get ready to dig in! Make sure to have lots of napkins! Serve it with an ice-cold Budweiser Beer!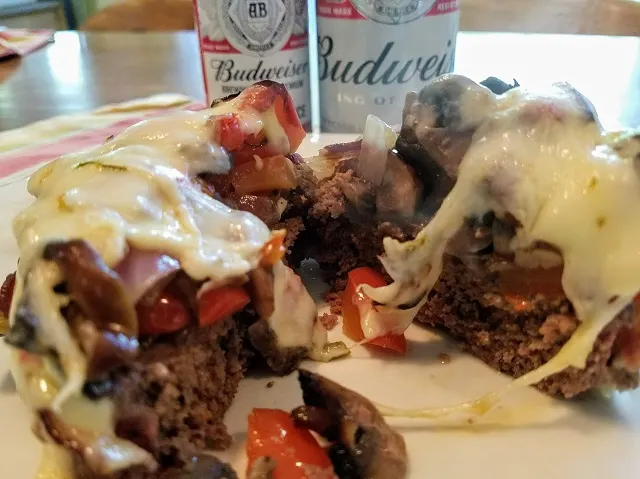 Beer can burgers stuffed with your favorite ingredients covered in bacon and melted cheese!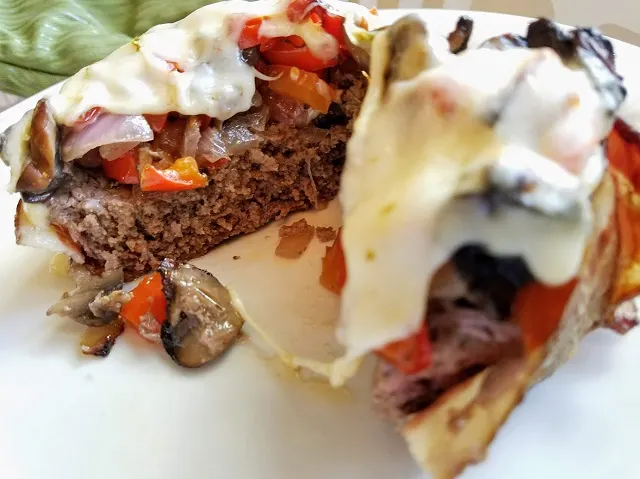 Look at how thick and juicy that burger is!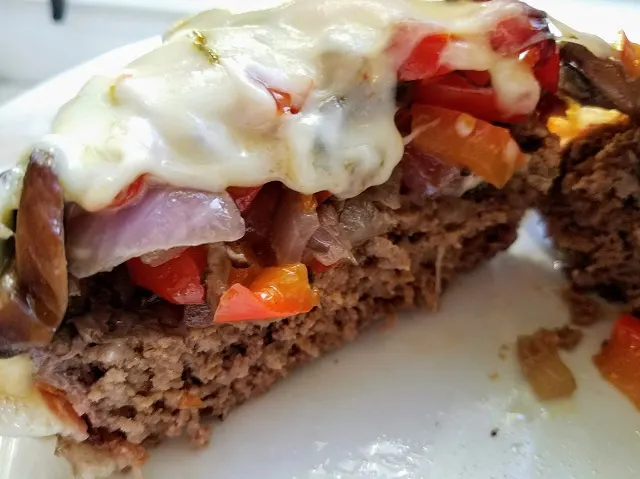 Beer Can Burgers will be your favorite summertime meal!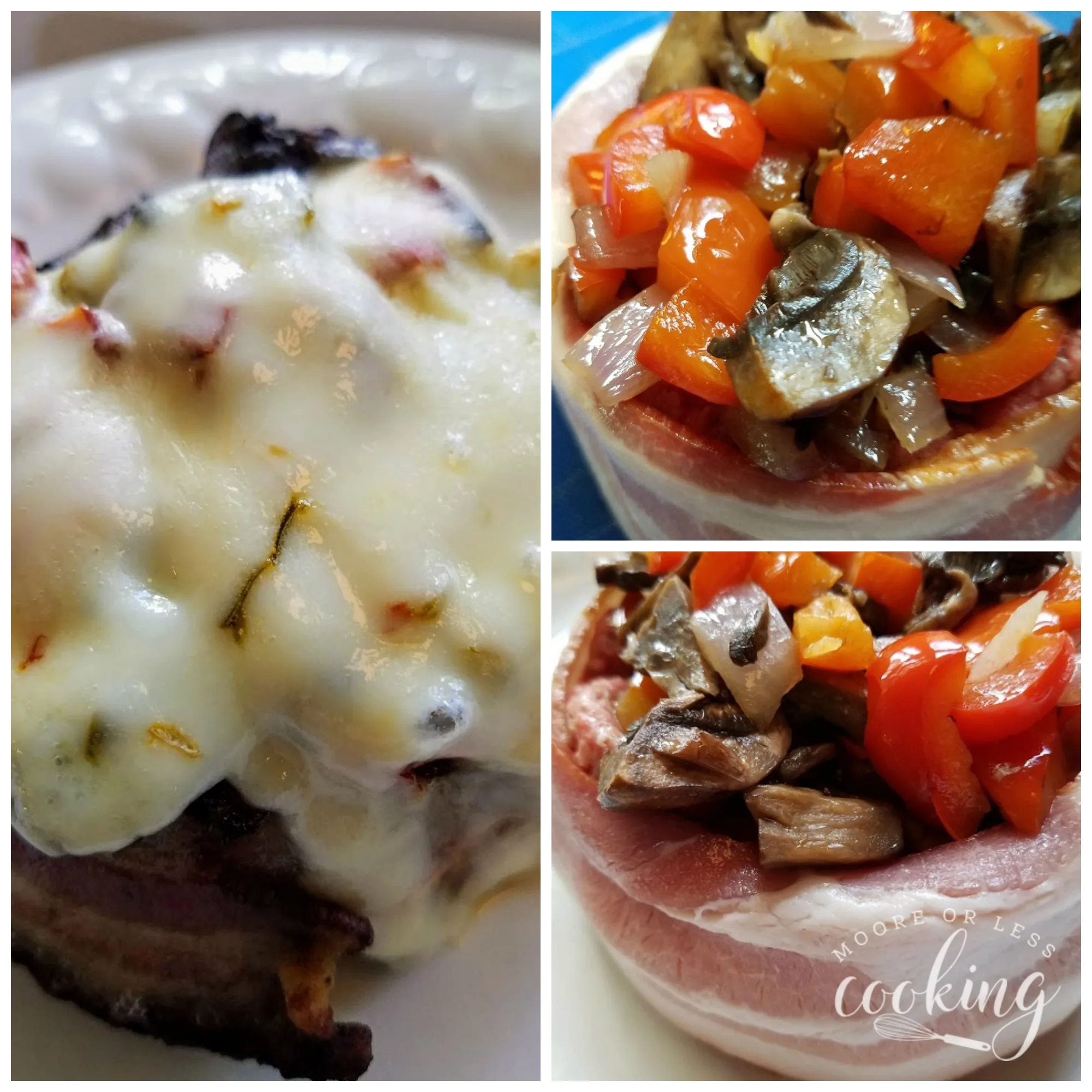 More Burger Recipes: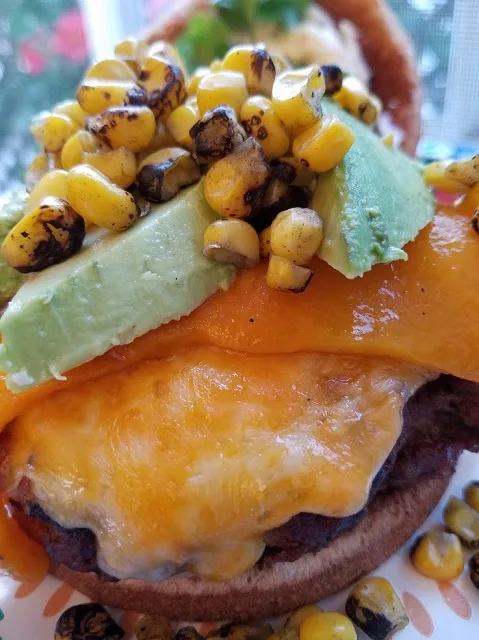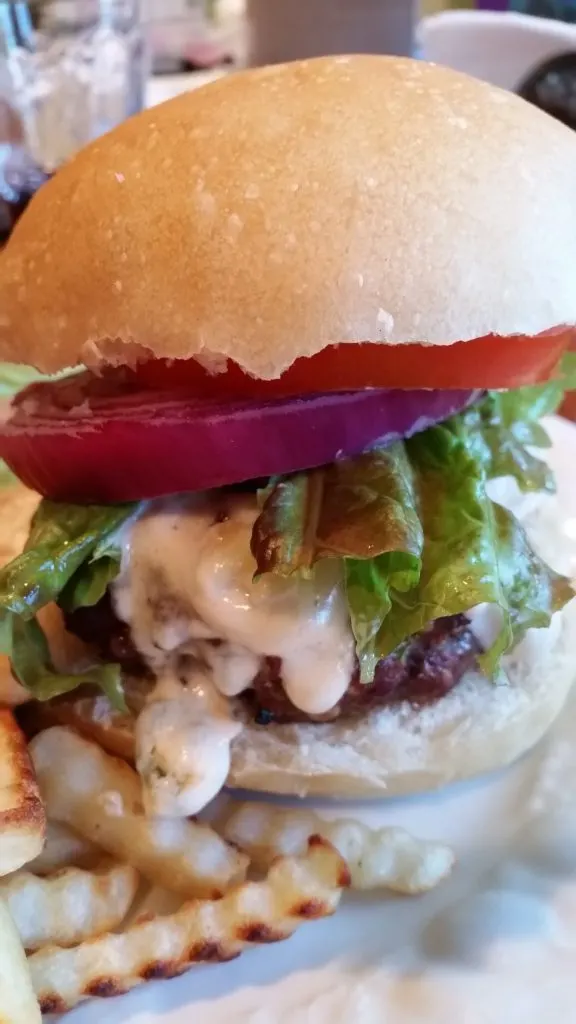 For more information about Budweiser Sauce:
Website
Facebook
Twitter
Instagram
How would you stuff your Beer Can Burgers?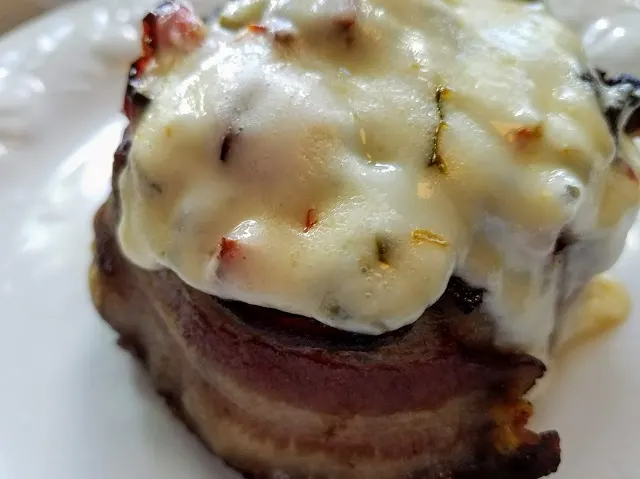 Yield:

4
Beer Can Burgers
Beer Can Burgers are juicy and full flavored for a Low Carb/Keto meal.
Ingredients
2 lbs 80/20 Grass Fed ground beef
1 tsp garlic powder
12 slices pepper jack cheese
8 oz sliced bella mushrooms
1 red pepper chopped
1 red onion chopped
2 Tbsp Olive Oil
1 can Budweiser Beer
2 tbsp Budweiser BBQ Sauce
1/2 lb bacon
Instructions
In a skillet, add olive oil and veggies, saute until soft.

In a bowl, add ground beef, BBQ sauce and garlic powder, mix with hands.

Form 4 ( 1/2 pound) burger balls. Using the beer can press down into the beef balls until the sides come up. Wrap two slices of bacon around beef.

Remove can. Place heaping tablespoon of veggies inside of the beef cup.

Preheat grill.

Place burgers on grill, cook for 15 minutes or until bacon and meat are done. Add Pepper Jack Cheese. Close lid.

Open after a couple minutes or until cheese is melted.

Serve with your favorite toppings such as ketchup or mustard.

Serve with a salad or coleslaw.
Nutrition Information
Yield
4
Serving Size
1
Amount Per Serving
Calories

888
Total Fat

60g
Saturated Fat

27g
Trans Fat

0g
Unsaturated Fat

29g
Cholesterol

187mg
Sodium

1624mg
Carbohydrates

16g
Fiber

2g
Sugar

7g
Protein

66g
Nettie is a wife and mother who is passionate about cooking and baking… especially when easy meals are involved! With 5 children, Nettie insists that all meals, snacks, and desserts come together quickly! You will find a wide variety of easy yet scrumptious recipes on her very popular website
Moore or Less Cooking

FACEBOOK
|
TWITTER
|
GOOGLE+
|
PINTEREST
|
BLOGLOVIN
|
INSTAGRAM|