This shop has been compensated by Collective Bias, Inc. and its advertiser. All opinions are mine alone. #LoveMyEggo #MoreEggo2Love #CollectiveBias
Fresh fruit shish kabobs with delicious Kellogg's® Eggo Thick & Fluffy Blueberry Waffles and an easy to make blueberry syrup. Everyone loves fresh fruit especially paired with Eggo Thick & Fluffy Waffles, you will have a beautiful and tasty breakfast!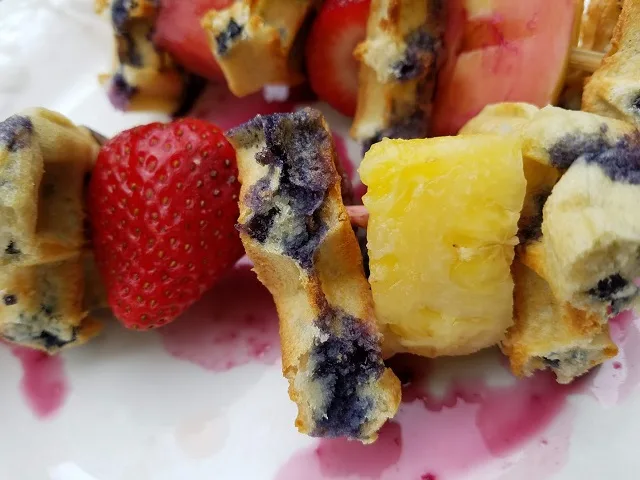 I created these Waffle and Fruit Kabobs for a beautiful, fun way to serve fruit! Waffles and fruit combo is always a hit in our home and your friends and family will be excited about this! Kid-friendly is a great way to describe them, incredibly delicious is another way. If you are looking for a beautiful, fun way to serve fruit, look no further than these fruit and waffle kabobs!
Kid-friendly, and delicious, they are perfect for an after-school snack, a party, or even as a side for dinner during the summer months. Each kabob has a variety of fruits like strawberries, watermelon, and pineapple. You can select any fruits that you would like that are in season and fresh. These Fruit and waffle kabobs also make a beautiful presentation when entertaining. I've made these for holiday parties, baby showers, bridal brunches and have even brought them to a girl's night out.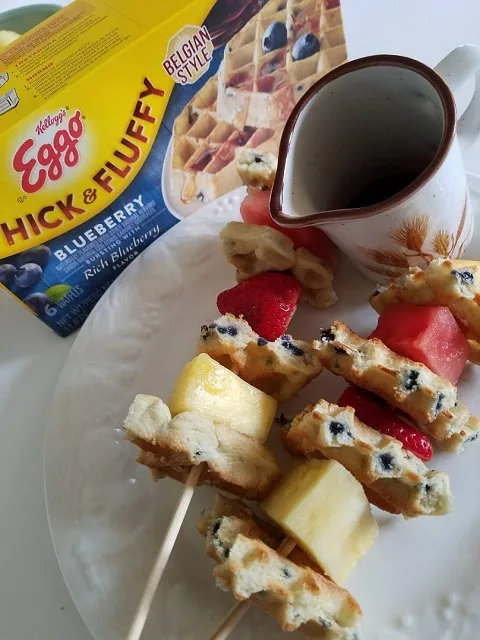 I use my Ibotta app everyday in savings!
You can find more recipe inspiration here:
Choose any fruits you'd like, as long as they go along with the fresh fruit theme! If you've never cut a pineapple before, and you're not quite sure what to do, check-out this handy guide. A pineapple can look a little intimidating, but it is really pretty painless to cut up!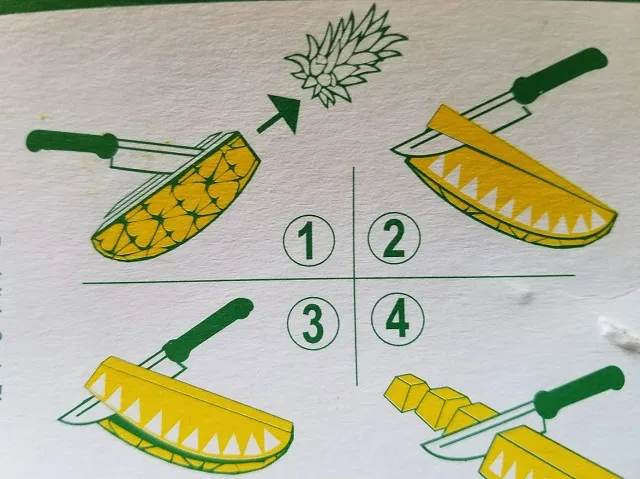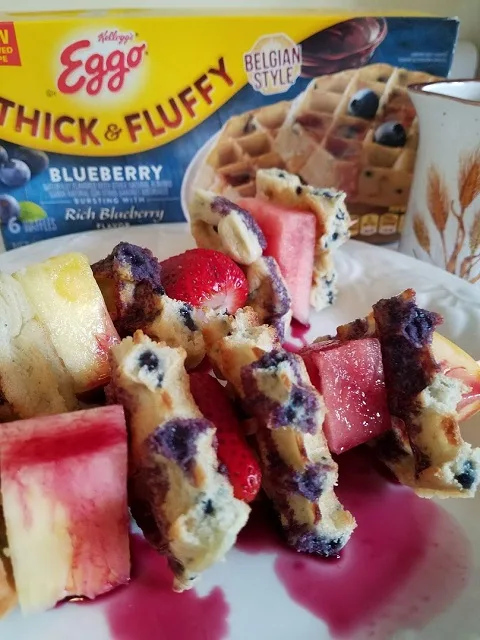 Don't these Fruit and Waffle Kabobs look so pretty? You'll get compliments left and right when serving these guys! Fresh, and delicious! Love 'em!
Take Breakfast to the Next Level with Eggo Thick & Fluffy Waffles from Walmart!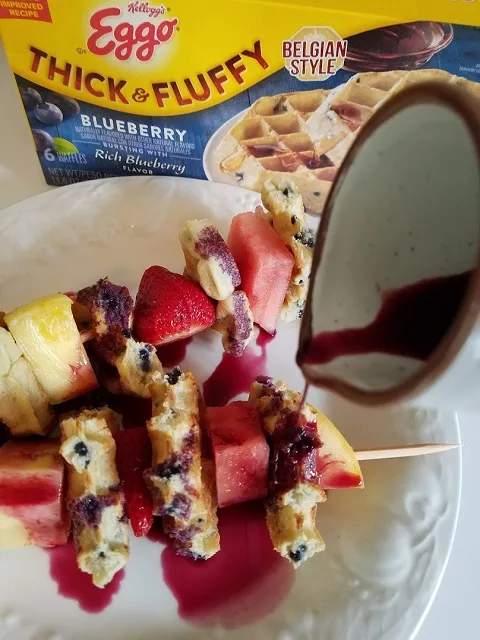 These Eggo Thick & Fluffy Waffles are just like what you may make at home and now there are no artificial flavors and the colors are from natural sources. I love that Eggo Waffles are great to grab on the go, so portable, very wholesome and filling while being indulgent. Kellogg's® Eggo Thick & Fluffy Blueberry Waffles now have two times more Blueberry bits and are bursting with rich blueberry flavor!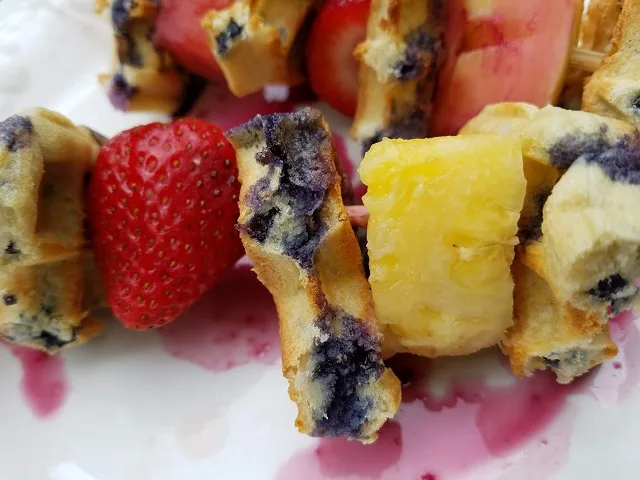 These Fruit and Waffle Kabobs are easy yet impressive for entertaining. Eggo Thick & Fluffy Waffles are a great solution for so many occasions. It is the perfect option for a simple, quick breakfast for your family, or an indulgent savory meal or complex dessert.
Let Walmart do your grocery shopping! Get the same low prices as your Walmart store. Order from your device, then pick up your items and fresh produce. You can also pick up your groceries at a time you decide is more convenient. Use their check-in feature so your order will be ready and be waiting when you arrive. It's so easy and convenient to use the Walmart's Online Grocery Pickup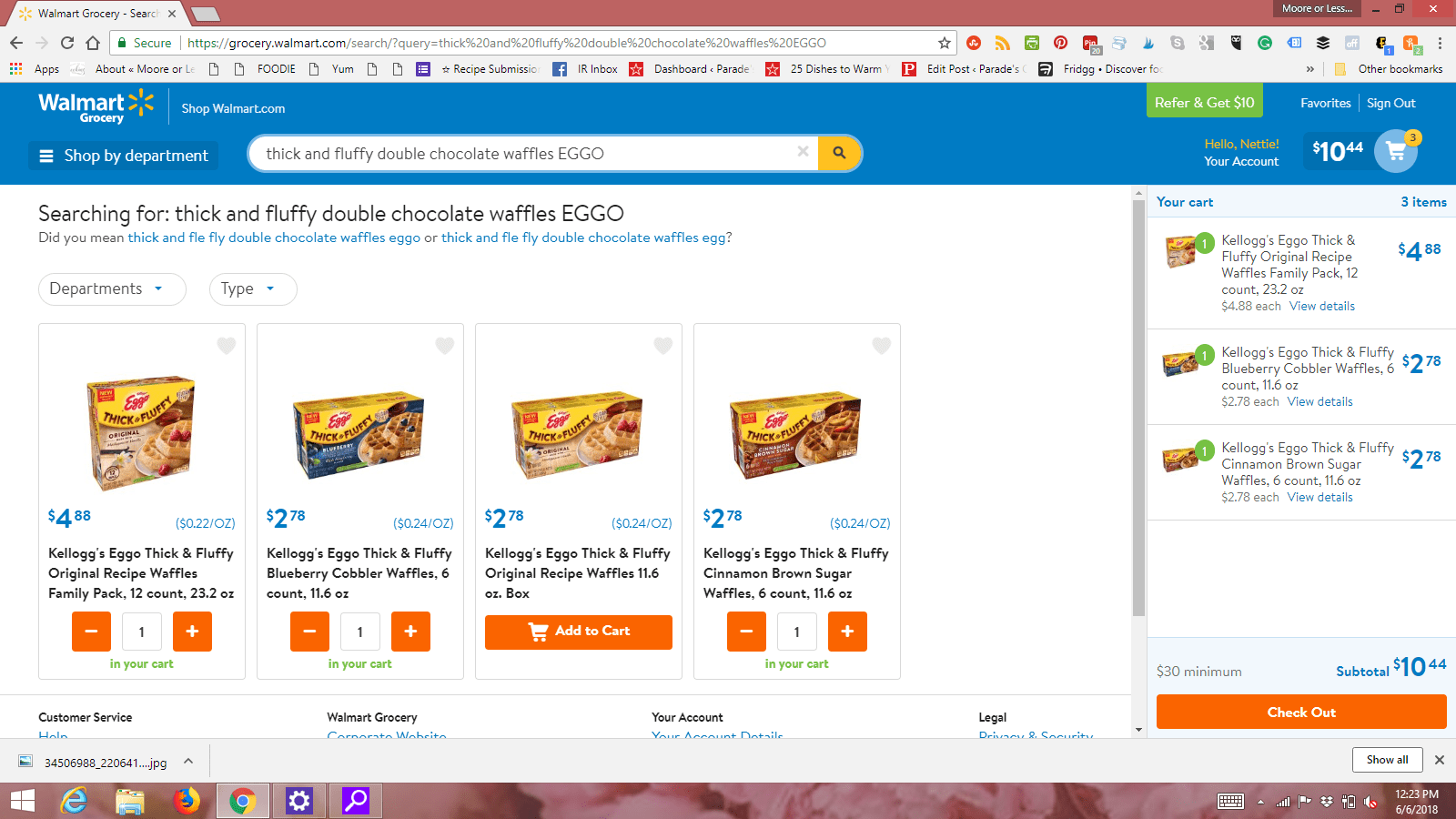 Here is the Grocery Pickup Area and the groceries were loaded into my car when I arrived at Walmart. All of my shopping was done for me and delivered to my car!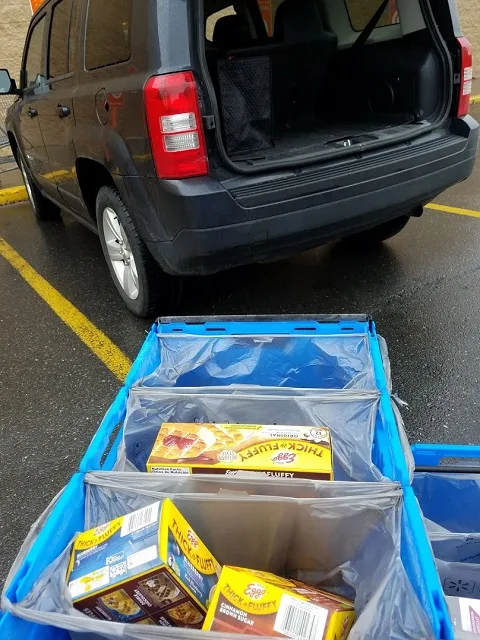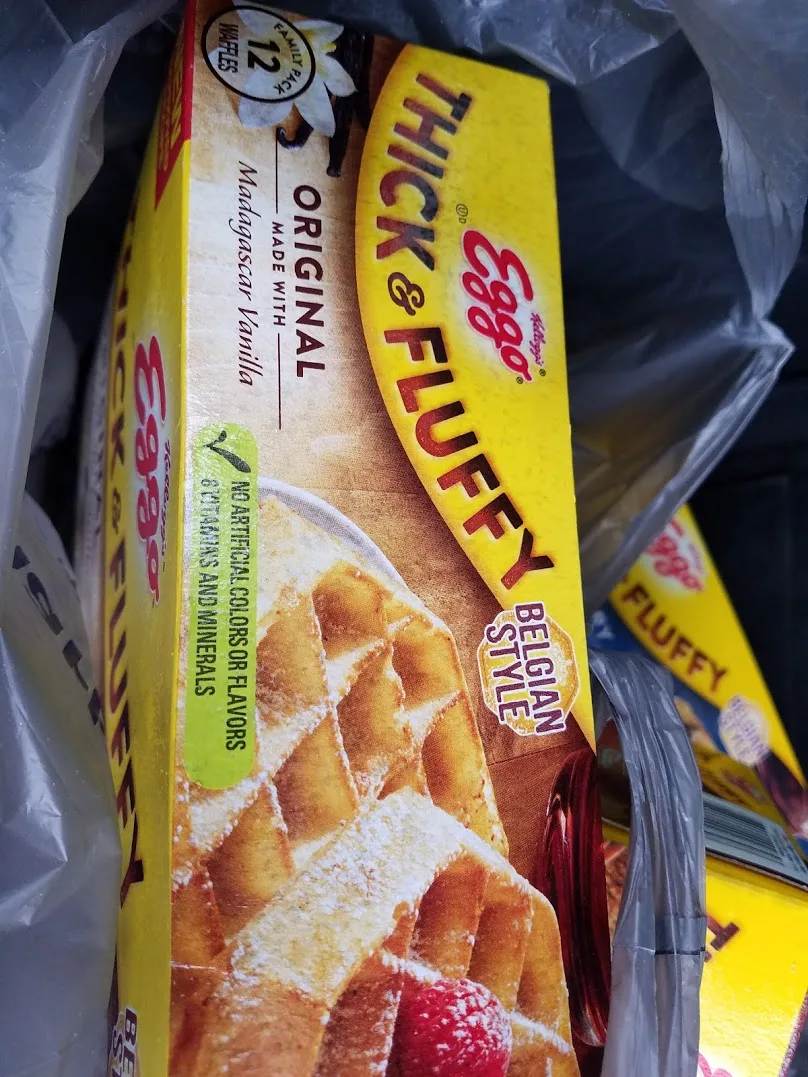 Eggo Thick & Fluffy Waffles are new and improved with more flavor than ever. Elevating the premium, homemade nature of Eggo by delivering a new and improved Thick & Fluffy Belgian Style Waffles! Here are the delicious Eggo Thick & Fluffy Waffles Flavors that are available: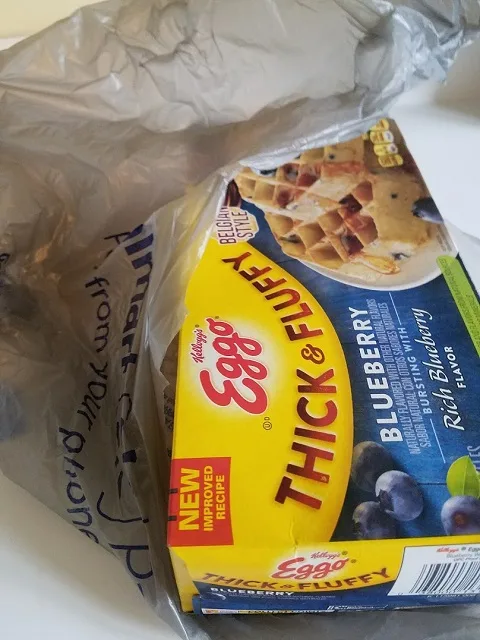 The Eggo Waffle Bar Truck will be driving around to visit Walmart stores around the country, click below to see if they are coming to a Walmart near you!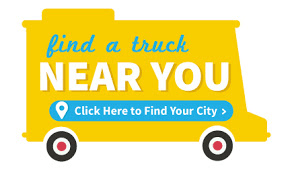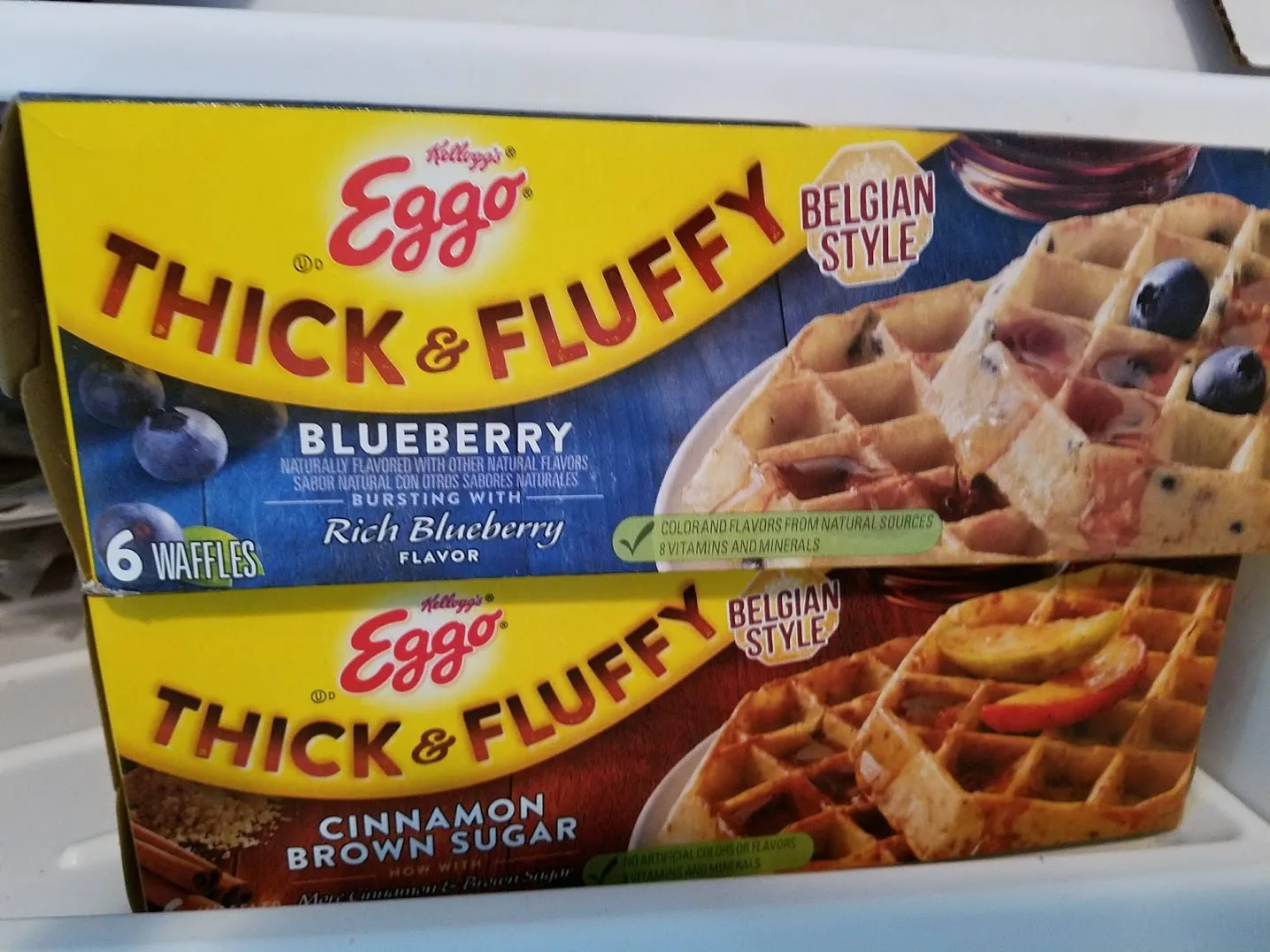 What you will need to make the Fruit and Waffle Kabobs.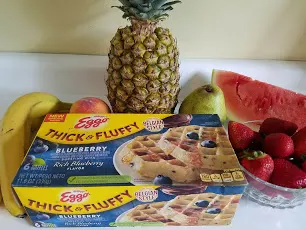 Fruit shish kabob with Thick and Fluffy Eggo Waffles with a blueberry syrup. Everyone loves fresh fruit and pair it with Eggo Waffles, you have a beautiful and delicious breakfast!
Ingredients
1 Package Eggo Waffles
Skewers (I find them in the baking aisle at my grocery store, I've also seen them in the cooking section at stores at Walmart)
Strawberries
Pineapple chunks
Peaches chunks
*Please feel free to swap fruits in and out as you see fit. I've made these with blueberries, raspberries, green grapes, and bananas before. I always leave the strawberry because it just looks so pretty on the end. Bananas should be dipped in lemon juice so that they don't brown.
Blueberry Syrup:
1/2 cup blueberries
1 tsp. sugar
1/4 cup water
Instructions
Toast the waffles, cut into quarters.
If using wooden or bamboo skewers, make sure all the splinters are off of them by rolling two together in your hands, or rub them over each other, as if you are sharpening a knife.
Cut the fruit that is not already small into 1-inch, or bite-sized, chunks.
First, skewer the strawberry, then a piece of waffle, then a piece of pineapple, then waffle and continue with the rest of fruit chunks and waffle slices.
How to make the Blueberry Syrup:
In a small saucepan add the blueberries, sugar, and water into the pan, bring to a boil and then turn down the heat to low, let boil for 5 minutes. Pour into a server, drizzle over kabobs.
Serve immediately.

PLEASE REMEMBER TO SHARE ON FACEBOOK
AND PIN IT!
Nettie is a wife and mother who is passionate about cooking and baking… especially when easy meals are involved! With 5 children, Nettie insists that all meals, snacks, and desserts come together quickly! You will find a wide variety of easy yet scrumptious recipes on her very popular website Moore or Less Cooking
FACEBOOK | TWITTER | GOOGLE+ | PINTEREST | BLOGLOVIN |INSTAGRAM|