I am so honored to be a guest blogger for Nettie today. I am a huge fan of Nettie and all of her recipes! Here's a little background on me… I am a recipe developer, food blogger and the staff Nutritionist at The Bar Method in Montclair, NJ where I offer workshops and individualized counseling. I have written two cookbooks which I am incredibly proud of,
The Everything Wheat-Free Diet Cookbook
and
The Greek Yogurt Cookbook
. I'm happy to share my healthy and delicious recipes with all you.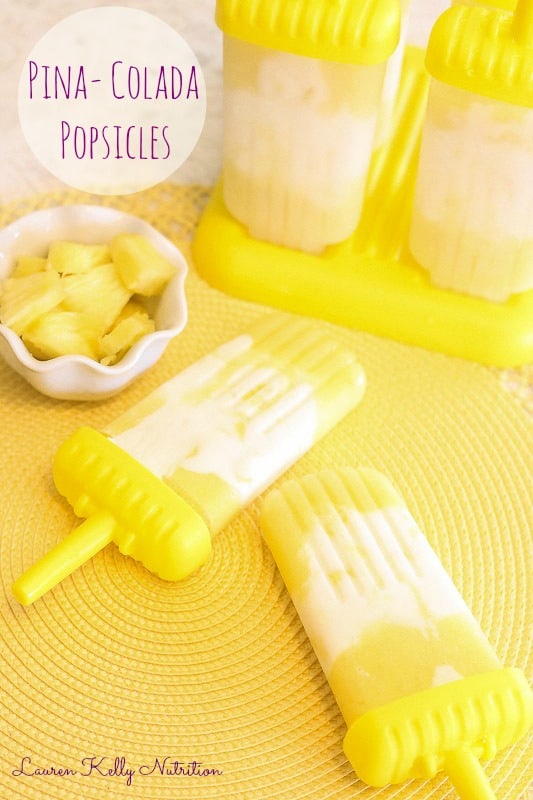 My recipe:
Pina Colada Popsicles
I didn't make these popsicles alcoholic, but if you'd like to add some rum to the yogurt/milk mixture, go for it! Maybe make half of them with rum and half without. This way when your kids enjoy their treat, you can have your "adult treat". Everyone wins! And with only 3 healthy ingredients, they are simple to make and delicious.
Makes 6-8 servings, depending on size
1 1/4 cup coconut Greek yogurt
1/4 cup light coconut milk
2 1/2 cup diced pineapple, divided
In a small bowl, mix together yogurt and milk until blended.
Take 1/2 cup of pineapple and stir it into the yogurt mixture.
Take remaining pineapple and blend in blender until smooth, but you can leave it as chunky as you'd like.
Pour blended pineapple onto bottom 1/4 of popsicle mold.
Next pour yogurt mixture, then more blended pineapple until filled to the top (leaving a half inch room).
Freeze for a few hours until frozen solid.