I have needed comfort food after this week of hell. There is nothing worse than when your child is sick and you feel like your world is spiraling out of control and you feel helpless. Comfort is what I need. All things positive. To be surrounded by love and health.
My kids request this Mac and Cheese all of the time. Hubs loves it too. I was raised eating Nana's Mac and Cheese. This was my great grandmother's recipe. Laura Moore, I think she was part Saint / part goddess, everything she cooked and baked tasted like manna. My Mom will tell you not to add an onion, but that's the way I have always made it.
Pure unadulterated comfort. Thank you Nana, my tummy feels better and your great great grand daughter is finally home recooperating.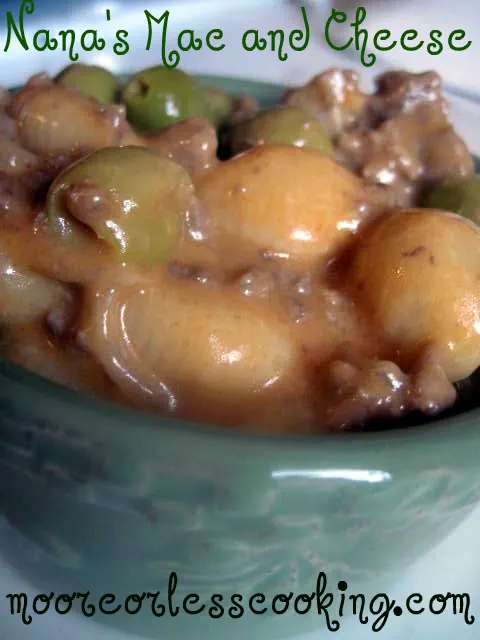 Yield:

serves 8
Nana's Mac and Cheese
Ingredients
1 lb ground beef
1 onion chopped
1 8 oz cheddar cheese shredded
1 can tomato soup
1 can mushroom soup
1 small jar Manzilla Olives
1 lb shell pasta cooked and drained
1 tbsp olive oil
Instructions
In a saute pan add olive oil over medium heat, add chopped onions, saute for 2 minutes, add ground beef, cook until brown, drain fat.
Add soups, stir beef and soups until mixture is combined, add cheese, stir until melted, add olives and juice.
Let sauce come to a simmer, stir so that sauce doesn't stick to pan. Serve sauce over pasta. Enjoy!
Serves 8
Recipe from Nana