If I told you how much my son loves pie, you wouldn't believe it. I usually have to double the recipe because he could eat a whole pie by himself, maybe this should have been one of those times….
This easy, luscious and creamy no bake pie with fresh strawberries and blueberries will be perfect on your menu for the 4th of July. With it's cheesecake like filling and juicy berries, it is a summer explosion in your mouth.
I am so excited when it's strawberry season, the recipe ideas are going wild in my head. This seemed like the perfect recipe. Not only is it a delicious pie, but it really is beautiful, with the bright colors of the berries!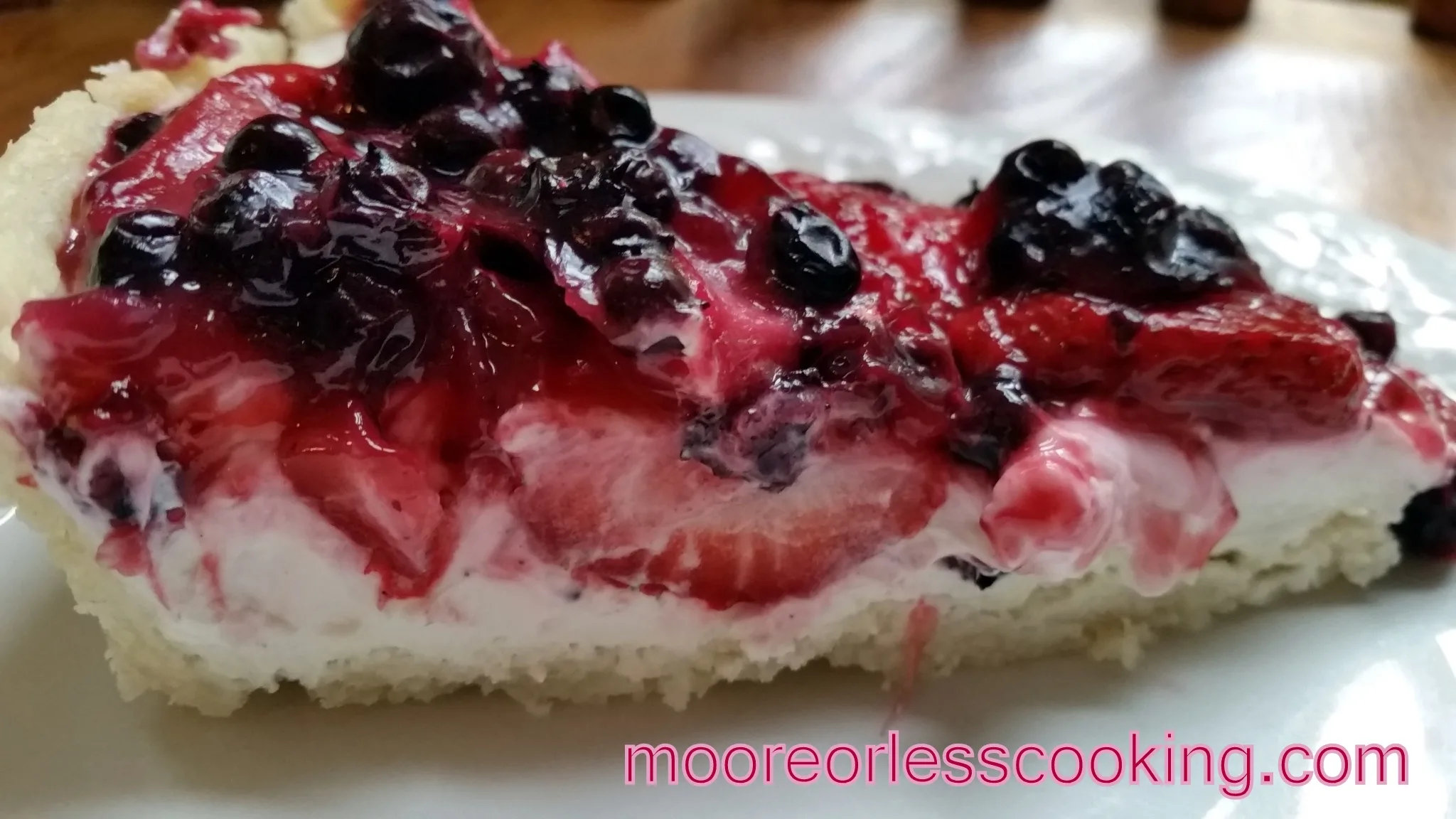 Mouthwatering sweet strawberries and Maine Blueberries with a cheesecake center over a flaky crust.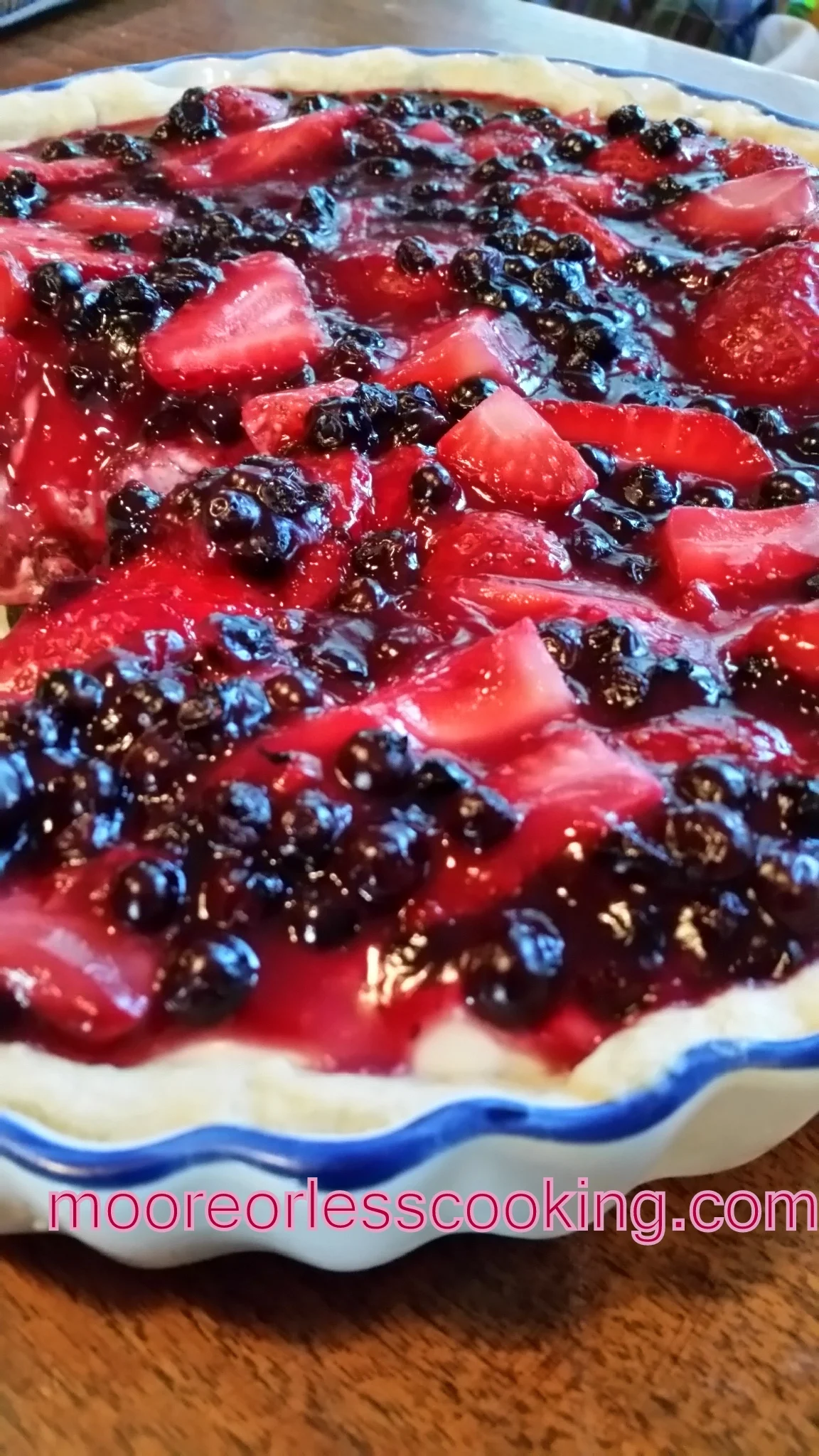 Refrigerate for 2-3 hours so that the filling sets.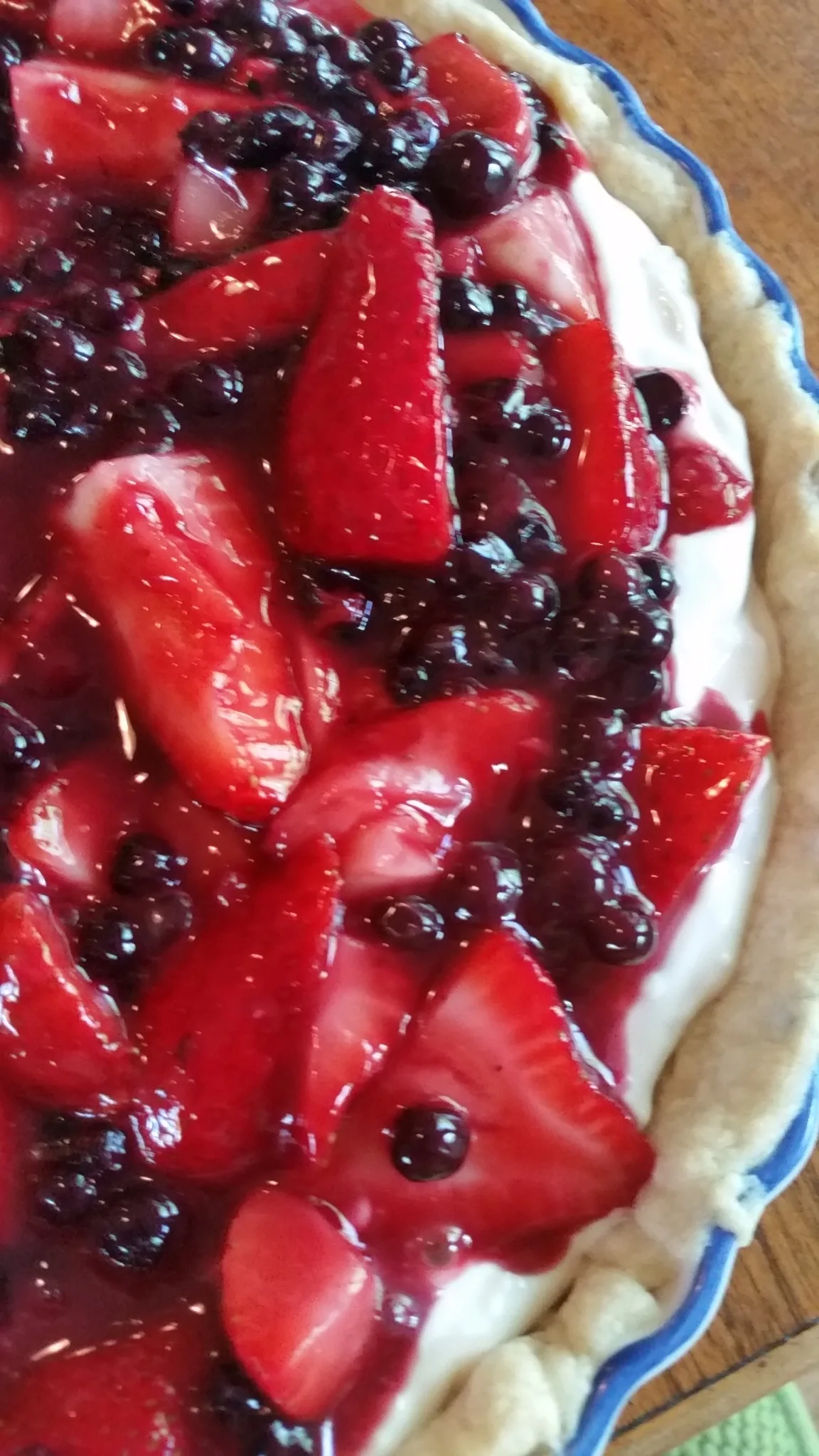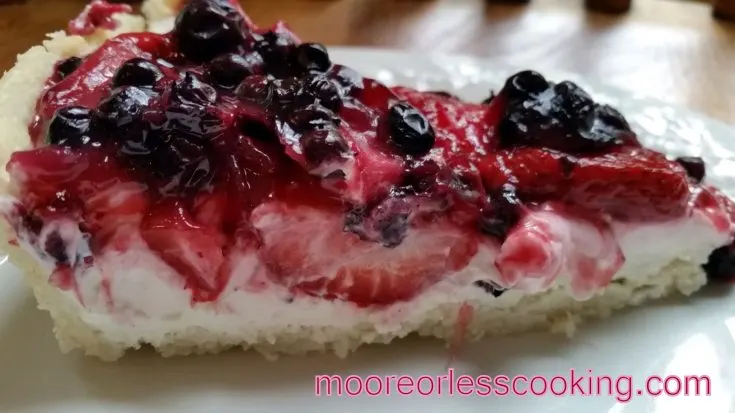 Yield:

1 pie
NO BAKE BERRY CREAM PIE
This easy No Bake Fresh Strawberry and blueberry pie is a favorite of my family's. Berries over cheesecake filling with a flaky crust! Incredible!!
Ingredients
1 Frozen Pie Crust, follow instructions on Package
1 lb Fresh Strawberries, washed and hulled
1/2 cup blueberries ( if frozen, thaw)
1/2 cup sugar
1 tbsp corn starch
1 small lemon, juiced
8 ounces softened cream cheese
⅔ cup sour cream
¼ cup sugar
1 tsp vanilla
Instructions
Cook pie crust according to package directions and cooled completely. Or make your own pie crust.
Chop 1/2 pound of the strawberries.,
Cut the other 1/2 pound of strawberries in half.
In a medium sauce pan, combine 1/2 cup sugar, corn starch, lemon juice, chopped strawberries and blueberries.Cook over medium heat, stirring constantly until thickened.
Remove from heat
In a medium mixing bowl combine softened cream cheese, sour cream, remaining sugar and vanilla. Using a hand mixer or a whisk, beat mixture until completely combined and smooth.
Spread cream cheese mixture into bottom of completely cooled pie crust.
Add the largely chopped strawberries to the thickened strawberry and blueberry glaze mixture and stir gently until they are all coated and then pour that mixture over the cream cheese mixture in the pie crust and refrigerate for 2-3 hours or until ready to serve.

Recipe adapted from Fresh Strawberry Pie
Linked Up: Love Bakes Good Cakes