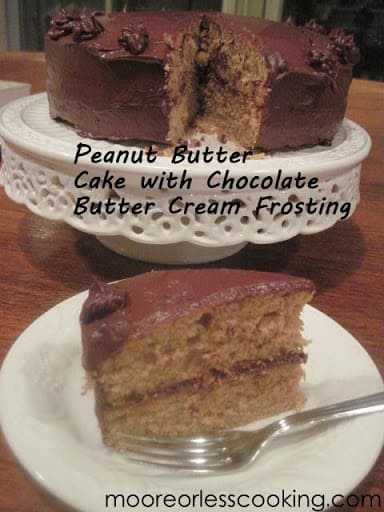 Our grandson was born last night. Our sixth grandchild, Baby Ray. The sun is bursting from behind the clouds and I am thinking of you Baby Ray! Since we are miles away from our family and were not able to be at his birth, I baked him a BIRTH CAKE.

Happy Birthday, Baby Ray. We are so excited to meet you and hold you and kiss you, sweet baby boy. This week, our group Sundays With Joy is baking up a Peanut Butter Cake. I have never baked a Peanut Butter Cake and I have been missing out!

Peanut Butter is such a wonderful ingredient to bake with, it is dense and flavorful. I decided to make a Chocolate Butter Cream Frosting to go with the Peanut Butter Cake, kind of like a peanut butter cup, but even better!

What a great choice, the peanut butter, and the chocolate combination are just delicious. Not an overwhelming flavor, very subtle. A perfect birthday cake to celebrate the birth of Baby Ray!

Ingredients for Peanut Butter Birthday Cake:
2 – 1/4 cups all-purpose flour
2 teaspoons baking powder
1 teaspoon baking soda
1/2 teaspoon salt
3/4 cup smooth peanut butter
6 tablespoons (3/4 stick) unsalted butter, softened
1/2 cup granulated sugar
1/2 cup packed brown sugar
3 large eggs
1 cup plus 2 tablespoons buttermilk

Directions:

Make the Peanut Butter Birthday Cake:
1) Place a rack in the center and upper third of the oven. Preheat oven to 350(F).
2) Prepare two 8 or 9 inch round cake pans. Either grease and flour pans or line with parchment paper. Set aside.
3) In a medium bowl, whisk together flour, baking powder, baking soda, and salt. Set aside.
4) In the bowl of an electric stand mixer fitted with a paddle attachment, cream together peanut butter, butter, and sugars until fluffy, 3-5 minutes.
5) Add eggs one at a time, beating at medium speed for 1 minute between each addition. Stop the mixer and scrape down the bowl as necessary. (Add vanilla, if desired.)
6) With the mixer on low speed, add half of the flour mixture to the butter mixture.
7) Slowly pour in all of the buttermilk.
8) When the mixture just starts to come together, add the remaining flour mixture, beating on low speed until the mixture just begins to come together.
9) Remove the bowl from the mixer and finish incorporating the ingredients with a spatula.
10) Divide the batter between the 2 prepared baking pans. Place on 2 racks in the oven. Bake for 15 minutes, rotate the cake pans to alternating racks, and continue to bake for 15 to 20 minutes or until a cake tester inserted into the cake comes out clean.
11) Let cakes cool in the pans for 10 minutes, before inverting onto wire racks to cool completely before frosting with

The Best Chocolate Buttercream Frosting.

The Best Chocolate Buttercream Frosting

1 1/2 cup (3 sticks) unsalted butter, softened

1 cup cocoa powder

3/4 teaspoon salt

4 cups powdered sugar

2 teaspoons vanilla

1/4 cup milk

1 cup heavy cream

2/3 cup Ovaltine

Cream together butter, cocoa powder and salt. Butter mixture will be very thick. Turn off the mixer, scrape down the sides of the bowl and add powdered sugar. Turn mixer on low and mix in powdered sugar while adding milk and vanilla extract. As the sugar incorporates, raise the speed of the mixer to beat the frosting. Beat until smooth. In a 2 cup measuring glass, stir together heavy cream and Ovaltine. Turn mixer speed to medium and pour cream mixture into frosting in a slow, steady stream, until you've reached your desired consistency. You may not need the full amount of Ovaltine and cream.

NOTES: Makes two 8 or 9″ cakes (or 24 cupcakes). Makes enough frosting for one 8 or 9″ 2-layer cake or 24 cupcakes. Cake will last, wrapped in the refrigerator, for up to 4 days. Frosting will last, in an airtight container, in the refrigerator for up to 7 days. I used all-natural, creamy salted peanut butter and added a teaspoon of vanilla to the cake.

This post has been linked up to these wonderful blogs!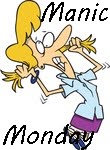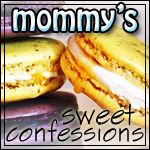 If you would like the recipe, click HERE