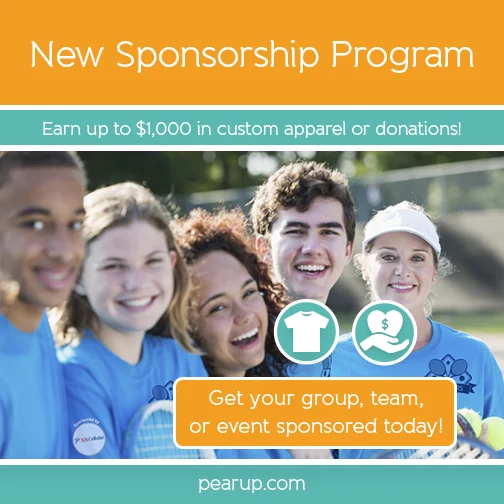 I am being compensated by Pear for my participation in this campaign. I am also a part of the Mom It Forward Blogger Network. All opinions are my own as always.
When my daughter was a girl scout, all of us Mom's did a lot of fundraising so that the Girl Scouts had opportunities for traveling, field trips and their education. Pear is a fantastic company that connects fundraiser's with companies such as US Cellular and All State and other Sponsor's to support an organization. They make fundraising a cinch.
Pear makes sponsorship easy for groups and events of all shapes and sizes. Find a sponsor in less than 60 seconds and activate your community to raise up to $1,000 or more toward custom shirts, cash donations, products and services or food and catering from a national brand or local business near you. Get Sponsored
Pear is a social engagement platform that helps groups earn sponsorship's from local and national brands for free.
What is PEAR?
● Pear is a social engagement platform that helps groups earn sponsorship's from brands – for free.
● Pear matches up sponsors with groups and organizations within the community.
● The mission is to make sponsorship simple and easy for both parties.
● U.S. Cellular is offering $300,000 to sponsor youth and high school groups across the country by
providing custom apparel or a donation.
● There is no catch – U.S. Cellular simply wants to generate goodwill in communities applicable
for youth and high schools. This includes coaches, volunteers, group activities, school teams and
clubs, and Booster or PTA organizations.
How does PEAR work?
● Sponsors have money to donate, but they don't always know how or where to donate it.
● Pear works as the middleman to help connect sponsors and groups in need.
● Pear helps the group leader create a Pear, and the group leader invites others to join.
● A dedicated community manager at Pear will help groups get the most money from their Pear.
● Groups earn sponsorship money by creating a Pear for their group and sharing with others who
complete digital incentives to earn more money.
● Each group can earn up to $1,000 within a 10-day time frame.
● $1,000 can be used toward custom apparel or as a donation to the group
● Each team member completes digital steps on behalf of U.S. Cellular to earn dollars – things like
liking U.S. Cellular on Facebook, signing up for an email, or answering some survey questions.
● For every step team members complete, they'll get dollars towards their goal.
● The more tasks you complete, the more dollars you earn for your sponsorship.
● At the end of the 10-day period, group leaders claim an online certificate for the amount earned
redeemable at any Pear printer or a check will be made out to the individual responsible for
handing financials for the soccer team or organization.
● You keep whatever amount you earn.
● It's absolutely free to participate.
● It's zero cost to you, and no donations required.
● There are 30,000 participants and 800 Pears.
#ad #USCellularSponsors #K12 #JoinIn #Youth
Check out PEAR on all social media for more information:
● Facebook
● Twitter
● YouTube
https://www.pearup.com/sponsor/uscellular?refid=marketing&utm_source=saxum&utm_medium=ma
If you or a group you know is interested in getting sponsored on Pear, check out the Find a Sponsor page! Or, you can reach out to Community Management team by emailing support@pearup.com.