Spring is here, and with this new season comes the fresh and fruity flavor of lemon! Lemon cakes, lemon pie, lemon curd ice cream, lemon lavender bars, and lemon cookies. For all of the lemon lovers out there, indulge yourself with these nine luscious desserts. Perfect for your Easter dessert table or just with a cup of your favorite Earl Grey tea! Happy spring and happy eating!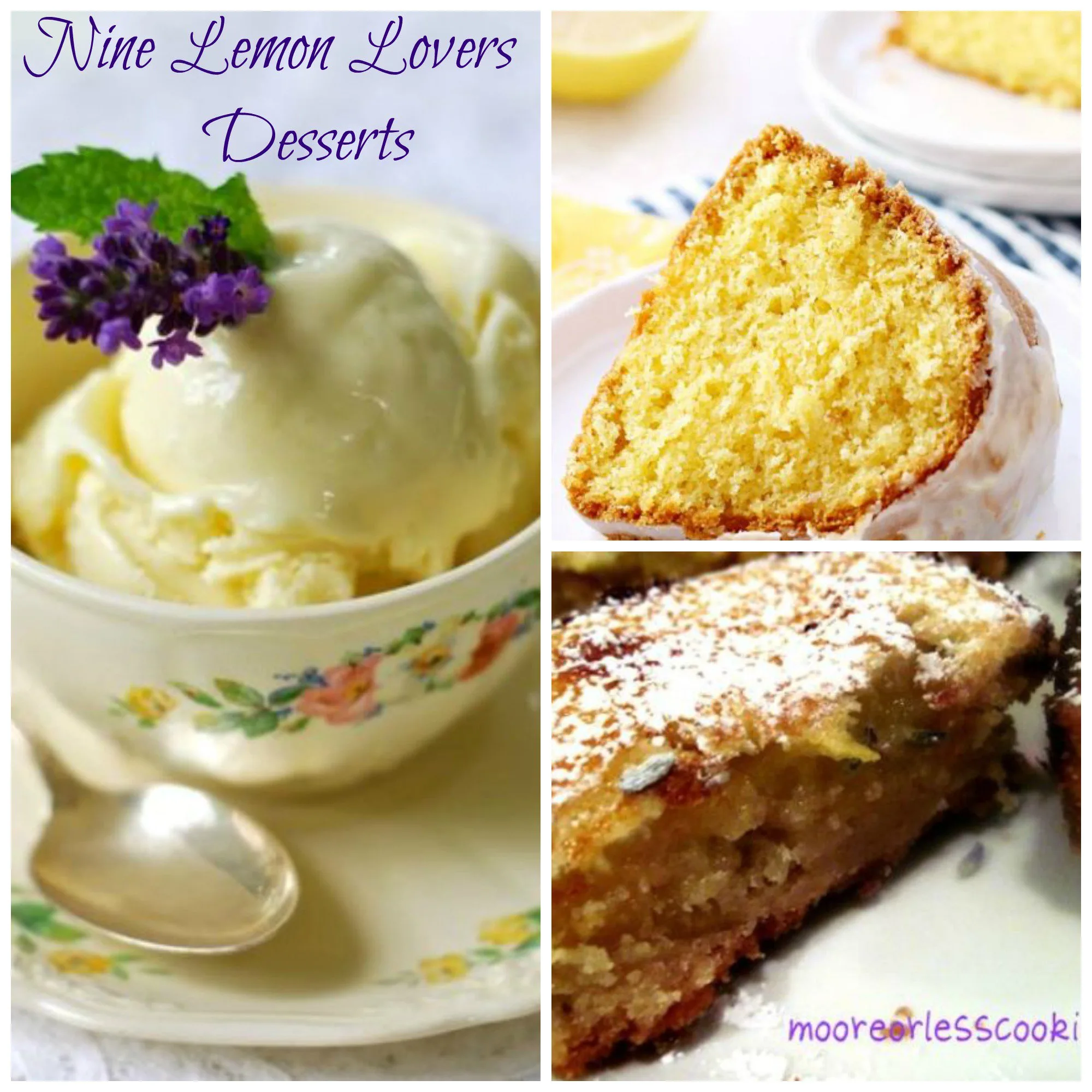 Lemon Lover's Bundt Cake
Sweet, lemony, moist, and delicious!
Recipe Love Bakes Good Cakes
CopyCat Starbucks Mini Lemon Loaves
So moist and lemony! Eat your heart out Starbucks!
Recipe Moore or Less Cooking
Lemon Curd Frozen Yogurt
Very few ingredients and soooo creamy, tart, and lemony!
Recipe ChinDeep
Fluffy Strawberry Lemon Cake
A light and fluffy angel food cake with lemon zest and fresh berries.
Recipe Moore or Less Cooking
Lemon Blueberry Bread
This loaf is great for breakfast, as a dessert, or just as a snack.
Recipe Moore or Less Cooking
Lemon Zucchini Cake
It's not a fru fru cake, it has body. The lemon glaze is a perfect addition.
Recipe Moore or Less Cooking
Lemon Lavender Bars
Perfectly lemony and tart with a light lavender flavor and a sweet and crumbly shortbread crust.
Recipe Moore or Less Cooking
This post originally aired on Parade, Community Table.
Nettie Moore is the cook, baker, photographer and designer behind Moore or Less Cooking Food Blog. Nettie is a self trained cook and baker. She loves creating easy recipes that don't call for a lot of unknown ingredients. Nettie's Blueberry Skillet Cake has been featured in Taste Of Home Magazine and her Peach Raspberry Pie has won awards! She was born and raised in Southern California and now calls New England her home, where she lives with her husband and two children. Follow her on her blog Moore Or Less Cooking, Facebook, and Pinterest.