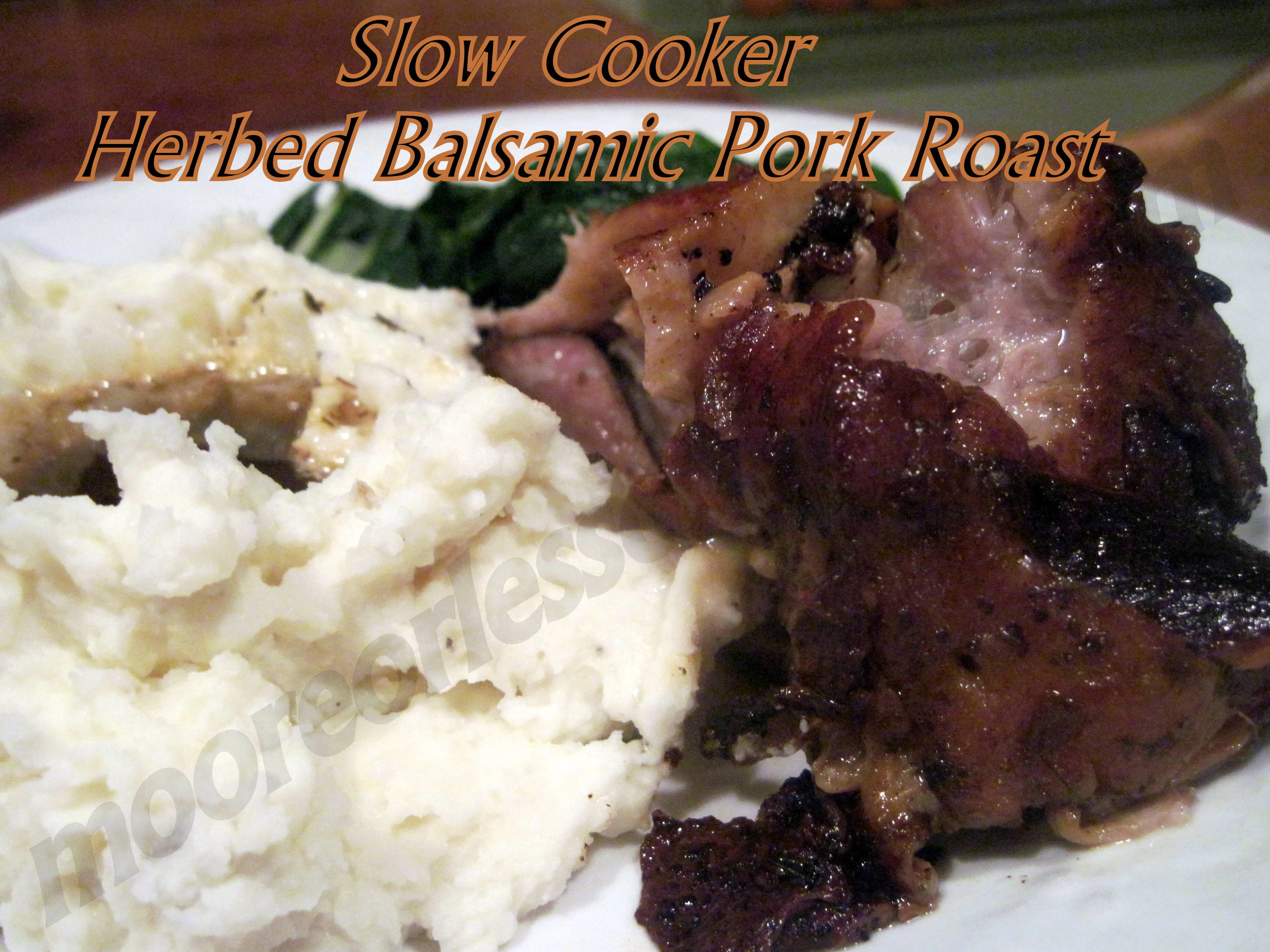 I am in love with my Slow Cooker. I really am. I consider Sally the Slow Cooker to be one of my best friend's. She never lets me down. Especially with this recipe.
Dust off your Slow Cooker and get ready to make an amazing meal! This roast is melt in your mouth magical goodness. The incredible smells coming from the kitchen was a good indication of how delicious this roast would be.
Check out my newest video and follow along with the easy tutorial!
But every time you take a bite of the roast, you have to say MMMM and just shake your head, because you can't believe that you just made an incredible meal. Serve it with Mashed Potatoes and Sauteed Swiss Chard. THE BEST!!
Plus this roast makes some of the best gravy ever! We were pooling it into our mashed potatoes like there was no tomorrow, but there is a tomorrow, and you will be so happy you have leftovers!
Serve this amazing roast over my favorite Mashed Potatoes Recipe.
Slow-Cooker Herbed Balsamic Pork Roast. Pin It for Later!

Serving Size: 7-10 slices Prep Time: 10 minutes, Cook Time: 4-8 hours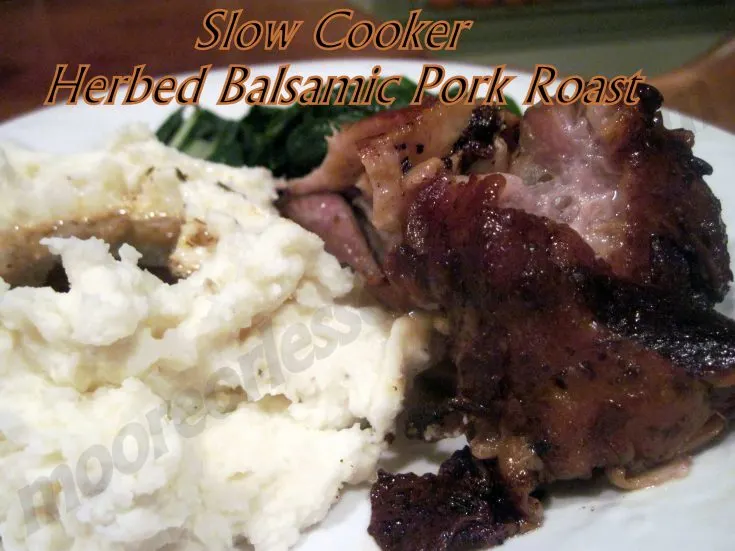 Yield:

serves 6
SLOW COOKER HERBED BALSAMIC PORK ROAST
Total Time:
8 hours
5 minutes
This is a fantastic pork roast, every bite will have you saying mmmm! Use your slow cooker, set it and forget it until the delicious smells makes you hungry!
Ingredients
1 Pork Roast (3-5 lbs)
1/2 cup + 2 tbs Balsamic Vinegar
1/3 cup Honey
2 tsp Rosemary (Dried)
1/2 tsp Thyme (Dried)
2 Bay Leaves
2 tsp Salt
1/4 tsp Black Pepper
Instructions
Place pork roast in the slow cooker.
Mix all of the ingredients in a bowl and pour over the roast.
Cook on low for 6-8 hours, or high for 4-6, depending on the size of your roast.
Remove the cooked roast from the slow cooker.
Cover and keep warm.
Pour the remaining sauce from slow cooker into a saucepan and bring to a boil.
Let it reduce by about half. It should look thicker.
Slice up the roast and pour the sauce over top.
Serve immediately.
Recipe adapted from The Home Journalist.com
Nettie Moore is the cook, baker, photographer, and designer behind Moore or Less Cooking Food Blog. Nettie is a self- trained cook and baker. She loves creating easy recipes that don't call for a lot of unknown ingredients.Nettie's Blueberry Skillet Cake has been featured in Taste Of Home Magazine and her Peach Raspberry Pie has won awards! She was born and raised in Southern California and now calls New England her home, where she lives with her husband and two children. Follow Nettie on her blog, Moore or Less Cooking, or here: FACEBOOK | TWITTER | GOOGLE+ | PINTEREST | BLOGLOVIN |INSTAGRAM