Wow your family and friends with this delicious and easy stacked pasta pie! Cheesy stacked pasta enrobed with a hearty meat sauce covered in more melty cheese. Serve like a slice of pie!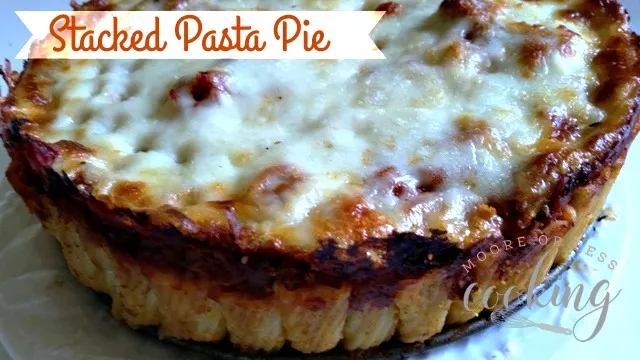 I'm picky when it comes to what kind of sauce I serve with pasta. Having grown up in an Italian family, my grandmother made her famous red sauce, always simmering on the back of the stove. I looked forward to getting a chance to dipping a piece of bread in the sauce to see if it was thick enough to serve for dinner. I have been making her sauce for years.
RAGÚ® Homestyle Thick and Hearty Meat Sauce is so flavorful and perfect just the way it is. Grandma would approve. It is a very thick sauce– you can tell by the way it hugs the pasta.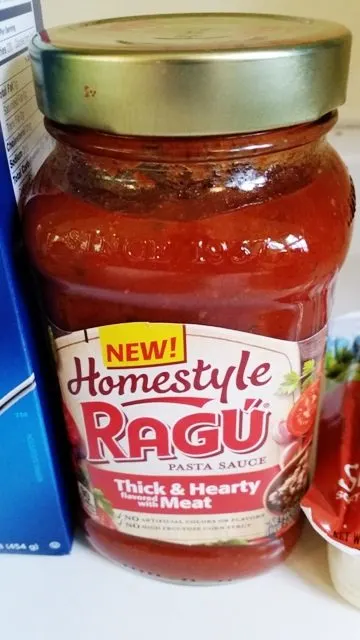 You can taste the bold flavors in this sauce because Ragu peels, chops and simmers the ingredients and uses a special blend of herbs (basil, fennel, oregano and black pepper) to layer and build the flavor.
Ragu doesn't use artificial flavors, artificial colors or high fructose corn syrup.
I don't take short cuts when I make my Grandma's sauce and neither does Ragu. They take the time to make sure the sauce is made right.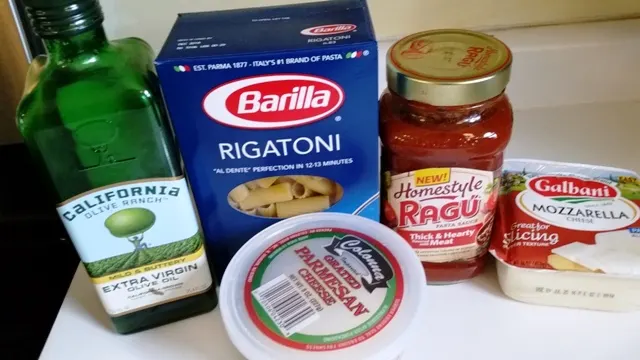 Only 6 ingredients for this easy and delicious recipe: Ragu Homestyle Thick and Hearty Meat Sauce, Rigatoni, Olive Oil, Parmesan Cheese, Mozzarella Cheese. ( butter, not pictured)
Cook the rigatoni until it is al dente ( firm to the bite). Try this trick, place a wooden spoon on the pot so the water doesn't boil over.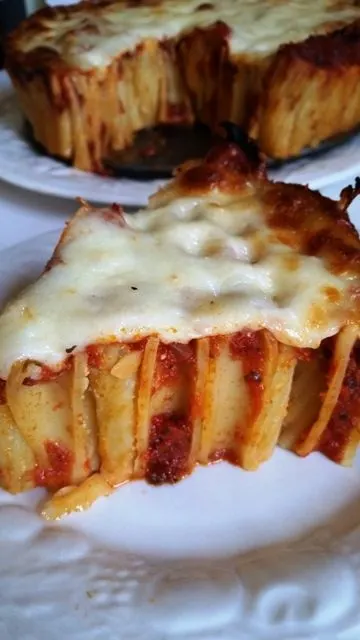 Giveaway! This beautiful set of wooden spoons!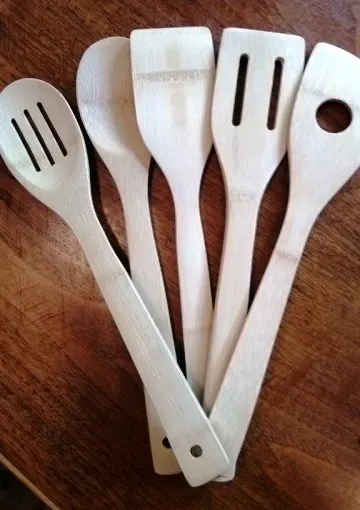 Just leave a comment below telling me what your favorite recipe is from the Ragu's website. Visit Ragu and learn more about the new line of Ragu Homestyle sauces.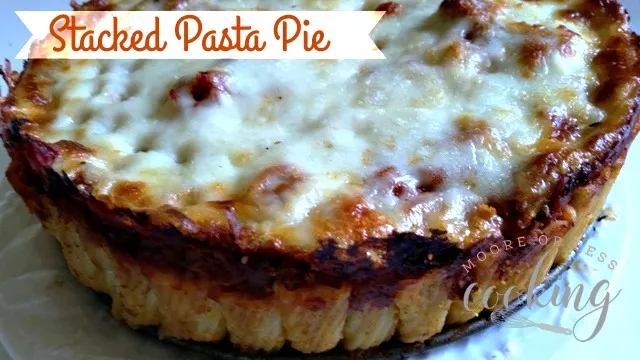 Yield:

8 pieces
Stacked Pasta Pie and a Giveaway!
Cheesy stacked pasta enrobed with a hearty meat sauce covered in more melty cheese. Serve like a slice of pie!
Ingredients
1 Pound Rigatoni, cooked al dente
1 Tablespoon Olive Oil
1 cup grated Parmesan cheese
8 ounces grated Mozzarella Cheese
butter, for greasing pan
Instructions
Preheat oven to 400 degrees F.
Cover baking sheet with foil.
Cover bottom of 9 inch springform pan with foil.
Grease springform pan with butter. Set aside.
Drizzle olive oil over pasta in a bowl.
Mix with a spoon until pasta is coated.
Sprinkle parmesan cheese over pasta.
Mix with spoon until coated.
Stack pasta in springform pan.
Pour entire jar of Ragu Homestyle Thick & Hearty Meat Sauce over pasta. Use spatula to get in nooks and crannies. Use a chopstick if needed.
Bake in oven for 15 minutes.
Remove from oven sprinkle mozzarella cheese over pasta.
Return to oven for another 10 minutes, or until bubbly and brown.
Remove from oven , let set for 5 minutes. Slice in a pie shape. Serve! YUM!
Recipe adapted from
Noble Pig
Contest starts 6/7/2016 ~ Ends 6/30/2016
1 winner only, valid in the USA. PRIZE: a set of wooden spoons.
Contest is over~ winner is Patricia C.