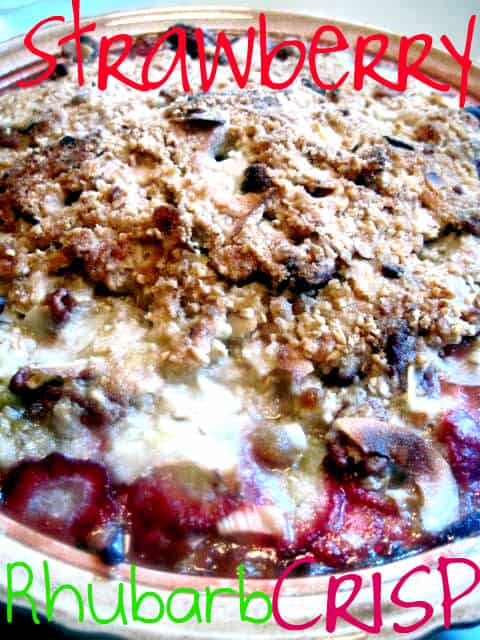 Spring in Maine. It's like you can breathe again after 7 months, no more snow, actual green grass and flowers and flowering trees and rhubarb and my favorite……. strawberries. When I think of rhubarb, I automatically think of strawberry rhubarb crisp. So easy to make, so easy to eat!
Strawberry Rhubarb Crisp
Ingredients
For filling:
2 cups rhubarb, chopped into 1″ pieces
5 cups strawberries, hulled and halved (or quartered if large)
1 apple, peeled, quartered and sliced (optional)
½ cup granulated sugar
Juice from one large lemon
3 Tbsp. cornstarch
For topping:
1½ cups regular rolled oats
1½ cups all purpose flour
1½ cups brown sugar
1 cup cold butter, cut into small pieces
1/4 cup Coconut (optional)
1/4 cup nuts ( optional)
Instructions
Preheat oven to 375 degrees.
Combine the rhubarb, strawberries, apple, sugar, lemon juice, cornstarch and a pinch of salt in a 9″ x 13″ baking pan or a large pie dish. Toss gently to combine.
In a large bowl, combine the oats, flour, and brown sugar, coconut and nuts.
Add the butter to the flour mixture and cut in the butter pieces with a pastry cutter, a large fork, or your fingers until the mixture forms coarse crumbs.
Sprinkle the topping over the strawberry rhubarb filling.
Bake at 375 degrees for approximately 40 minutes until the filling is bubbly and the topping is crisp and browned.
Serves 8-10
Recipe inspired from a Passionate Plate