I may earn a small commission on purchases made through any product links on this page. Thanks for your support!
Incredibly delicious Low Carb Strawberry Raspberry Crumble for when you are craving a summer crumble with fresh berries and rhubarb.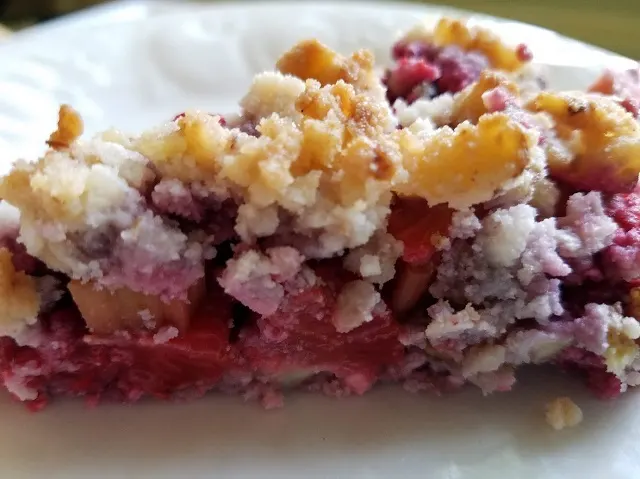 I am so excited that it is raspberry and strawberry season here in Maine. We just went berry picking today and got such a great haul! I couldn't wait to make this Low Carb/Keto treat!
It really came out better than I imagined, sweetened with Monk Fruit. It is my first time trying this sweetener, after reading such great reviews, I couldn't wait to try it. Unlike some sweeteners that have that cooling taste, this does not. Plus I think it tastes a lot like sugar.
The combination of the rhubarb, strawberries, and raspberries are just wonderful and I love the crunch from the walnuts. It's a perfect summer crumble!

PLEASE REMEMBER TO SHARE ON FACEBOOK
AND PIN IT!
Here is what you will need for this recipe:
For the Crumble:
For the Filling:
strawberries
raspberries
rhubarb
lemon juice
Monksweet with Stevia
Freshly picked raspberries and strawberries make a fabulous fruit crumble.
Measure out coconut flour, cashew meal and Monksweet with Stevia.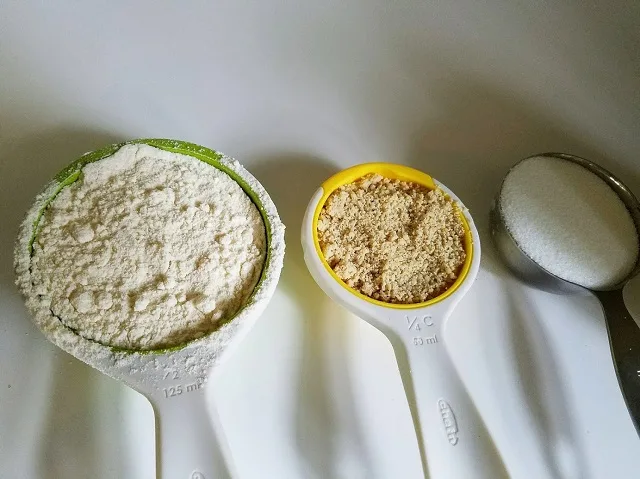 Place ingredients in a bowl.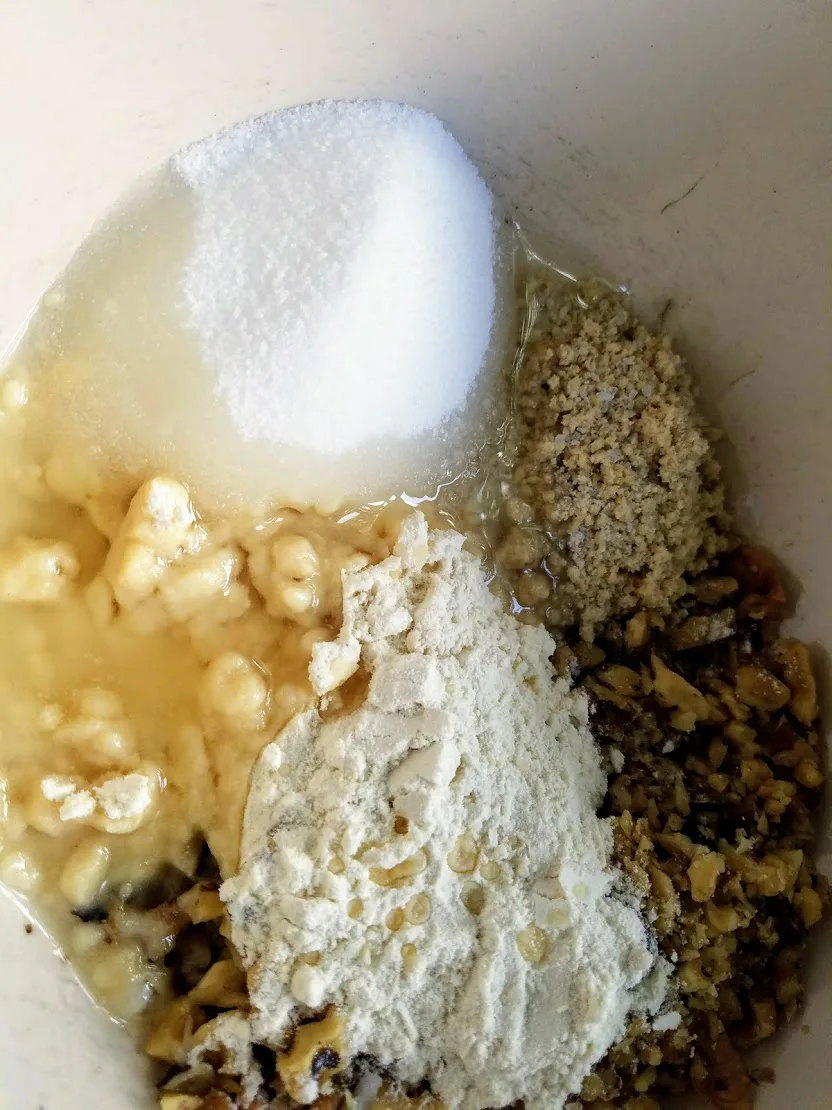 Add walnuts, chop well.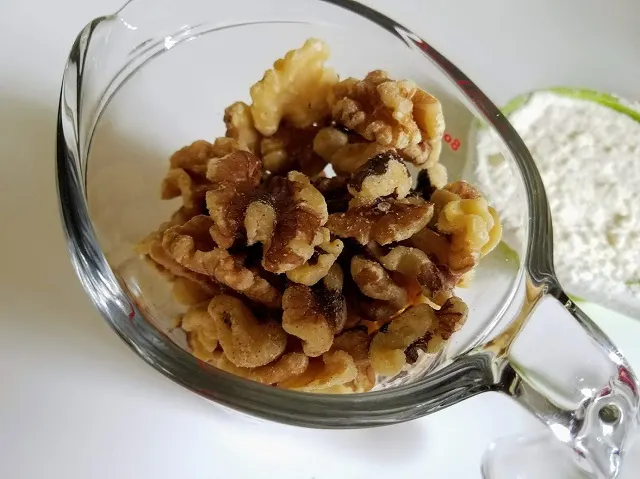 My rhubarb plants are going crazy this summer. I planted two plants last year and they are so happy!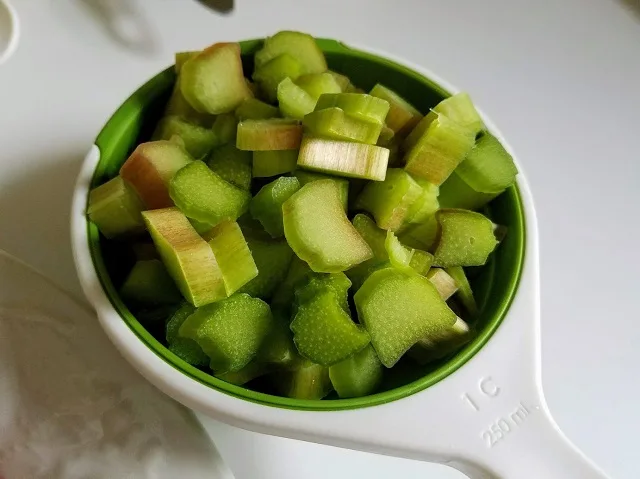 Place berries, rhubarb, lemon and sweetener in a bowl.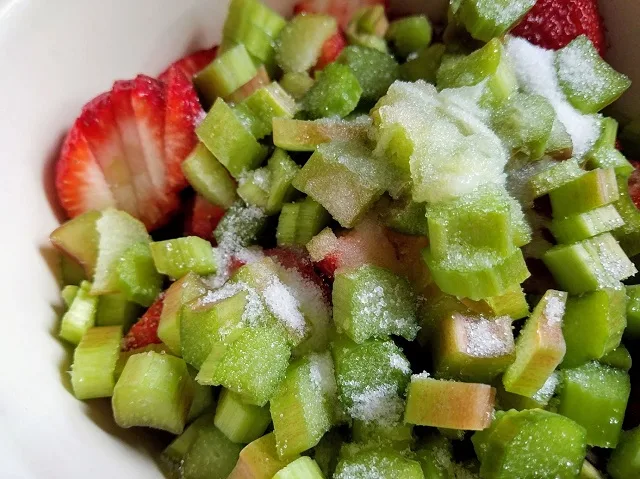 Gently stir.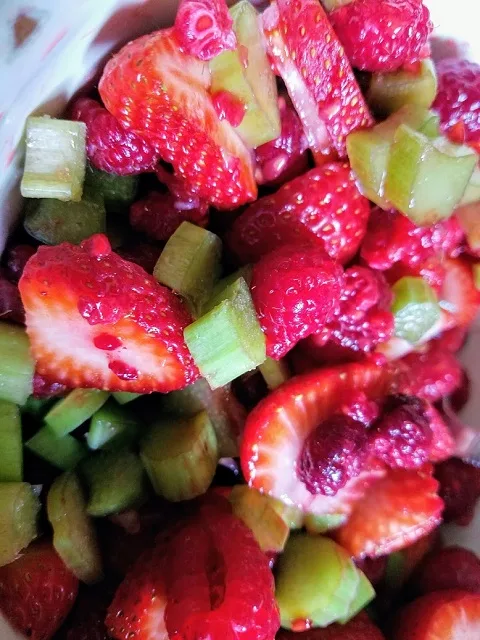 Place part of the crumble on the bottom of My favorite pie plate. Pat down with fingers to spread evenly.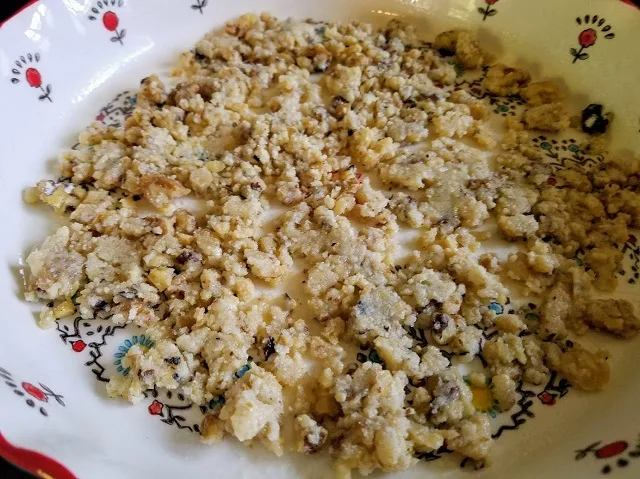 Pour berries mixture over the crumble.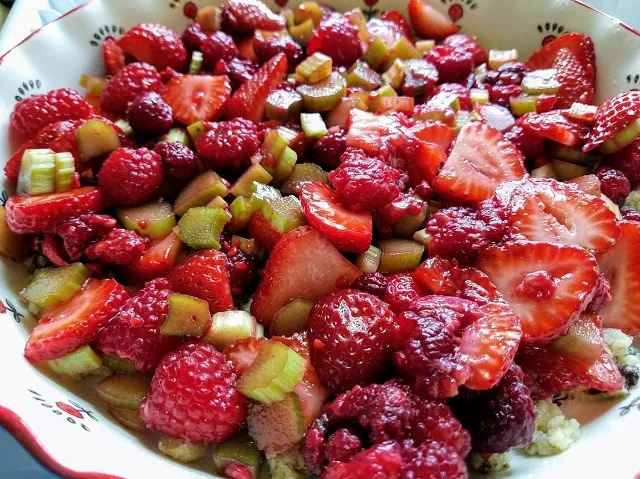 Cover the berry mixture with the remaining crumble mixture.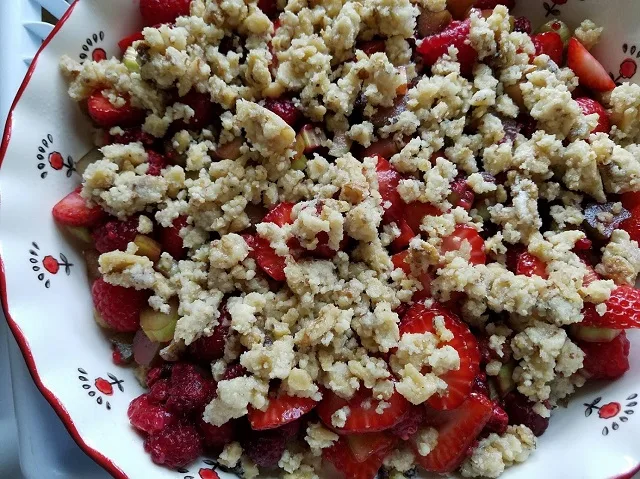 Bake until golden brown.
Beautiful Berry Crumble.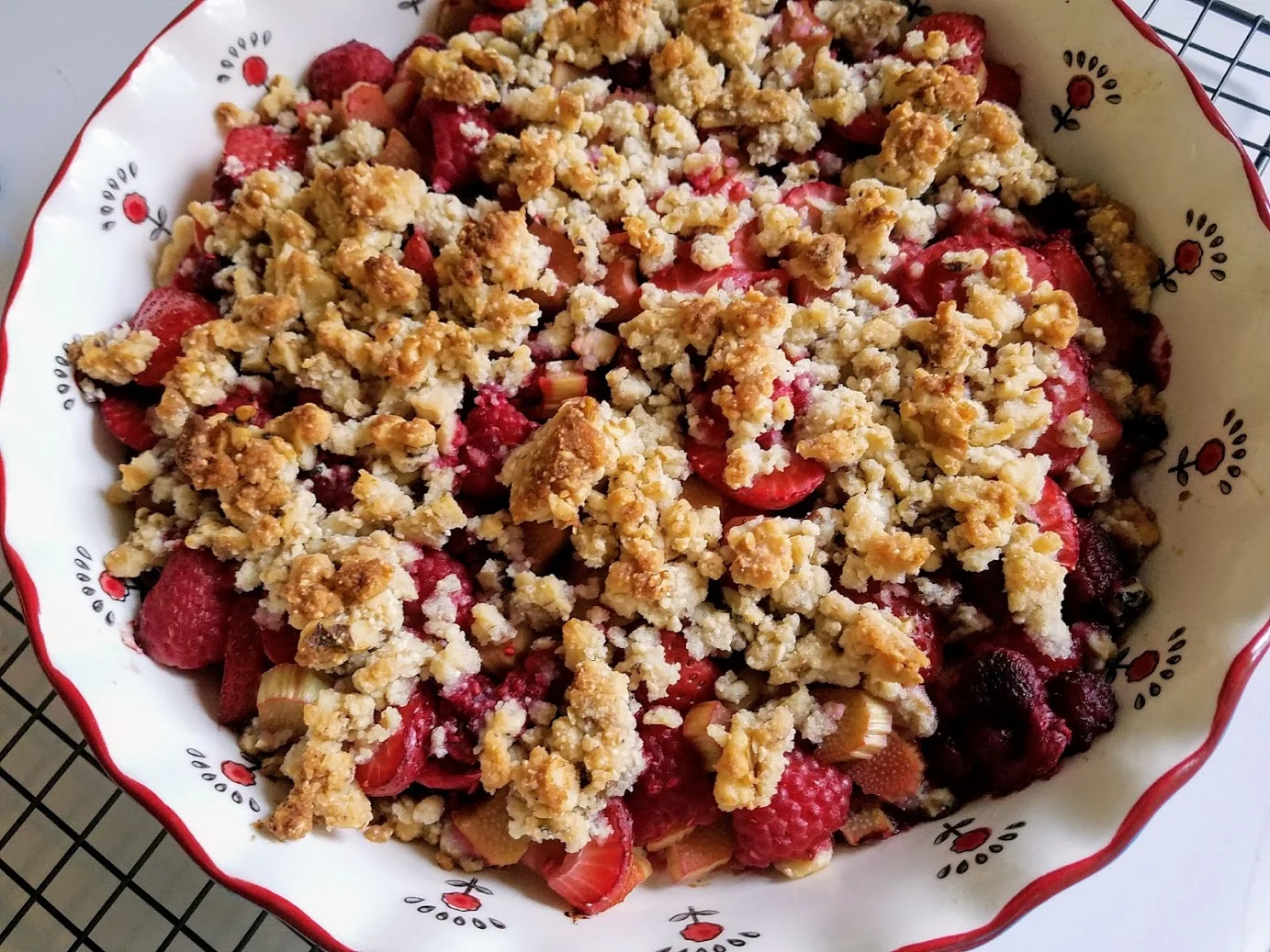 Let cool completely. Refrigerate until cool. This will help with slicing the pie.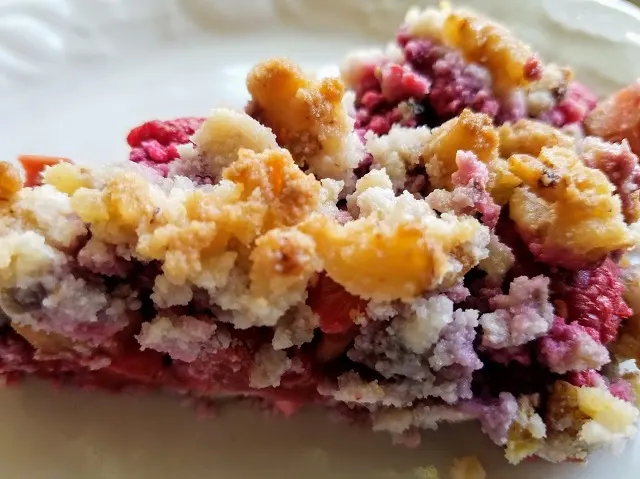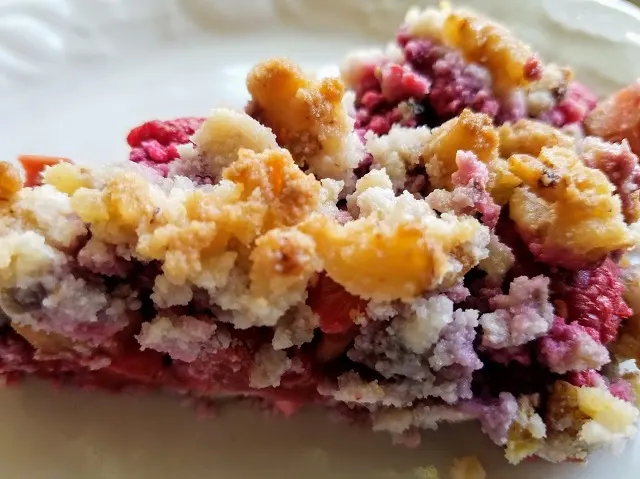 Low-Carb Berry Rhubarb Crumble
Macros per slice
3.5 Net Carbs
230 Calories
20.6g Fat
8.7g Carbohydrates
5.2g Fiber
4.2g Protein
Ingredients
1 cup finely diced walnuts
1/2 cup coconut flour
1/4 cup cashew meal
1/4 cup + 1 tsp Monksweet Stevia Blend
1/4 tsp sea salt
6 tbsp melted butter, unsalted
Filling:
1 cup finely diced strawberries
1/2 cup raspberries
1 cup finely diced rhubarb (about 2 stalks)
1 tbsp lemon juice
1-2 tsp Monksweet Stevia Blend
Instructions
Preheat oven to 350 degrees F
In a bowl, combine filling ingredients.
Set bowl aside.
In another bowl, combine walnuts, coconut flour, cashew meal, 1/4 cup sweetener, sea salt and toss together so it mixes evenly.
Add butter and combine until the whole mix is crumbly.
Set 1/2 cup of the crumble aside and the final another 1 tsp sweetener to it.
Grease a 9" glass pie dish with butter, then press down the bowl of crumble. Use your hands to press it flat into the bottom.
Pour the fruit mixture over the crust and spread evenly.
Finally, sprinkle the remaining 1/2 cup of crumble over the pie.
Bake for about 20 minutes covered with tinfoil, then a final 10-20 minutes until crumble is browned (this will prevent burning the crumble because this dish needs a little time to cook).
Once finished, let cool completely in the refrigerator (at least a few hours to set so it can be sliced and held like a pie), then serve.
Other Low Carb Desserts: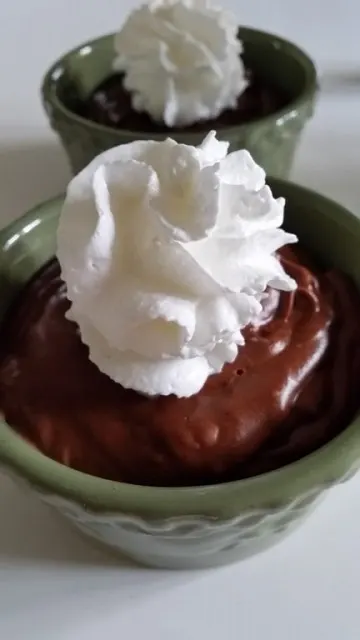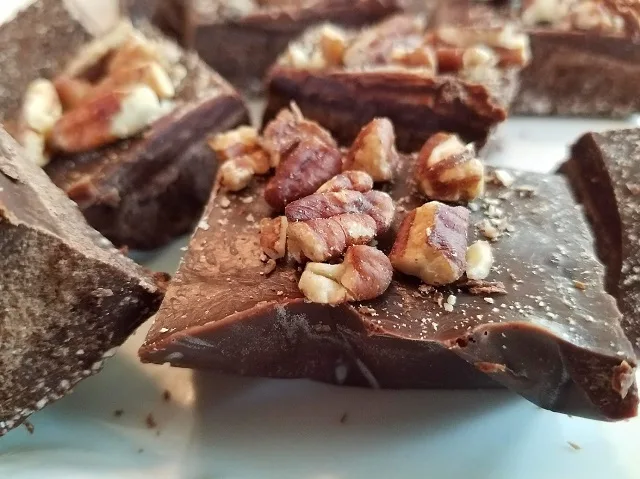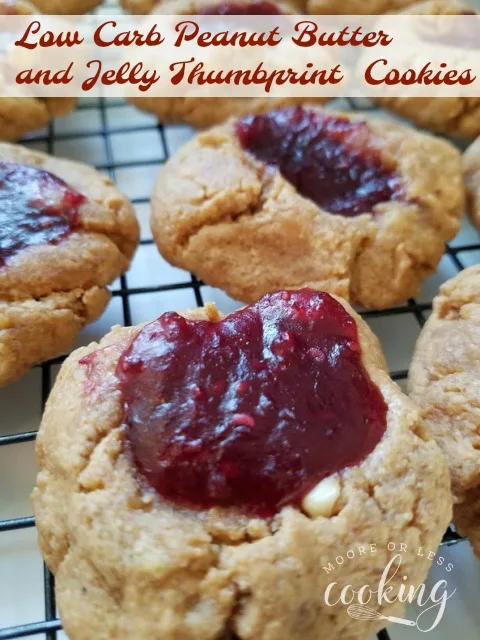 Nettie Moore is the cook, baker, photographer, and designer behind Moore or Less Cooking Food Blog. Nettie is a self-trained cook and baker. She loves creating easy recipes that don't call for a lot of unknown ingredients. Nettie's Blueberry Skillet Cake has been featured in Taste Of Home Magazine and her Peach Raspberry Pie has won awards! She was born and raised in Southern California and now lives with her artist husband. Follow Nettie on her blog, Moore or Less Cooking, or on FACEBOOK | TWITTER | GOOGLE+ | PINTEREST | BLOGLOVIN | INSTAGRAM| Free email subscription.