Melt-in-your-mouth tender Rib Eye Steaks marinated with flavorful Kentucky Bourbon Marinade! Rib eye steaks are grilled to juicy perfection.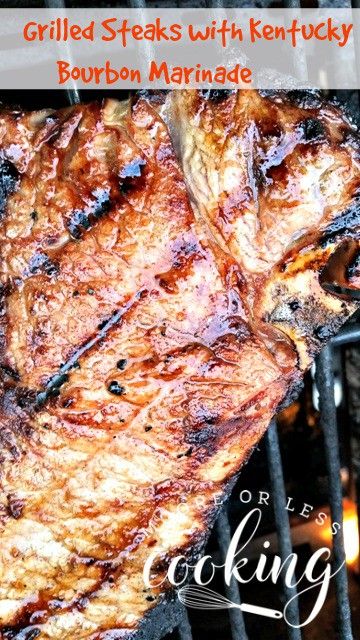 …
An Italian Dessert Treat! Frozen Mint Julep Granita for the Kentucky Derby!!
My friend Hillary over at Baking Bad Food Blog is having a Virtual Kentucky Derby Party and invited me! When I think of the Kentucky Derby I think of  big beautiful hats and plenty of Mint Julep's. So I came up with a Mint Julep Granita, perfect for cooling you down after you have won 1st Place on your horse in the Derby! The Mint Julep Granita is made from a simple syrup infused with fresh mint, Kentucky Bourbon and  Creme de Menthe, frozen and shaved. Simple and refreshing. 3 simple ingredients: Kentucky Straight Bourbon Whiskey, Creme De Menthe and Fresh Mint.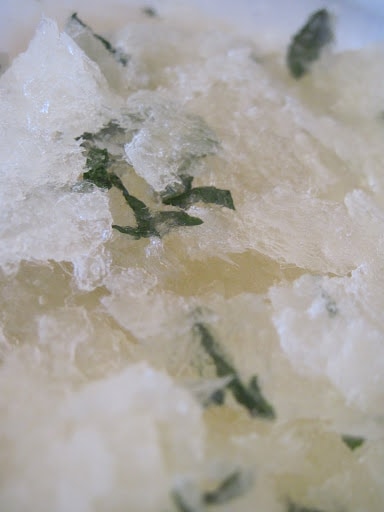 After freezing over night.

Mint Julep Granita for the Kentucky Derby

Ingredients

1 1/2 cups water
3/4 cup (lightly packed) fresh mint leaves (from about 2 small bunches)
1/2 cup sugar
3 tablespoons bourbon
1 tablespoon Crème de Menthe
1 teaspoon minced fresh mint leaves
4 fresh mint sprigs

Instructions

Combine first 3 ingredients in heavy large sauce pan. Stir over medium heat until sugar dissolves. Increase heat and bring to boil. Pour into medium bowl. Refrigerate until cold, about 2 hours.
Strain mint syrup through sieve set over bowl, pressing on mint leaves. Discard mint leaves. Mix bourbon, Crème de Menthe and minced mint leaves into mint syrup. Mix an additional 1/2 cup of water. Freeze until semi firm, whisking occasionally, about 3 hours. Cover and freeze until solid, at least 6 hours or overnight. Using fork, scrape surface of granita to form crystals. Scoop crystals into frozen glasses;garnish with mint sprigs, serve immediately.
Bon Appétit
August 1996

https://mooreorlesscooking.com/2012/05/06/mint-julep-granita-for-the-kentucky-derby/
 This post has been featured on: Foodista Featured Drink Blog