It's summer in Maine! Know what that means? Blueberries! A whole state full of them, growing wild everywhere! I live for these days. We pick blueberries on the weekend until we can't see the sun. Cherishing every single berry, the flavor bursting in your mouth, tastes like the freshest day you have ever had, summer in your mouth!
I think I have about 100, OK, I am exaggerating, maybe 25 blueberry recipes on my blog. Not only is it my favorite berry — but it is one of the healthiest foods that you can eat. It's highest in antioxidants so it's a really great idea to eat blueberries everyday! I can help you with this!
I've included 10 of my favorite blueberry recipes for pancakes, muffins, cake, parfaits, scones, quick bread, cobbler, cupcakes and ice cream! Scroll through the slideshow to find your favorite blueberry recipe. A blueberry dream come true.
Best Blueberry Muffin~Brown butter and vanilla bean makes this blueberry muffin over the top with flavor! Get recipe here ~Moore or Less Cooking Food Blog.
Lemon Ricotta Pancakes with Blueberry Sauce~Start your morning off right with the over-the-top decadence of a lighter (lower in fat) version of traditional hotcakes. Covered in perfect Blueberry Sauce! Get Recipe Here ~Noble Pig.
Blueberry Bundt Cake with Sour Cream Glaze~Moist and decadent cake with blueberries in every bite! Find recipe here~Moore or Less Cooking Food Blog.
Cornmeal-Blueberry Scones~These effortless scones will become a favorite with delicious cornmeal, blueberries and lime.Find Recipe Here~Noble Pig.
Lemon Blueberry Bread~Incredible melt-in-your mouth lemon blueberry yogurt bread! Find Recipe Here ~Moore or Less Cooking Food Blog.
Red, White and Blue Parfaits~Patriotic colors bring a festive feel, and because these parfaits are made with fewer carbs, we can enjoy this tasty holiday treat without the guilt! Find Recipe Here ~Life Tastes Good.
Blueberry Cobbler~A simple cobbler that you can put together before company arrives. Find Recipe Here ~Moore or Less Cooking Food Blog.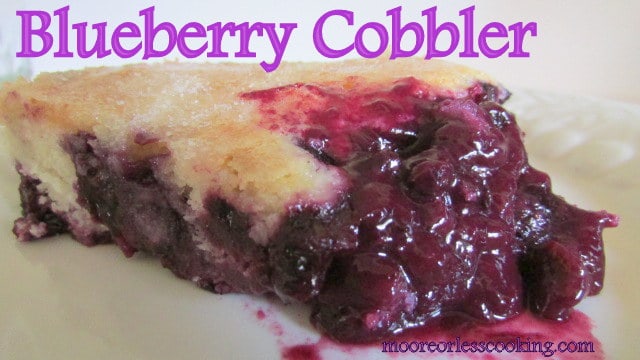 Blueberry Cheesecake Ice Cream~Creamy cheesecake ice cream with bursts of blueberries and crunchy graham cracker crisps.Find Recipe Here ~Moore or Less Cooking Food Blog.
Pavlova Cupcakes~The meringue has a nice light crunchy outside and chewy, marshmallowy inside. And the honey-sweetened whipped cream and berries make everything light and bright. Find Recipe Here ~A Cookie Named Desire.
Blueberry Mascarpone with Raspberry Compote~This tart has a wonderful buttery crisp crust. The mascarpone filling is smooth and velvety with a bright hint of lemon. And the raspberry compote is slightly tart with a subtle ginger kick that perfectly complements the sweet bursts of juice from the blueberries. Find Recipe Here ~A Cookie Named Desire.
This post originally aired on Parade, Community Table. Thank you for visiting Moore or Less Cooking Food Blog!