Garlic Parmesan Crusted Potatoes~ The best side dish for any occasion!
I have a LOT of food blogger friends. Not just friends that you write to on Facebook and blogs, but friends that you wish you could hang out with if they lived closer.
One of those friends is Monica Mooney, whom I fondly refer to as Moondoggie. She has the food blog,
Sweet Heat Chefs
, and I think she is wonderful.
We belong to a food group where we talk and laugh and cry and talk about all kinds of personal stuff with no judgment, stuff we can talk about such as our blogging, or how do we get more followers? Or how do you like this recipe? Or my kid got an award today!
Check out my YOUTUBE Video! Make sure to Follow me on YOUTUBE and not miss my newest videos!
I can't wait for the day when we can all get together and share a meal and a big bottle of something!! These friends mean a lot to me, like a pen pal but in a group and way better!
So, Chris ( or as I fondly call her Pickles~ yes I fondly have nicknames for the friend's I love) from Foodthoughtsofawannabechef Blog came up with a brilliant idea to have a food ingredient swap, a secret swap with our Foodie Group.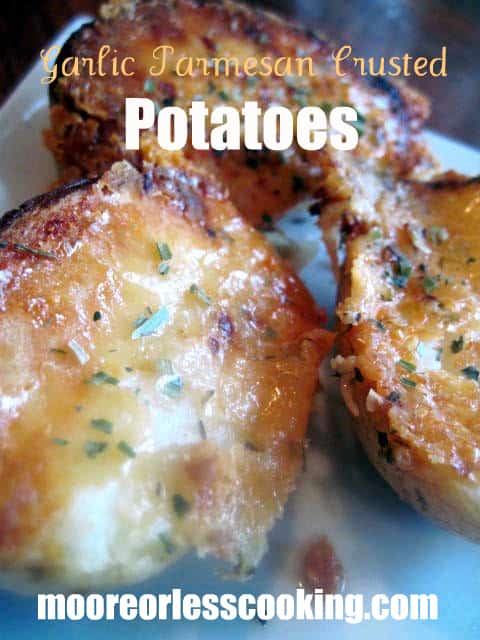 We all chose an ingredient from our local area and were given a secret friend to send the ingredient to. Monica was given me as her secret swapper…..lucky me!!!…. and she sent me a wonderful Zesty Garlic Seasoning, For Cooking and Dips, All Natural, no salt or sugars, from Bittersweet Herb Farm. Ingredients are parsley, garlic, chives, onion, lemon peel, herbs, and spices.
Well, I was thrilled that Monica was my secret pal, she sent it to me in the greatest card, I swear the card burst open with the sunshine that she sent me, it was raining that day in Maine by the way, but not after that!
Inside she wrote how excited she was that I was her secret pal, see what I mean?? I am crazy about Moondog, she is a wonderful person, she can make me spit my coffee all over my computer screen in a split second with her witty comments, I know she will have words of wisdom to bestow upon me or just a great joke!
So I have been wanting to make these amazing, drool worthy, Parmesan Crusted Potatoes that I saw on my friend's Facebook page. Ann, from The Fountain Ave Kitchen's blog, is a fabulous cook and every time I see these potatoes posted on Facebook, I say I really want to try them, they looked simple to make and really delicious.
Well, guess what?? They really are, plus I sprinkled the Zesty Garlic Seasoning over the cheese before I placed the potatoes face down to bake. OO! You are going to love this recipe. See what happens when you have such great friends? Great recipes are made!!
Thank you Moondog for my Zesty Garlic Seasoning gift and thank you, Ann, for always having such amazing recipes, you know how I love the easy ones!! Thank you, Pickles for coming up with another fantastic idea!!
PIN IT for later: 

Please remember to SHARE on FACEBOOK 
and PIN IT!
Garlic Parmesan Crusted Potatoes
Author:
Moore or Less Cooking
Prep time:
Cook time:
Total time:
This recipe makes a delicious appetizer or side dish. Cook the smaller varieties of potatoes for about 30 minutes or until a knife can be inserted into the potatoes easily. Four medium baking potatoes are the perfect number to fill a 13 x 9-inch baking dish, this recipe may be adapted easily, depending on the number of servings desired.
Ingredients
4 medium baking potatoes, halved lengthwise ( I used Maine White Potatoes)
2 ½ tablespoons olive oil
⅓ cup grated Parmesan cheese
1 TBSP Zesty Garlic Seasoning ( or a mixture of ½ teaspoon garlic powder, ¼ teaspoon paprika
½ teaspoon dried oregano, ½ tsp lemon zest if you don't have it)
½ teaspoon kosher or sea salt
 and a few turns of the pepper mill
Chives, for garnish
Instructions
Preheat the oven to 400 degrees F.
Coat the bottom of a 13×9-baking dish with the olive oil, and then evenly distribute the grated Parmesan over the olive oil. Sprinkle Zesty Garlic Seasoning
/4 teaspoons kosher salt
/4 teaspoons freshly ground black pepper over the cheese. Sprinkle with the salt and pepper.
Place the potato halves, cut side down, on top of the cheese mixture and bake for 45-50 minutes or until the potatoes are very tender when pierced with the tip of a knife. Precise baking time will depend on the thickness of your potatoes.
Cool for five minutes before serving. Remove to a platter with a metal spatula, and garnish with snipped chives, if desired. Leftovers are equally delicious reheated in the oven or eaten cold, my son will attest to this!
Recipe from The Fountain Avenue Kitchen
Linked up: 
Nettie Moore is the cook, baker, photographer and designer behind Moore or Less Cooking Food Blog. Nettie is a self- trained cook and baker. She loves creating easy recipes that don't call for a lot of unknown ingredients. Nettie's Blueberry Skillet Cake has been featured in Taste Of Home Magazine and her Peach Raspberry Pie has won awards! She was born and raised in Southern California and now calls New England her home, where she lives with her husband and two children. Follow Nettie on her blog, Moore or Less Cooking, or here: FACEBOOK | TWITTER | GOOGLE+ | PINTEREST | BLOGLOVIN |INSTAGRAM