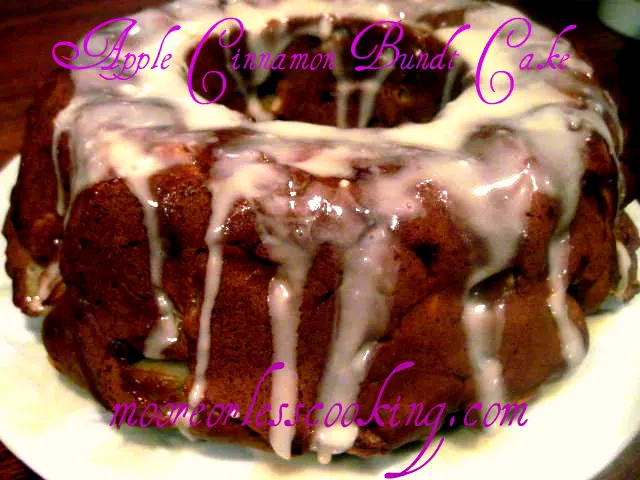 I have a party on facebook every Friday! I usually have a theme such as share you favorite recipe day. I want to try every recipe that is shared! I am so inspired by the recipes that are shared!
This recipes was shared by The Southern Fried Bride! As soon as I saw the picture of this fabulous cake and read the ingredients, I couldn't wait to make it! Seriously, I didn't wait five minutes!! It is so delicious!
This recipe comes from The Southern Fried Bride "Southern Fried Bride's Apple Cinnamon Delight Bundt Cake"
1 cup brown sugar
3 large eggs
1 stick unsalted butter, softened
1/4 cup apple juice
2 ½ cups all-purpose flour
2 teaspoons baking powder
1/2 teaspoon baking soda
1 tablespoon cinnamon
5 medium apples, peeled and chopped (I use Granny Smith)
Preheat oven to 350 degrees. Spray bundt pan with cooking spray. In large bowl, combine brown sugar, eggs, butter and apple juice. Mix until smooth. Add dry ingredients and mix until combined. Fold in apples to mixture. Pour batter into pan. Bake for 50-60 minutes, until toothpick inserted in cake comes out clean. Cool in pan at least 15 minutes. Invert cake from pan onto rack to cool completely .
"Southern Fried Bride's Grand Apple Glaze"
1 cup confectioner's sugar
2 tablespoons apple juice
Combine both ingredients in mixing bowl. Stir until smooth. Adjust consistency, if needed, by adding an additional 1/2-1 tablespoon of apple juice. Drizzle glaze over cooled cake and let set before serving.