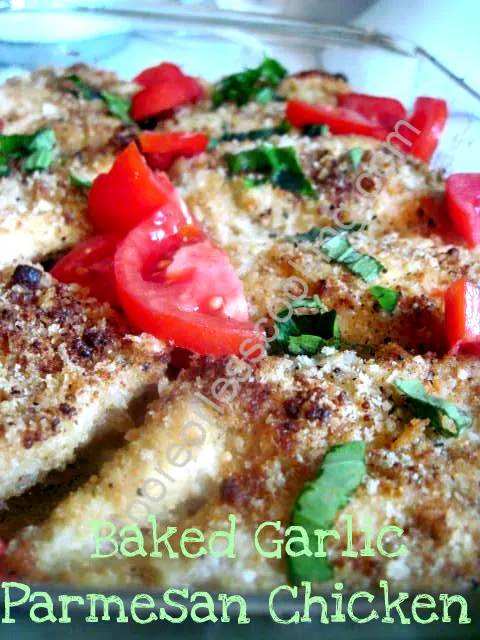 I am so excited to share this wonderful Baked Garlic Parmesan Chicken recipe with you! This chicken is melt in your mouth tender, crispy and garlicky! I have made Chicken Parmesan many times, with all of the messy steps: dipping the chicken in milk, then egg, then bread crumbs, but no more! This is so easy with two easy steps! Plus no frying in a skillet. It goes in the oven for just 30 minutes and is golden brown and crisp to perfection, my family was fighting over seconds!
Baked Garlic Parmesan Chicken
4 tablespoons olive oil
2 clove garlic, minced
1/2 cup Panko and 1/2 cup dry Italian bread crumbs
2/3 cup grated Parmesan cheese
1 teaspoon dried basil leaves
1/4 teaspoon ground black pepper
6 skinless, boneless chicken breast halves
( I cut the chicken breasts in half, placed in a large ziploc bag and pounded them flat with a meat mallet~ get all of your stress out!!)
2 sliced tomatoes~garnish
6 basil leaves, cut into a chiffonade~garnish
Directions
Preheat oven to 350 degrees F (175 degrees C). Lightly grease a 9×13 inch baking dish.
In a bowl, blend the olive oil and garlic. In a separate bowl, mix the bread crumbs, Parmesan cheese, basil, and pepper. Dip each chicken breast in the oil mixture, then in the bread crumb mixture. Arrange the coated chicken breasts in the prepared baking dish, and top with any remaining bread crumb mixture.
Bake 30 minutes in the preheated oven, or until chicken is no longer pink and juices run clear. Add sliced tomatoes and basil chiffonade and serve!
Recipe adapted from Allrecipes
This post has been shared with these wonderful blogs! https://www.nibblesbynic.com/2013/10/14/munching-monday-10/