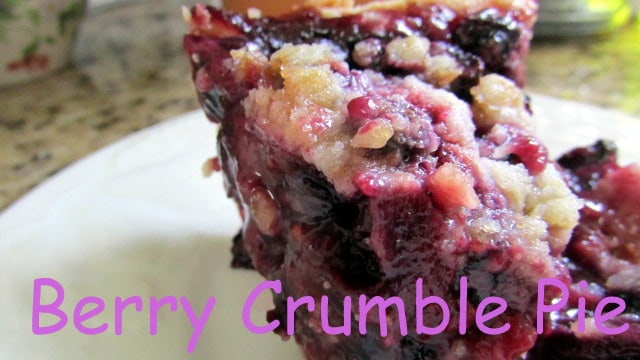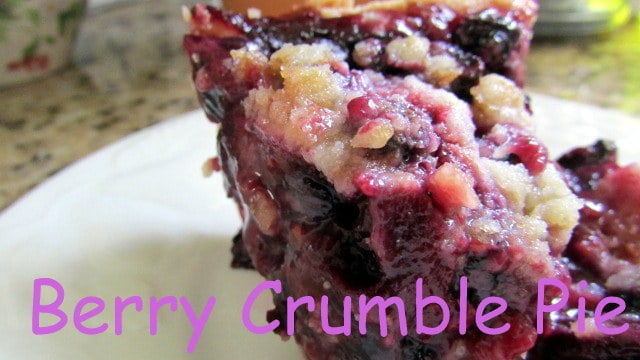 Pie is my favorite food group. In my book, it really can be a breakfast, lunch or dinner entree for me or not JUST a dessert. Berry Pie is my ultimate weakness…. I can be full after eating an eight course meal and a berry pie is offered as a dessert, no problem, there is always space available in my tummy.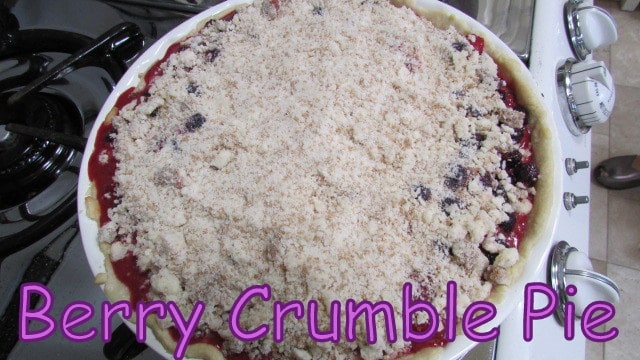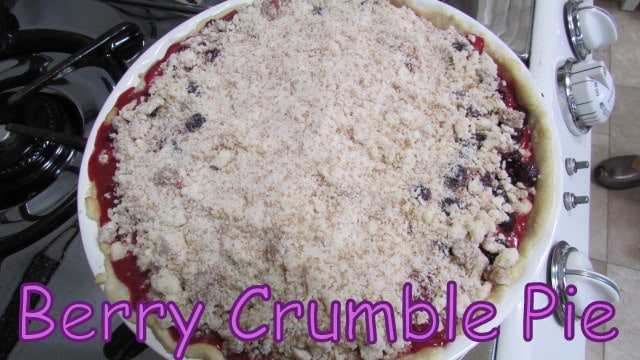 Ii seemed like a good idea to bake even though it was 90 degrees outside. But inside we had the AC at 65 degrees, perfect for baking. Before I arrived in LA, Susan bought all of the baking supplies known to man. Susan requested Crispy Thin Chocolate Chip Cookies and Arthur requested a PIE. Since we had a plethora of blueberries, raspberries and blackberries….a bountiful creation was in the making.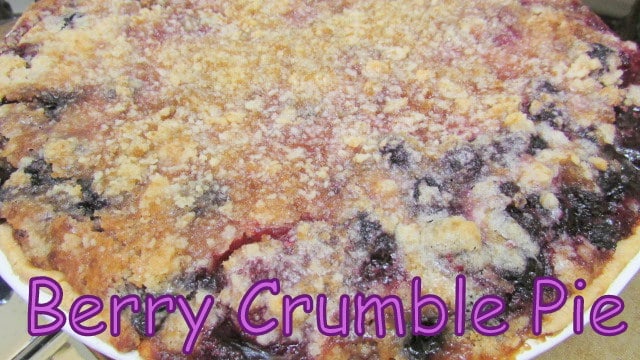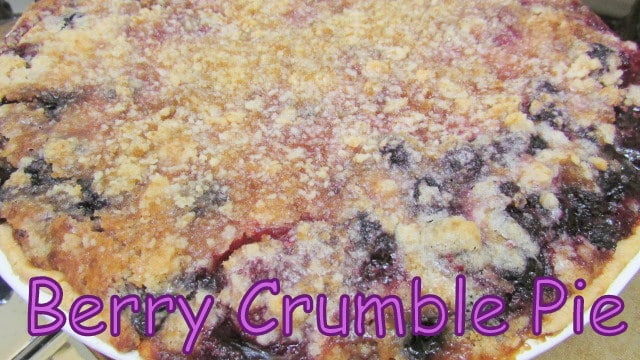 I just had a facebook party inviting all food bloggers to share their favorite berry recipes on my Moore or Less Cooking Facebook Page and Who Needs a Cape shared her delightful Blueberry Crumble Pie. Some recipes just stop me in my tracks and I need to make them ASAP. This was one of them! Since I had a limited amount of blueberries and enough of every other kind of berry in the freezer, it was full speed ahead!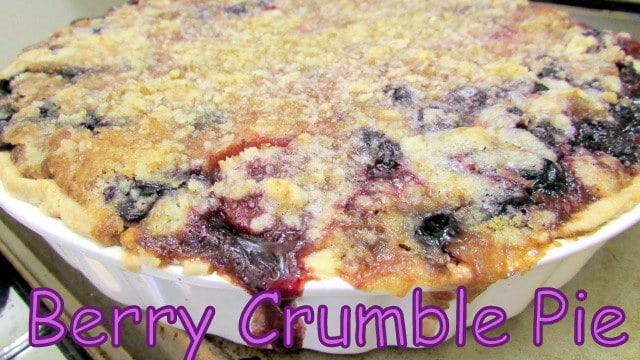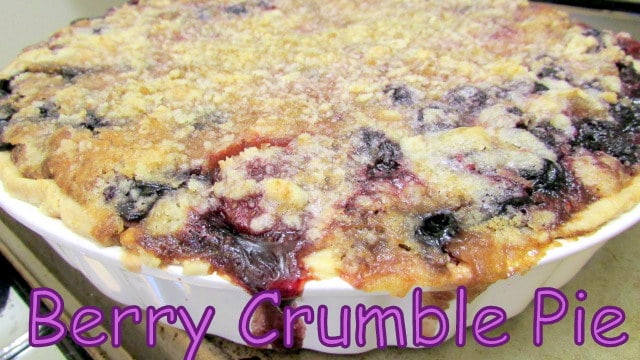 Arthur couldn't wait for the pie cool, who am I kidding, neither could I. We each had a slice and then the MMMMMMMMM sounds just wouldn't quit. We even gave a slice to the sweetest mailman Ray, it made his day. So this turned out to be our breakfast the next day, and a snack, and a dessert. Neighbors stopped by and they were given pie, everyone was in pie heaven…..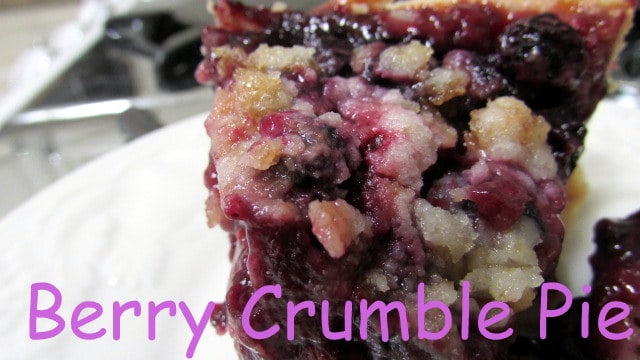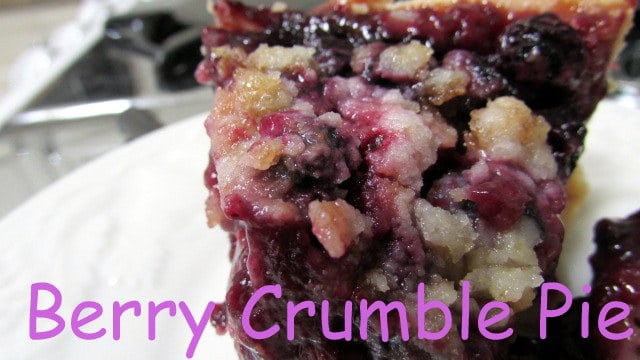 The perfect balance of sweet and tart with a delicious crumble. I used a Trader Joe's Pie Crust, it was perfectly flaky and tasted like homemade. I like to use a crust for crumbles, it kind of holds it all together when serving, but if you don't feel like baking one, it will still be delicious!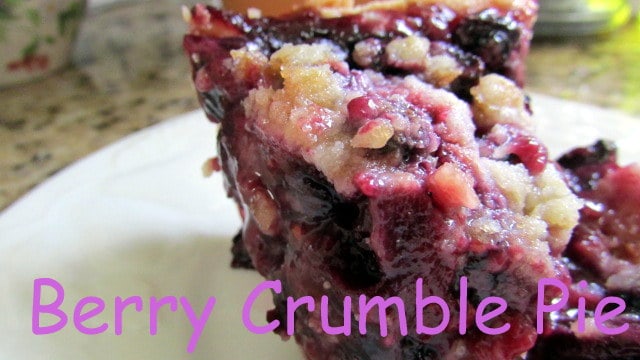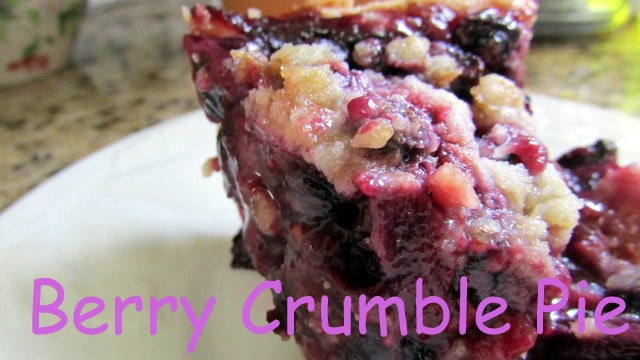 RECIPE
6 cups of frozen mixed berries ( Blueberries, Raspberries, Blackberries)

1 Tablespoon lemon juice

1 teaspoon Vanilla

1/2 cup flour

1/2 cup brown sugar

1/2 cup granulated sugar

1/2 stick butter softened

1/2 – 1 cup flour

1/2 cup brown sugar

1/2 cup granulated sugar

1 pre- made frozen Trader Joe's Pie Crust (thawed)
DIRECTIONS
Preheat oven to 350 degrees F

In a bowl, mix berries with lemon juice, vanilla, 1/2 cup flour, 1/2 cup brown sugar and 1/2 granulated sugar, set aside.

Use a fork, two knives or pastry cutter to mix together ingredients for crumble; butter, 1/2 cup flour, 1/2 cup brown sugar and 1/2 cup granulated sugar. Add the extra flour to the crumble mixture until it is completely mixed and crumbly.

Roll out pie crust into a 9 inch pie pan, flute the edges.

Pour berry mixture into pie crust.

Cover the berries with the crumble mixture.

Bake for 1 hour until golden and bubbly.

Let pie cool before serving, it makes it much easier to serve.
LINKED UP