With summer here, no one wants their oven on all day, challenges of a food blogger who loves to bake!
I fell in love with our local cheese shop, I had to try everything and even picked up a beautiful pancetta end. A delicious "SAUCE" entertained my thoughts…..but I knew it had to be made in my Slow Cooker for low and slow flavors. Our farmers market has incredible choices of sausages in the summer. We tasted all of the many flavors and chose the Veal Italian sausage. I also had a package of spicy sausage, lucky me. The flavors were starting to come together, now for veggies. Roast them in your oven in the morning, along with the sausages when the weather is still cool, well it is in Maine… they were giving away garlic scapes at my favorite farm stand, so I had to add them.
So this sauce is even better the next day, you will want to bathe in, yes it's that good, something like the pasta those cute waiters will serve you in Florence, with their sweet smiles, knowing you have no idea what they are saying, but it doesn't matter because they are serving a gorgeous pasta dish that even your Italian Grandmother would be proud of you for making. Love you Grandma Frances.
Ingredients
1 Pancetta end
1 package Veal Italian Sausage
1 package Spicy Sausage
1 large Vidalia Onion sliced
4 large tomatoes
1 jar Pasta Sauce~ Silver Palate
1 container Chicken Stock
Olive Oil
1 package Ziti Pasta
garlic scapes
Fresh Grated Parmesan~ 1 cup
Mozzarella~ 2 cups shredded
Directions
Preheat oven to 400 degrees. Cover baking sheet with foil, place sausages on sheet, bake until brown, (flip after 10 minutes to other side)
In a bowl, toss veggies with a couple TBSP Olive Oil. On a separate baking sheet roast veggies, onions, tomatoes, garlic scapes until soft and tender.
Add sausages, pancetta, Sauce, Chicken Stock and veggies to Crock Pot. Cook on low 7-8 hours of on Low for 4-5 hours. Remove scapes and pancetta end.
Cook Ziti pasta as directed.
In a glass baking dish, spray with PAM, add pasta, 2-3 cups of sauce ( make sure pasta is all covered), Parmesan Cheese and Mozzarella Cheese. Bake at 400 degrees for 15-20 minutes or until brown and bubbly.
Serve with extra Parmesan Cheese and fresh basil, my yummy garlic bread, salad, and a bottle of Chianti! Bon Apetito! Nettie <3
LINKED UP: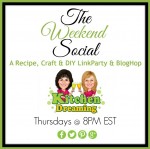 Would you like to see Moore Slow Cooker recipes?