What do you do when a friend gives you a big container of freshly picked blackberries, sweet gorgeous wonderful blackberries!?
Well….I MAKE cheesecake, Blackberry Cheesecake. Creamy, dreamy blackberry cheesecake with a nutty cookie crust!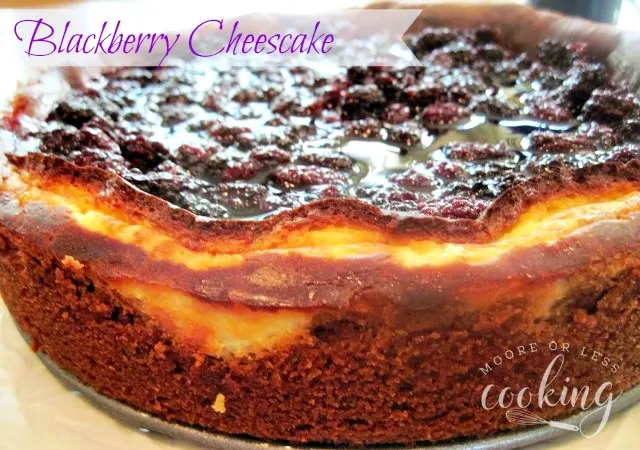 Make sure to get lots of berries on each piece!

This cheesecake is wonderful! We had friends visiting and I offered them a piece of cheesecake after our wonderful meal at the Lobster Pound. They asked if they could have seconds! They asked if they could have a slice for breakfast! I actually gave them the rest of the cheesecake to take home, they remembered that I had said that before our wine tasting outing and when we returned home, they said, "Oh we don't want to forget our cheesecake!" Best review ever!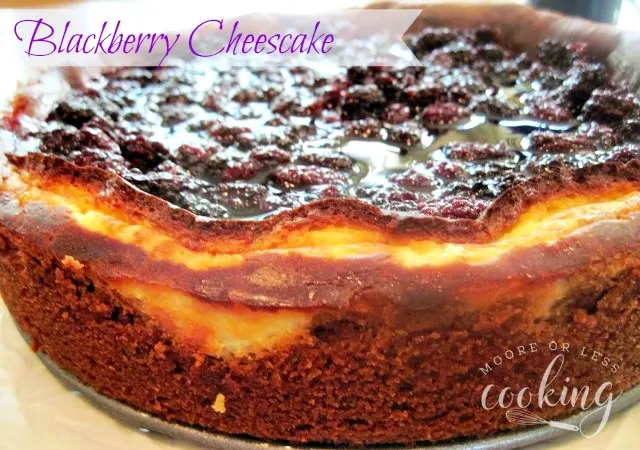 Yield:

1 cheesecake
Blackberry Cheesecake
Cook Time:
1 hour
10 minutes
Total Time:
1 hour
25 minutes
Creamy Blackberry Cheesecake with a nutty cookie crust.
Ingredients
Crust:
1 box Vanilla Wafers
1/2 cup Pecans
1/2 Cup Butter, Melted
1 1/2 teaspoon Vanilla
Filling
3 packages 8 Ounces Cream Cheese
1 1/2 cup Sugar
4 Eggs
1/2 cup Sour Cream
Topping
2 cups Blackberries
1/2 cup Sugar
2 Tablespoons Water
Instructions
Preheat oven to 350 degrees.
Place vanilla wafers and pecans into the bowl of a food processor.
Pulse until mixture becomes crumbs.
Add melted butter and vanilla and pulse again until combined.
Pour into a 10-inch springform pan and press crumbs into the bottom of the pan.
For the filling, beat cream cheese and sugar until smooth.
Add eggs one at a time, beating after each addition.
Add sour cream and mix again.
Pour mixture into crust, smooth the top, and bake for 1 hour, 10 minutes.
Turn off oven and open door and allow to sit in the oven with the door opened for 15 minutes. Remove and allow to cool.
For the topping, add blackberries, sugar, and water to a saucepan or skillet. Bring to a boil over medium-high heat and cook for 4 to 5 minutes.
Turn off the heat and allow to cool slightly.
Pour blackberries over the cheesecake and place pan into the fridge to cool and set for at least 2 hours---4-5 l hours is better.
When ready to serve, remove rim around pan and slice into 16 pieces with a long serrated knife.
Recipe adapted from
The Pioneer Woman